Polar Bears in Abandoned Village Wins Nature Photographer of the Year 2022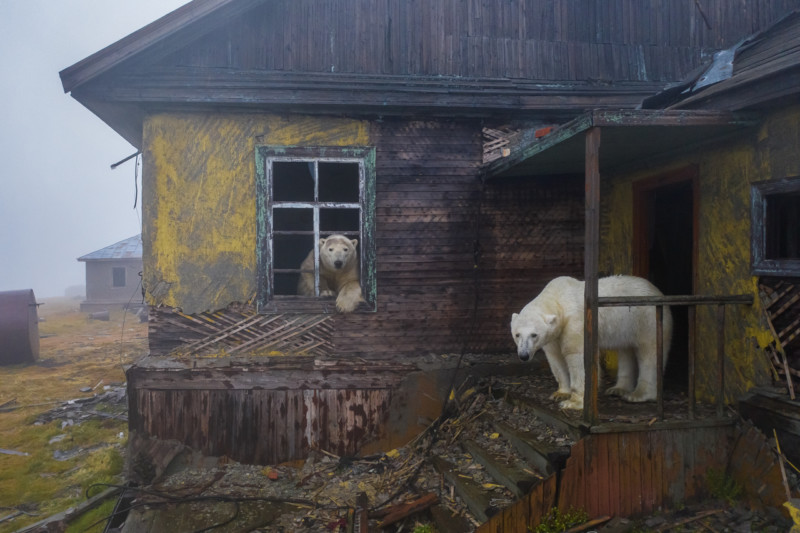 A group of polar bears exploring an abandoned Soviet village in the Arctic has won Nature Photographer of the Year 2022.
Dmitry Kokh took the incredible photos in Kolyuchin where the USSR used to operate a polar weather station until it was closed in 1992. He took home the top prize of €3,000 ($3,200)
In September 2021, Kokh sailed over 1,200 miles in the North Pole where he found a foggy, deserted house occupied by 20 bears.
"Bears are very curious by nature so they walked around houses, and checked every door, window, nook, and cranny," says Kokh.
The photos were shot from a drone, equipped with low-noise propellers so as not to disturb them. But the intelligent bears knew its presence and looked straight at the camera.
Sascha Fonseca won the Mammals category with a fabulous photo of the endangered snow leopard.
"The jury was convinced that the years of preparation resulted in a great photo," explains judge Karin Van Couwenberg. "This photo captured a moment in his life and environment. The snowy landscape and the amazing view of the mountains in the background results in a mystical moment. All the elements combined in the photo evoke strong emotions. That is camera trap photography at its best as far as we have seen earlier."
Entries for Nature Photographer of the Year 2023 opens on December 20.