Russian Pilot Headcam Films Ejection from Crashing Fighter Jet
A remarkable first-person video of a Russian fighter pilot ejecting from his aircraft which then crashes into a field has emerged from the war in Ukraine.
The Russian soldier was piloting a Sukhoi Su-25SM Frogfoot close air support jet and his headcam recorded the moment he lost control of the plane before crashing into a field and erupting into a ball of flames.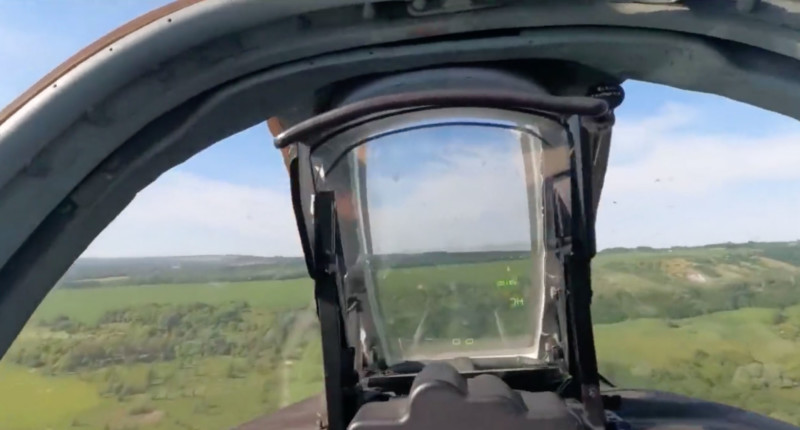 The video begins with the jet flying close to the ground, seemingly uncontrollable. As the pilot ejects, we see glimpses of a fire suggesting the aircraft had already taken serious damage.
After the parachute successfully deploys, the camera catches a glimpse of another jet, bits of plane debris, and then finally the fiery impact.
The Russian soldier hits the ground soon after with the other jet still circling the crash site which is now bellowing smoke.
"This is probably the first ever action camera combat jet ejection footage," Rome-based aviation blogger David Cenciotti writes on The Aviationist website.
It was unclear when and where the crash happened, and whether the jet had been struck by Ukrainian forces. However, the fair weather suggests it could have happened over the summer.
"This footage is military history. Amazing it's been recorded and shared for us to see, I've never seen anything like it," writes one YouTube commenter.
Russia's Ongoing Invasion
Since Russia invaded Ukraine in February, a series of shocking, hard-to-look-away images have poured out of the warzone. Footage that had never been witnessed, such as drones recording themselves being taken out by missiles has been recorded.
Two weeks ago, during Russia's indiscriminate missile campaign against civilian targets in Western Ukraine, dashcams captured catastrophic strikes. The owners of the dashcams were very fortunate not to be hit themselves.
The nine-month long war has been embarrassing for Russia as they have found themselves driven back by determined Ukrainian resistance.
Eastern Ukrainian areas that Russia has held since the start of the war are now under threat. The city of Kherson is now predicted to be the scene of "the heaviest of battles," according to an advisor to Ukrainian President Volodymyr Zelensky.
"With Kherson everything is clear. The Russians are replenishing, strengthening their grouping there," says Oleksiy Arestovych.
"It means that nobody is preparing to withdraw. On the contrary, the heaviest of battles is going to take place for Kherson."
Of the four provinces Vladimir Putin proclaimed to have annexed, Kherson is arguably the most strategically important. It controls both the only land route to the Crimea peninsula Russia seized in 2014 and the mouth of the Dnipro, the vast river that bisects Ukraine.