Gigapixel Photo of Burning Man Shows Desert Festival in Extreme Detail
Photographer Jamen Percy shot a mind-boggling gigapixel photo of this year's Burning Man festival held in the Nevada desert.
Percy used a drone to shoot over 700 photos of the entire arts festival from above which he then stitched into one giant image. He also captured a series of otherworldly photos taken on the ground.
He tells PetaPixel how he shot the amazing gigapixel photo, which can be viewed in detail here.
"I flew the latest DJI Mavic 3 drone, went to the max legal height, aimed the camera down, and methodically flew up and down the city taking pictures every 10 seconds," he says.
"I mapped out a plan based on estimated battery life and flight time — and used visual markers as I went. Always ensuring I have enough image overlap so the software would later be able to match them all up."
Percy says that it takes roughly two and a half hours to complete and requires "solid concentration."
"The hardest part is actually focusing and not getting distracted by onlookers who are interested in the drone, if I miss one photo or take a wrong turn it can mean I miss a big part of the stitch which will never be complete," he says.
"I only have one chance at it too because this was filmed Friday and drones are grounded on Saturday as The Man is loaded with pyrotechnics — and by Sunday some of the city is deconstructed."
Burning Man takes its name from the culminating ceremony: a symbolic burning of a large wooden effigy, which is referred to as The Man, on the penultimate night.
"The drone is compact but it packs a punch where needed. The images aren't as big as professional SLR cameras, but they are optically sharp so for this project of stitching over 700 of them together, it was perfect," explains Percy.
"Although it's small size, it's actually very powerful in terms of resisting wind and surprisingly better than some of the bigger drones, I'm guessing because it's physically smaller there is less drag."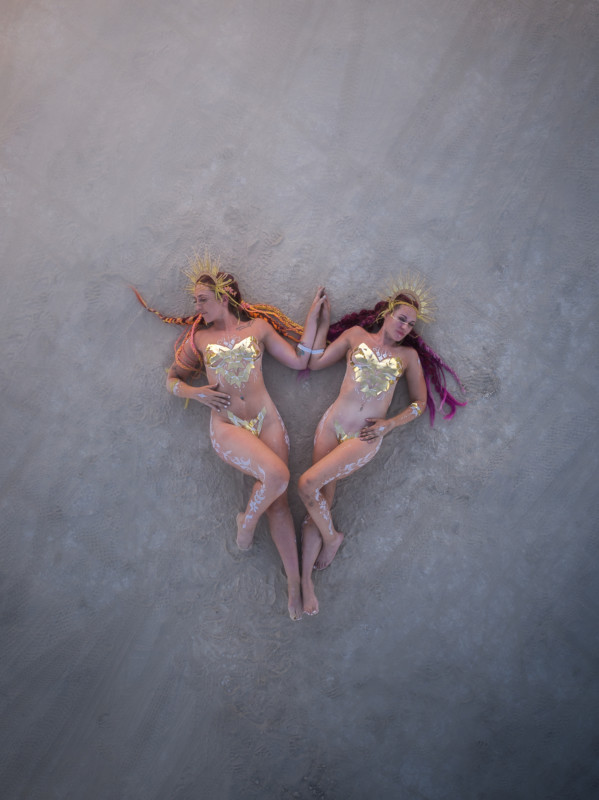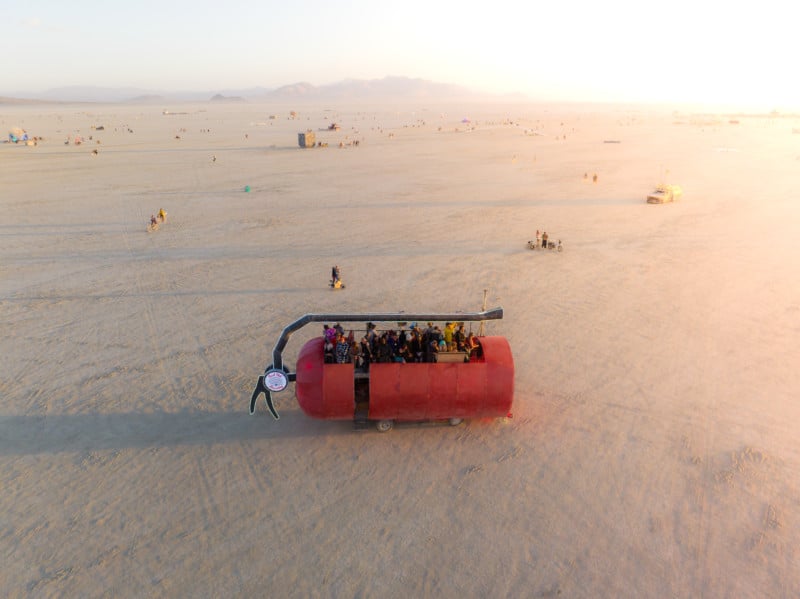 Burning Man festival represents a challenge to photographers as not only do shooters face extreme temperatures that range from 45 degrees celcius (113F) during the day to below zero degrees celsius (32F) at night. But extreme winds of up to 70 miles per hour whip the dust up into whiteouts.
"During the day I will sweat my body weight and in early mornings before sunrise my hands will be numb with the cold," says Percy.
"And then there are dust storms where you can't see more than two meters in front of you. If you didn't pack airtight goggles you are basically blinded until it passes — and they can last from eight minutes to eight hours."
These conditions may give photographers anxiety over whether their kit will be safe, but Percy says that modern cameras are sealed well enough that moisture and dust can't get in and wreak havoc.
"Any electronics without proper weather sealing though will most definitely fail. The fine alkaline dust gets everywhere and is corrosive over time," he adds.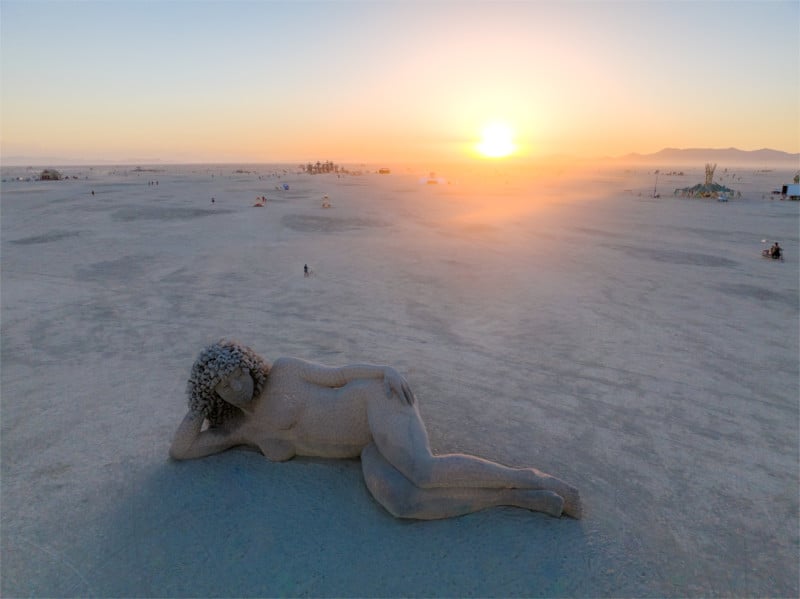 Burning Man, founded in 2004, is guided by ten principles: radical inclusion, gifting, decommodification, radical self-reliance, radical self-expression, communal effort, civic responsibility, leaving no trace, participation, and immediacy.
"Shooting the event is an incredible experience to participate in. I find it challenging and enlightening. I learn so much every year about photography, people, and myself," Percy says.
"The event itself is a kaleidoscopic gathering of wonder. It's fascinating and different from other traditional events. Creativity and innovation at a phenomenal scale make the event a target-rich environment for us photographers."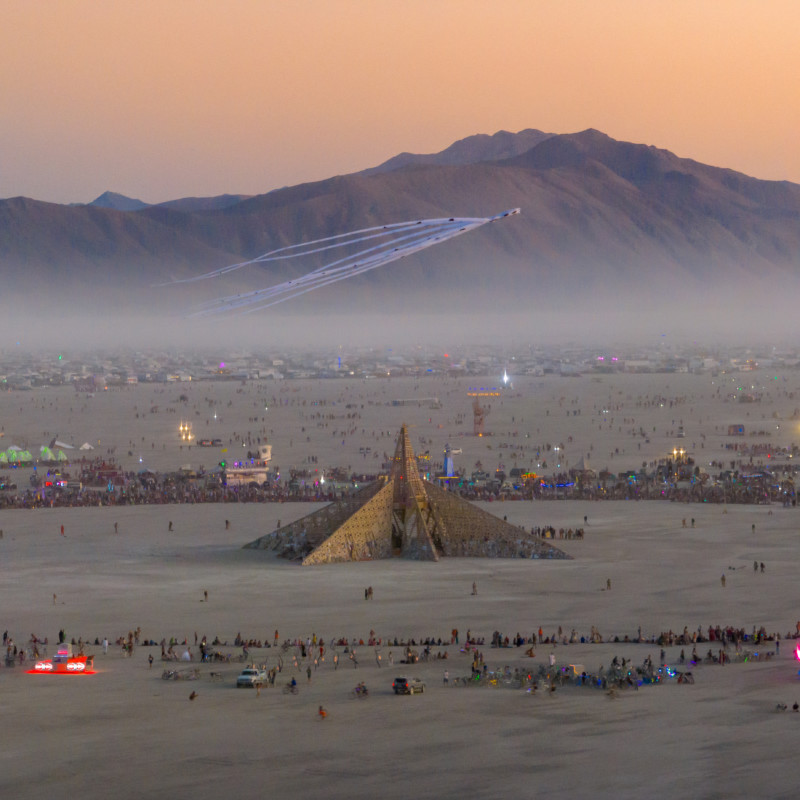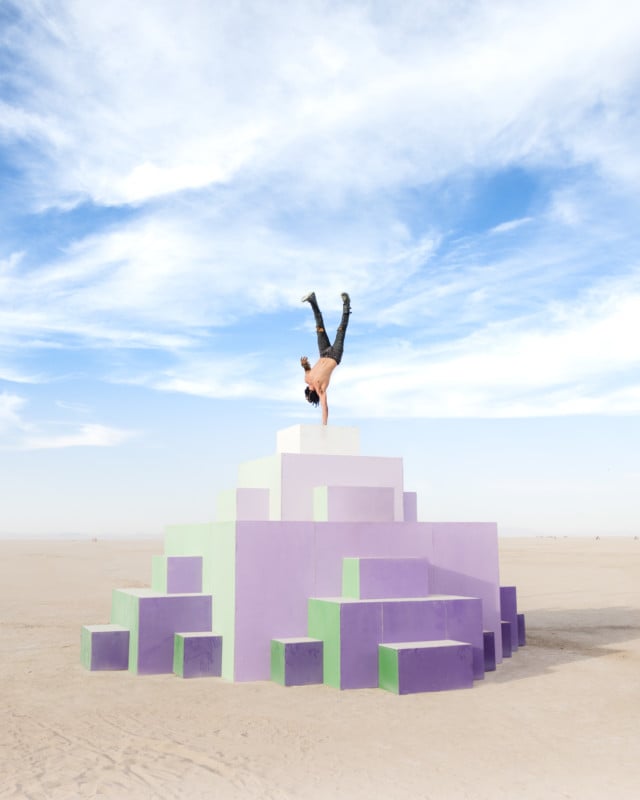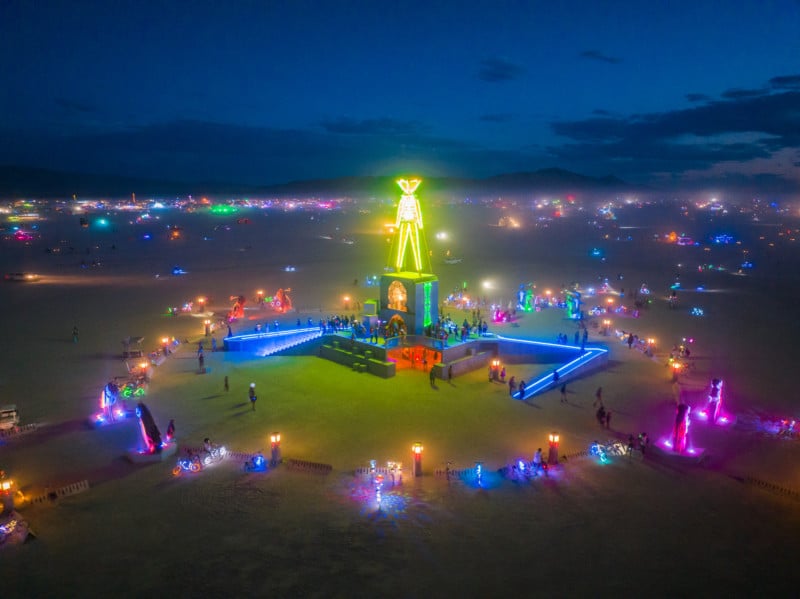 Percy has attended Burning Man for the last seven years to document the desert festival and his gigapixel photo will be used by organizers to help plan next year's event.
"The project was approved through the safety team and all other parts of the organization as flying above the camp is usually out of bounds for privacy and safety. Working with the organization has given me great opportunities," he adds.
More of Percy's work can be seen on his Instagram.
---
Image credits: All photos by Jamen Percy.