Adobe Buys Design Platform Figma for $20 Billion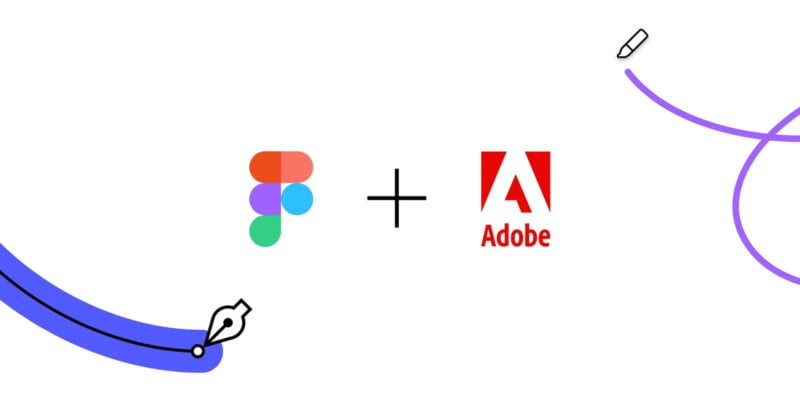 Adobe has announced it has purchased Figma, a popular design platform and Adobe XD competitor, for $20 billion in cash and stock. The company says the merger will "usher in a new era of collaborative creativity."
Figma has been a heavy competitor of Adobe XD for some time and its system allowed designers of interactive mobile and web applications to collaborate via its software ecosystem. Since it was founded in 2012, Figma has amassed a following of millions of designers, developers, and students. The platform is currently used by Microsoft to support the Office and Windows products, for example. According to the The Verge, it is so heavily used at Microsoft that it was becoming a point of contention with the company's relationship with Adobe.
That's very likely not going to be a concern now as the two companies plan to become one.
"Adobe and Figma share a passion for helping individuals and teams be more creative and productive," Adobe says in a press release regarding the merger.
"With Adobe's and Figma's expansive product portfolio, the combined company will have a rare opportunity to power the future of work by bringing together capabilities for brainstorming, sharing, creativity, and collaboration and delivering these innovations to hundreds of millions of customers."
Adobe has agreed to acquire Figma for approximately $20 billion, comprised of approximately half cash and half stock, subject to customary adjustments:
Approximately 6 million additional restricted stock units will be granted to Figma's CEO and employees that will vest over four years subsequent to closing. Adobe expects the cash consideration to be financed through cash on hand and, if necessary, a term loan. The transaction is expected to close in 2023, subject to the receipt of required regulatory clearances and approvals and the satisfaction of other closing conditions, including the approval of Figma's stockholders.
Dylan Field, Figma's co-founder and CEO will continue to lead the Figma team should the merger be approved and will report to David Wadhwani, president of Adobe's Digital Media business. Field published a blog post about the acquisition on Figma's website earlier today. Until the transaction closes, each company will continue to operate independently.
"Adobe's greatness has been rooted in our ability to create new categories and deliver cutting-edge technologies through organic innovation and inorganic acquisitions," Shantanu Narayen, chairman and CEO of Adobe, says. "The combination of Adobe and Figma is transformational and will accelerate our vision for collaborative creativity."
---
Update 9/15: Adobe's investors don't seem pleased with the acquisition, as CNBC reports its stock has fallen 17%, the biggest dip since 2010. Experts believe that Adobe paid 50 times too much for the company when the purchase price is compared to Figma's annual revenue and double its highest valuation.