The Story Behind the Secret Photographers of the Holocaust
A new documentary explores the secret and unauthorized photographs that concentration camp prisoners clandestinely took during the Second World War.
Rolls of film labeled; Dachau 1943 – 1944, reveals grim photos of mainly Jewish people, some dressed in stripe pajamas, while they were interned in Nazi concentration camps.
The trailer for From Where They Stood, shows how brave inmates would wrap the camera in newspaper and tuck it under their arm. The photographer would then stand near evil Nazi guards and shoot "with his body and not his eye."
Taking these photos would have been extremely dangerous and the trailer alludes to one photographer being caught. "When he learned that the Gestapo was going to get him, he just had enough time to hide the film."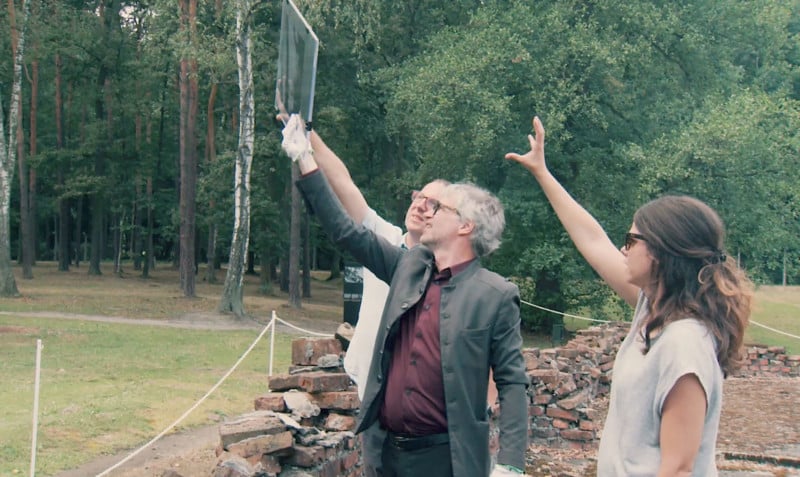 These courageous photographers were risking their lives to document one of the greatest atrocities ever committed. "It was very much an act of resistance," explains one of the experts on the trailer. "It's unlike anything we could imagine or believe."
The covert photographs, taken in Dachau, Buchenwald, Dora, Ravensbrück, and Auschwitz-Birkenau are at the core of the documentary. The film crew takes life-size transparent prints of the images to the original locations and reconstructs the angles of where and when the photographs were taken.
Favorable Reviews
Directed by Christopher Cognet, the photography-based film has so far received favorable reviews, with the New York Times outlining some of the more horrific content within the documentary.
"But the clandestine pictures known as the Sonderkommando photographs carry the gravest weight of all," writes Nicholas Rapold for the Times.
"These ghostly images depict nude women on the way to the gas chamber and, afterward, corpses left in the open air (both scenes overseen by the cremation prisoner workers known as the Sonderkommando).
"Shot from a significant distance, apparently through holes in the gas chambers, these figures are small and not greatly defined, but no less devastating."
Sonderkommandos were work units made up of Jewish prisoners who, threatened with their own deaths, aided with the disposal of gas chamber victims during the Holocaust.
Holocaust survivors are increasingly rare as time marches on and the war generation is now well into their 90s. Earlier this year, PetaPixel featured an exhibition that shows portraits of Holocaust survivors with their families.
The film is in theaters now and will come to digital in mid-September. For information on listings, visit the film's website.