Photographer Captures the Many Humorous Expressions of Cats
Photographer Elke Vogelsang, also known as "Wieselblitz," is best known for her photo projects with canines, but she is currently capturing the essence and allure of the other popular pet: felines.

For commercial pet photographer Vogelsang, the feud between cat lovers and dog lovers is one that mystifies her. As a lover and photographer of each species, Vogelsang has witnessed firsthand the merits of both furry companions. But in a photo series titled "wieselcats," she focuses her lens on the expressions of cats.
In a humanized point of view, cats' facial expressions tend to be interpreted as "grumpy" — compared to beloved canine friends — but Vogelsang sees them a bit differently; she notices their range.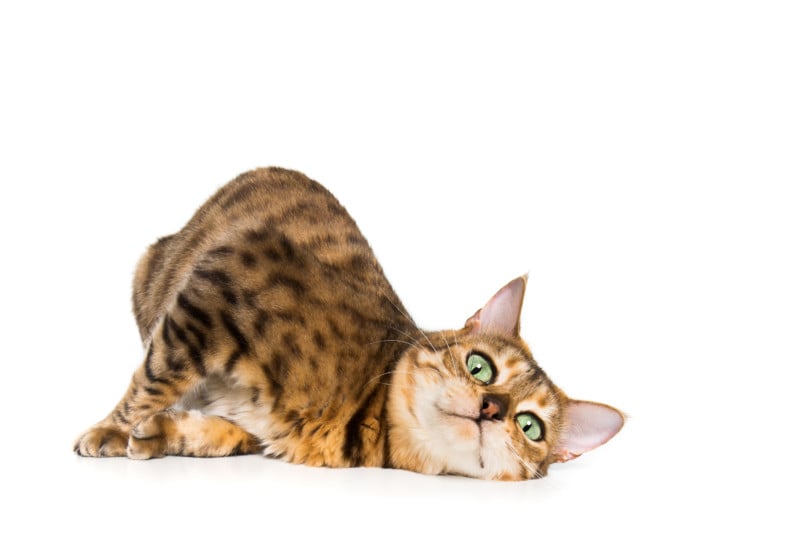 Although she admits that cats are definitely more difficult to photograph than dogs, Vogelsang still views the process as an intriguing and enjoyable experience. She also makes it known that despite some of the "cranky" faces in some of the shots she's captured, "[…] None of the cats were actually annoyed with me [during shoots]. Had they been, they wouldn't have cooperated."
Vogelsang has a variety of tools that aid her in masterfully learning and revealing each of her subjects' personalities, which were featured by Colossal. In speaking with PetaPixel, she describes a bit of the deciphering process and tools of engagement she used for the series.
"Playful cats can be engaged in a play with a long feather or a little plush toy or even only some strings of wool. I make sure the cats have a great time chasing the 'prey' and try to capture images of them trying to catch them," Vogelsang explains.
"For this, I make sure to press the trigger during that fraction of the second the toy is out of sight for the camera, but the cat is still trying to catch it."
With an absence of props and an abundance of tricks, Vogelsang works a sort of magic with the felines that grace her lens.
Vogelsang uses the Fujinon 16-55mm f/2.8 lens for her studio shoots and says she appreciates the lens versatility and efficiency. These attributes have provided her with wide-angle funny shots at around 16mm and more elegant portraits in the longer range.
In Vogelsang's studio shoots — which occur in the pet's home — it's a time of trust building, bribes, and the use of catnip as "moodlifters."
"Cats usually don't react too well to noises, contrary to dogs, which might give you a cute head tilt if you squeak or miaow or meeps," Vogelsang explains.
"But using small leather strings attached to a stick, I try to produce the sound of flapping bird wings. This is something cats find super intriguing and might awaken the predator."
When it comes to editing her shots, Vogelsang says she is satisfied with Adobe Photoshop and Lightroom as her go-to software applications.
When asked for words of advice when photographing subjects of the furry variety, Vogelsang says that the key is patience, trust, repetition, and lots of bribery.
"Motivation is key in pet photography…Every cat teaches me a new trick, every cat is different. If you lose their interest, the session is over. It has to be fun and rewarding for the animal," she says.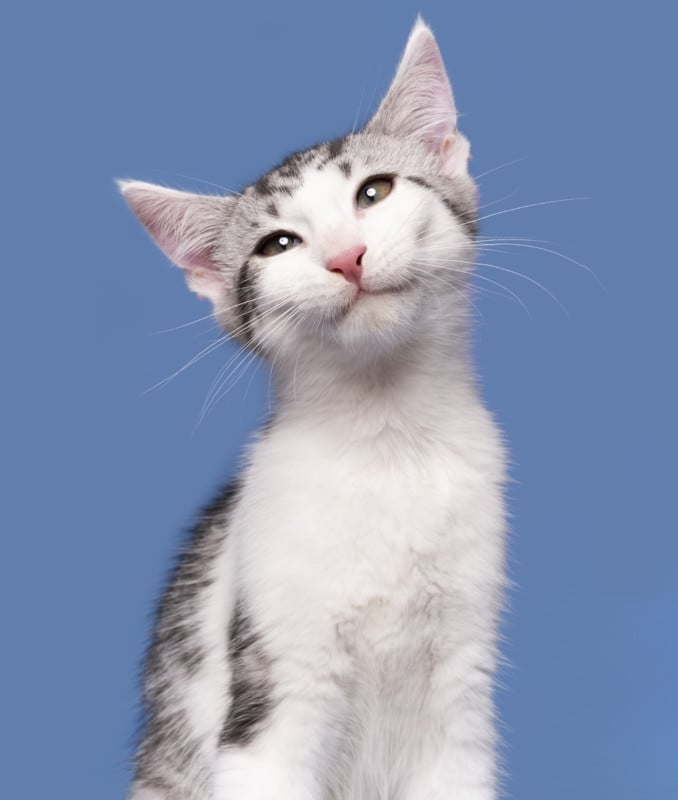 "I love working with cats as much as I love working with dogs. Well, 'work' might not be the right word. I turned my hobby into a profession and try to make sure it's fun for everybody involved and myself."
Vogelsans is currently working on a picture book that will showcase a wide variety of pet faces. For more, check out her website and make sure to follow her on Instagram, where she operates two accounts: one for dogs and one for cats.