Photographer Captures Adorable Shots of Seal Pups in Lake Baikal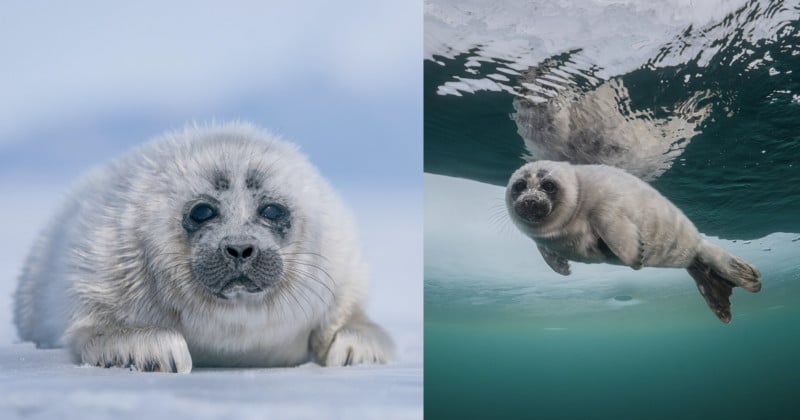 Photographer Dmitry Kokh traveled to Lake Baikal and photographed young, friendly Baikal seals in their natural environment — under the icy water.
Exploring Lake Baikal, the Wildlife Treasure Trove
Russia's Lake Baikal is considered to be the deepest and oldest lake in the world and can be found just north of the Mongolian border. In addition to also being the world's largest freshwater lake by volume, it also is home to around 1,800 endemic plant and animal species.
This includes Baikal seals, locally known as nerpas, which are one of the smallest pinnipeds — marine mammals with front and rear flippers — in the world.
For Moscow-based Kokh, who specializes in wildlife and underwater photography, Baikal seals have long been on his bucket list to document. No stranger to cold, extreme environments, Kokh has photographed polar bears and other wildlife species. Two years ago, he made his first attempt at capturing Baikal seals but didn't succeed — the lake freezes around mid-January and it was difficult to find nerpas in open water.
Kokh didn't give up and returned to Lake Baikal in April when Siberian spring makes its appearance and when female nerpas have just given birth to Baikal seal pups. In contrast to adults, newborns are not shy and are easy to recognize by their snow-white fur. Soon their fur turns gray, and they are eager to explore the unknown under the ice of the lake.
"Seals are generally a joy to shoot — they are fun, friendly, curious, and very photogenic," Kokh tells PetaPixel. "So the experience is almost always rewarding."
How to Get the Perfect Shot
For a successful shoot like this, Kokh points out three key factors — time, equipment, and the goal of the shoot.
To get the timing right, it's essential to travel when seal pups are not too young because they will be too dependent and stay close to their mother. At the same time, they can't be too mature either because they will have grown to become shy and scared.
"That perfect in-between teen age is optimal for photography as they are more curious and interested," Kokh explains.
When it comes to equipment, photographers have to prepare for shooting in ice water. An environment like this comes with its set of challenges because the extreme temperatures tend to be harsh on the photography gear and can cause it to break down quickly.
With that in mind, Kokh points out all scuba gear needs to be temperature appropriate and re-checked for health and safety.
Once the equipment is ready, he tries to mentally prepare and visualize each shot he wants to achieve before going straight into shooting. Doing so helps guide the process.
Having the opportunity to photograph Baikal seals up close has been an unforgettable experience. Kokh felt "excitement and pure joy."
Next, grown and mature nerpas are on Kokh's photography list this year. He hopes to return during the summer and give himself the next challenge of capturing the older but shy and apprehensive Baikal seals, which he says will be a great achievement if he is successful.
More of Kokh's work can be found on his website and Instagram.
---
Image credits: Photos by Dmitry Kokh.