A 1950s-Era Print of Dorothea Lange's 'Migrant Mother' is For Sale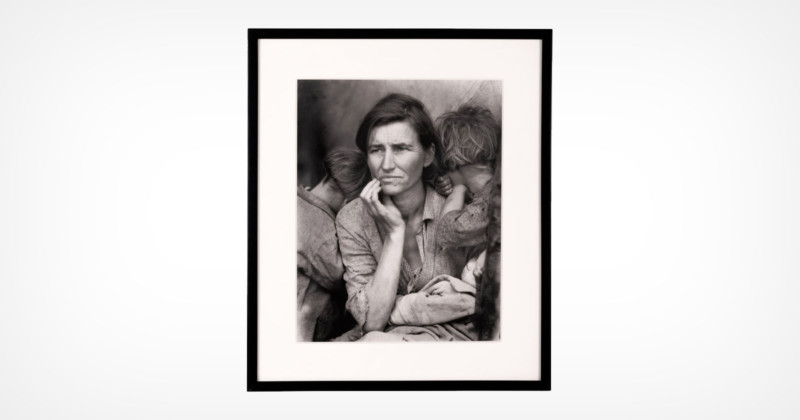 A 1950s-era gelatin silver print of Dorothea Lange's famous Migrant Mother photo will be auctioned on May 12 through Hindman. It is perhaps the most famous photo of the Great Depression.
Migrant Mother was originally captured by Lange in 1936 and was taken in Nipomo, California. At the time, Lange was employed by the Farm Security Administration, an organization that was formed to raise awareness of and provide aid to impoverished farmers.
The woman in the photo is named Florence Ownes Thompson, and Lange came across her at a migrant camp in Nipomo that was occupied by field workers whose lives were devastated by the failure of pea crops.
"I saw and approached the hungry and desperate mother, as if drawn by a magnet. I do not remember how I explained my presence or my camera to her, but I do remember she asked me no questions. I made five exposures, working closer and closer from the same direction," Lange said of the image years after its capture.
"I did not ask her name or her history. She told me her age, that she was thirty-two. She and her children had been living on frozen vegetables from the field and wild birds the children caught. The pea crop had frozen; there was no work. Yet they could not move on, for she had just sold the tires from the car to buy food. There she sat in that lean-to tent with her children huddled around her, and seemed to know that my pictures might help her, and so she helped me. There was a sort of equality about it."
The photo went on to become widely circulated and became the symbol of migrant farm workers during the Great Depression.
"Lange's widely-circulated photograph created a sensation throughout the country and established Thompson as a role model for the poor and dispossessed," Hindman explains. "It also cemented Lange's reputation as a socially-conscious and uncompromising photojournalist. By the time the photograph was published, however, Thompson and her family had moved on and she received nothing for her participation."
At the time, the subjects were unnamed but decades after it was originally published, Thompson saw the photo in a magazine and wrote to them to recall all unsold copies of it so that she could protect her and her family's rights. Unfortunately, at that time the photo had become public property and beyond Lange's ability to reel it in. When Thompson became aware of this, she withdrew her complaint.
This particular print of Migrant Mother was made under Lange's direct supervision in the 1950s (the exact date is unknown). The provenance of the image is twofold. First, it was originally acquired from the family of the artist. Second, it has a distinctive difference from prints that were made earlier.
"Like many prints of this period, the image lacks Thompson's left thumb, which in all very early prints can be seen propping up the flimsy canvas shelter. Lange always found this thumb intrusive and in 1939 instructed her assistant to remove it from the negative altogether," Hindman says.
"Prints made after 1939 have a ghostly, blurry spot where the thumb once was instead."
The original version of the photo can be seen in the collection of the Library of Congress, and the thumb is still present.
Hindman expects the photo to sell for between $50,000 and $70,000 when the auction begins on May 12.
---
Image credits: Dorothea Lange, "Migrant Mother," Nipomo California, 1936, courtesy of Hindman Auctions.