Mysterious Kodak Mosaic Discovered Behind Drywall After Decades
A mysterious mosaic created during the heyday of Kodak has been rediscovered after decades when the owners of a former Kodak research building knocked down a wall during renovations.

Rochester, New York's local
CITY News reports
that the tech company Delta-X Global had been rehabilitating the old Kodak laboratory in Eastman Business Park (formerly known as Kodak Park) to create its new research and development hub.
The Discovery of the Kodak Mosaic
In February, in the midst of demolition work and knocking down a wall in a conference room on the first floor, the rehab team made an unexpected discovery: there was a beautiful and enigmatic mosaic hidden behind the drywall, perfectly preserved out of view for decades.
"The drywall had been covering a gray cinderblock wall, about 12 feet high and 18 feet long, adorned by an elaborate mosaic composed of tens of thousands of hand-cut tiles, most measuring about one square inch," David Andreatta of CITY News writes. "Others were as small as the pips on a pair of dice.
"Gradations of blue danced with specks of black, and diminutively detailed dots of yellow and red, against a backdrop of white. Together they formed… something. A submarine? A rocket? A fish? A submarine rocket fish?"
Rochester-based photographer James Montanus, the son of the legendary Kodak photographer Neil Montanus, was one of the first people to lay eyes on the rediscovered mosaic before word of the find got out.
"I have a friend who works in that building," Montanus tells PetaPixel. "It's a former Kodak research building that housed Kodak's research scientists. He is one of only two former Kodak employees who are still employed there.
"Because the building was just sold to a high tech firm in Toronto Canada, they were helping to take down some walls in advance of a $25 million major renovation."
Montanus was one of the people Delta-X Global CEO Derek Dlugosh-Ostap reached out to after the discovery, and the photographer was able to visit the site and shoot some photos of the art.
Uncovering the Meaning of the Mural
Montanus then took to his Twitter account to see if anyone could decipher the meaning of the mosaic.
"[…] no one knows what it means or why it's there," Montanus wrote. "Ancient aliens perhaps? Portal to another dimension? My friend has worked there for 44 years and no one has a clue. Do you?"
People soon pointed out that the mosaic seems to show scientific principles that allow for camera film and analog photography. The symbols for silver (Ag), nitrogen (N), carbon (C), and oxygen (O) are among the elements seen in the artwork, and there appears to be abstract depictions of things like sunlight, flash, a film strip, and an aperture.
"[I]t represents the science advances that make photography possible," Tweets Maine-based writer Carla Jean. "Bottom right is optics (lenses redirecting light), the top right letters are the elements used to make film (e.g., silver halide coatings) and more chemistry stuff."
"The mosaic shows the areas of science, chemistry, electricity, physics, and optics," Dlugosh-Ostap tells CITY. "All of those elements combined together were meant to express the work that was being done in this building in the '60s when it first opened."
A software engineer and Rochester Institute of Technology alumnus named Mike found confirmation of this explanation in a Physics Today article from 1961, the same year the laboratory was opened.
"One wall of the building's lobby contains a ceramic tile mural depicting fundamental aspects of physics," the article reads.
Mike also found the mural in an article about the lab's opening published in the Democrat and Chronicle that year.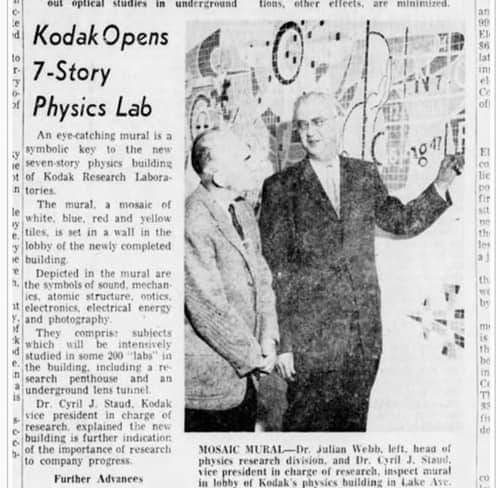 "Depicted in the mural are the symbols of sound, mechanics, atomic structure, optics, electronics, electrical energy, and photography," the article says. "They comprise subjects which will be intensively studied in some 200 'labs' in the building […]"
The Artwork Will Be Preserved
The good news is that Delta-X Global plans to keep the mosaic and feature it prominently in its new research hub.
"We are proud to be the new owners of the mural," Dlugosh-Ostap writes in a Tweet. "We are definitely keeping it and will be incorporating it into our new lobby design!"
---
Image credits: Header photo by James Montanus.