Photographer Shoots Stunning 8K Timelapse of Auroras Over Alaska
Astrophotographer Vincent Ledvina is an avid northern lights enthusiast, photographer, and physics undergraduate. During his latest trip, he captured a spectacular 8K aurora timelapse in Fort Yukon, Alaska.
The Appeal of Timelapse Photography
Ledvina is majoring in physics at the University of North Dakota and his goal is to study the aurora and become a space weather forecaster. With a natural interest in the outdoors that was cultivated thanks to his father, Ledvina started photographing the family's camping adventures during his teenage years. Growing up in Minnesota, he would often see the northern lights which further fuelled his interest in astronomy and the universe as did his trip to Iceland when he turned 16 and had purchased his first DSLR.
"After that, the rest was history," Ledvina tells PetaPixel. "I upgraded my gear, went to college at UND, and became an avid aurora chaser on campus. Part of my mission with photography and just life, in general, is to share the things I am passionate about with others, and that applies to the northern lights!"
Timelapse photography is now a staple of Ledvina's work because he says it can give the audience a sense of how it actually feels to experience a night sky.
"The night sky moves — it's not stationary," he explains. "The northern lights are also not static objects, they twist and swirl around, and using timelapse photography is the best way to capture that ethereal dance."
Although photography is not the only reason why Ledvina enjoys nature and the night sky, having a camera on hand and a beautiful aurora display can heighten emotions knowing this experience can be shared with others, especially those who may not have the privilege of seeing the northern lights regularly.
Northern Lights in Alaska
Before traveling to Fort Yukon in Alaska to capture northern lights, Ledvina had visited the state a handful of times but had always been confronted with either bad weather or weak northern lights. This time around, Ledvina was invited to participate in the "Loss Through Auroral Microburst Pulsations" sounding rocket mission. The objective was to test a theory about how pulsating auroras — which appear as flashing or pulsating patches — are created.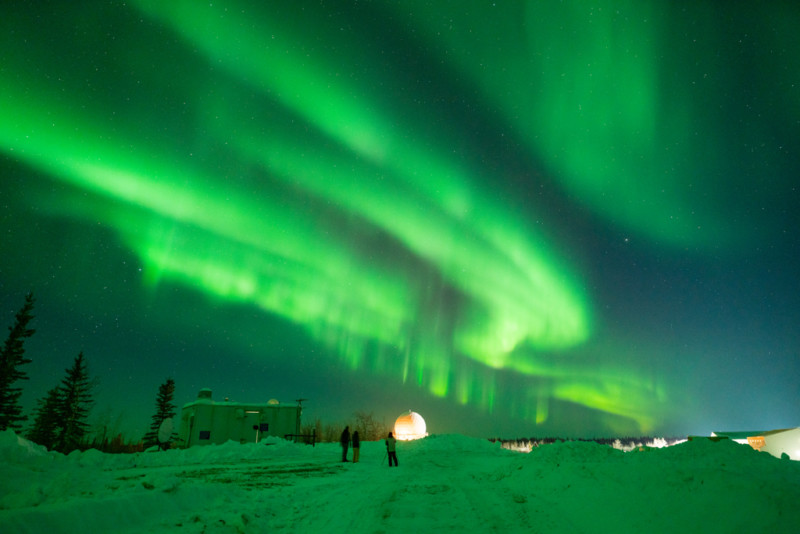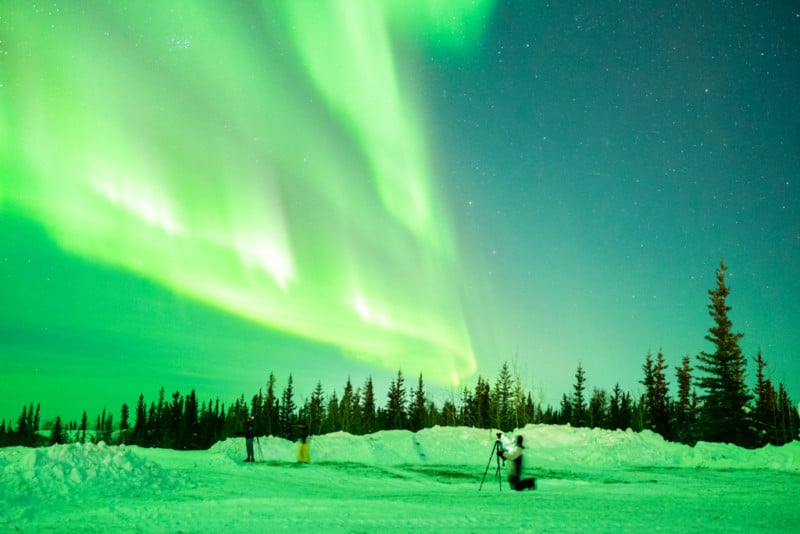 "The design of the mission was to have the sounding rocket launch into the aurora from the city of Fairbanks on a northward trajectory while high-speed cameras captured the pulsating aurora in two locations, Venetie and Fort Yukon," Ledvina explains.
"The rocket's path would fly over the town of Venetie at an altitude of around 350 km and then crash land somewhere in the remote wilderness in the north slope of Alaska. I had some connections to the project through a NASA citizen science project I volunteer for, Aurorasaurus, so I was invited to assist in the deployment and operation of scientific-grade all-sky cameras at Fort Yukon."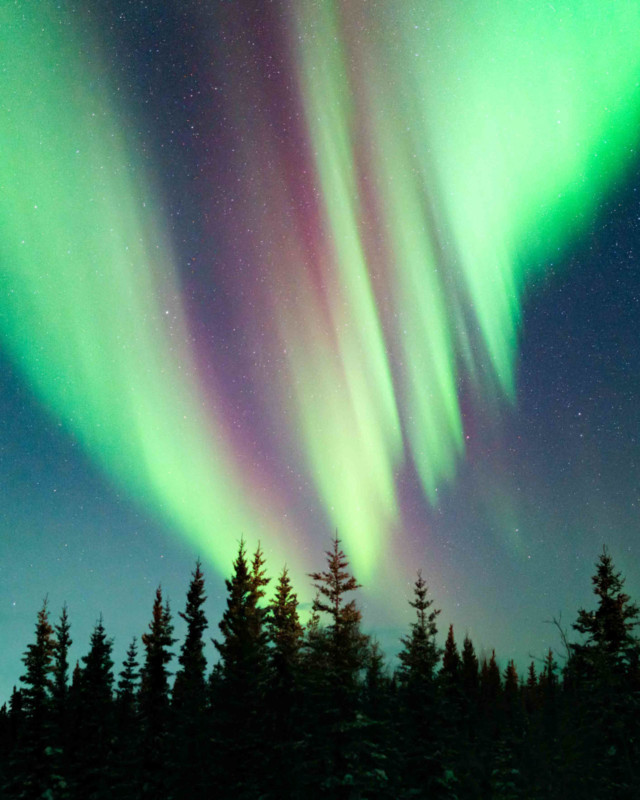 As Fort Yukon is above the arctic circle, Ledvina had to remain there for up to three weeks, tied to the timing of the rocket launch. He stayed at an Air Force station outside the town and luckily had clear skies eight out of the 17 nights he was there, giving him an opportunity to capture auroras.
"Adding to my luck, some pockets of fast solar wind from the Sun helped spur geomagnetic activity, and the auroras were extremely bright and danced every night the skies were clear!"
Getting Ready for a Trip of Lifetime
In preparation for this project, Ledvina packed all the camera gear he owned: three camera bodies — Sony Alpha a7S, Sony a7R II, and Sony a7 — and three wide-angle lenses — Sony 14mm f/1.8, Sony 20mm f/1.8, and Tamron 35mm f/1.4 — which are all well suited for low-light photography.
While he has very specific equipment for astrophotography, he says that anyone who is interested in getting started can do so with as little as a single DSLR or mirrorless camera and a wide-angle, wide-aperture lens.
Although well prepared with his equipment, Ledvina set out with very little information about his shooting location. As he was staying at an Air Force station, he couldn't get much information on what the site looked like or where the best compositions would be. To add to the limitations, the station was out of town and he didn't have a car, so he had to improvise upon arrival and source locations during the trip.
"Everything ended up working out, though, since the area near the station was cleared of trees and relatively open to enjoy and photograph the auroras from all angles," he says.
Clear Skies and Succesful Rocket Launch
The day of the rocket launch was the most memorable experience. Right after the sunset, auroras began to dance overhead, which was a good sign for seeing pulsating auroras later on. Overall, the best time to see auroras in any location is magnetic midnight, when the local time is the midnight point according to the geomagnetic pole.
"Around 1 AM we experienced what is known as a 'substorm,' or when the aurora 'breaks up' from discrete arcs into dynamic and dancing structures that extend all over the sky," Ledvina says. "This substorm was really incredible, and the auroras became super bright and filled the entire sky."
"Since I was very far north, above the arctic circle, the activity was actually so strong that the auroras started to move towards the southern horizon as the auroral oval extended equatorward," he continues. "After the substorm, we entered what is known as the 'recovery period,' and the sky was filled with pulsating aurora. The conditions for the LAMP rocket were met and we launched into the aurora shortly afterward!"
Planning Future Photography Adventures
One of Ledvina's dreams is to make a timelapse film that shows aurora from the mainland United States to challenge the view that northern lights cannot be seen unless visiting places like Alaska, Canada, or Iceland. In reality, it is hard to get a "jaw-dropping show," but it's still possible to see the aurora under the right conditions.
"It just takes a little more knowledge about the science behind the northern lights to be able to forecast when they could be seen from your location," he adds.
His recent experience in Alaska along with past trips have greatly impacted him. So much so, he now plans to drive up to Fairbanks in September and live underneath the northern lights for at least a year.
"I'll be taking a gap year to do photography full time, then applying to graduate school at the University of Alaska-Fairbanks," Ledvina says. "If I am accepted, then more trips to Fort Yukon and other remote field stations in Alaska will definitely be in the offing. I even learned that graduate students get to spend a month at the South Pole Station in Antarctica, which would be a dream for me."
Ledvina also wants to thank the NASA citizen science project Aurorasaurus for extending the opportunity to work with the LAMP mission and travel to Fort Yukon. He says he is very grateful for the patience, education, and guidance extended by the scientists on the LAMP team and the Air Force station operators.
More of Ledvina's work can be found on his Instagram and YouTube Channel.
---
Image credits: Photos by Vincent Ledvina.