These Portraits Celebrate the History of Black Hair Styles
Regis and Kahran Bethencourt of Creative Soul Photography have shot a series celebrating the history of Black hairstyles from the end of the 19th century to the present… and even predicting the future.

This project came about as a collaboration between the
Madam Walker Legacy Center
in Indianapolis, Indiana, and the Bethencourts' studio. Madam CJ Walker was born in 1867 on a Delta, Louisiana, plantation to enslaved people. She transformed herself from a farm laborer and laundress into the
first female self-made millionaire in America,
as noted in the 
Guinness Book of World Records.
Her wealth was generated by developing and marketing a line of cosmetics and hair care products for black women.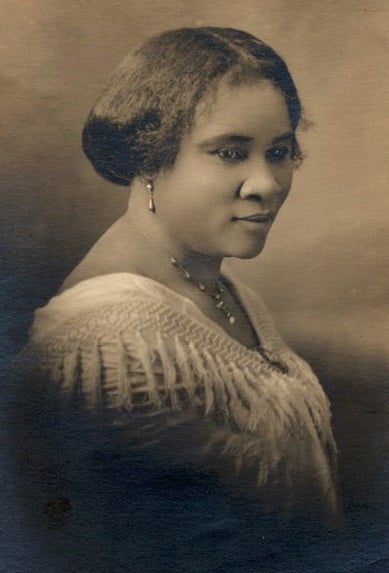 The Hair Care Legacy of the First Black Millionaire Woman
"We thought about [Walker's] legacy and impact on black hair care around the world," Kahran Bethencourt tells PetaPixel. "She built an international beauty business that had 25,000 active sales agents by 1919.
"We decided to take a journey of black hair through the eyes of Madam CJ Walker. We can't help but think that if she were still alive today, she would be so proud of how she spearheaded an era of Black women becoming empowered and believing that they could aspire to wealth and economic prosperity."
The Bethencourts, a husband/wife team from Atlanta, GA, are well known for creating African-American Princesses Series, Afro Art Series and World Tour.
The Atlanta couple thought about the legacy of the Black hair care products that Madam Walker pioneered and decided to do a historical review of Black hair through the past from post-slavery to modern times and even beyond.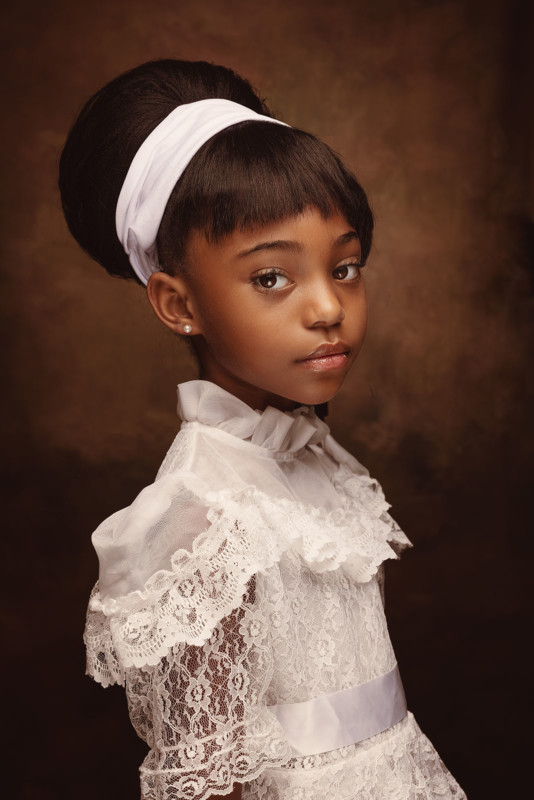 The world-renowned child photographers worked with model Kendall Xenia Lowe and hair and makeup artist Keondra Renee to create portraits of Black hair trends.
"This shoot was actually a response to a casting contest for the Madam CJ Walker Legacy Center," the Bethencourts say. "We asked kids to submit videos about what Madam CJ Walker's legacy meant to them. We loved Kendall's video and selected her for the shoot. The contest was limited to kids in Indianapolis, Indiana [where @walkertheatre is located]."
Shooting the Series in Just One Day
The complete series was shot in August 2021 in Indianapolis at the Center on a single day.
"The entire session was around 6 to 7 hours with breaks in between," says the talented photographer. "Each hairstyle took about 30 to 40 minutes to create.
"I was more excited about this project because of my journey with natural hair over the years," Kahran says. "This shoot reminded me of all the styles I've had over the years and my relationship with my own natural hair."
They came up with the ideas for each hairstyle based on research of various styles over the decades. Many are from her "own memories," and others by looking at images from each decade.
The Bethencourt duo are Canon Explorers of Light and shot the series on the Canon R5, Canon 28-70 f/2 L with Profoto B10 strobes.
As artists, we are constantly responding to the world around us. We don't want to just question traditional standards of beauty — we want to shatter them. — Regis and Kahran Bethencourt
"The great thing about this project is that most of the work was done in-camera, so very little post-processing was needed," says the Bethencourts. "We obviously cleaned up the hairstyles to make sure everything looked smooth, but for the most part, our post-processing was minimal."
Creative Soul Photography started in 2009 when Regis Bethencourt decided to go to school for photography. Kahran "learned with him," and they started their business while he was still in school.
You can see more of the Bethencourts' work on their website and Instagram.
---
About the author: Phil Mistry is a photographer and teacher based in Atlanta, GA. He started one of the first digital camera classes in New York City at The International Center of Photography in the 90s. He was the director and teacher for Sony/Popular Photography magazine's Digital Days Workshops. You can reach him here.
---
Image credits: All photographs by Regis and Kahran Bethencourt at Creative Soul Photography