New AI Colorization Offers a More Lifelike Window into the Past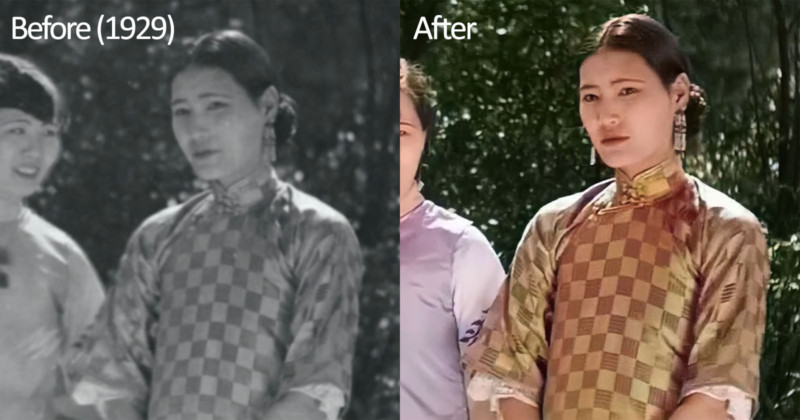 Using an open-source AI-colorization technique, Glamourdaze has restored early 20th-century footage to add color and relatability allowing viewers to travel back in time and look at hundred-year-old clips through a modern perspective.
At the start of 2021, Glamourdaze shared restored footage from a day in 1920s Paris. Although in some places the footage appeared hazy, the clip amassed over two million views, with numerous users commenting how connected to the past the video makes them feel.
Deep Exemplar-Based Colorization
Recently, Glamourdaze has released new videos on his vintage fashion film archive YouTube channel that feature a further improved artificial intelligence (AI) colorization technique called deep exemplar-based colorization. Glamourdaze says that the new technique is both improved (qualitatively and quantitively better, according to the research paper) and open source, and is best illustrated by the series of videos below.
The first clip shows a 1929 fashion shoot, filmed at the Albright-Knox Art Gallery in Buffalo, New York. Glamourdaze followed a similar process to footage he has previously restored. First, he cleaned and denoised the original footage and increased it from 24 frames per second to 60 frames per second. Then he applied color using the new deep exemplar-based video colorization method and used AI to upscale the footage from 480p to 4K.
Using the same process, Glamourdaze restored a clip filmed on Palm beach in 1920s Florida, a windy day in New York, filmed in 1903, a 1929 clip of a fashion and hairstyle show in Shanghai, and an old 1927 silent film outtake, featuring fashionable New York chorus singers and dancers walking down the street.
Restored Clip from 1884
However, one of Glamourdaze's latest projects includes a restored 1884 clip that shows the first-ever dance movie by motion picture pioneer and eccentric genius Eadweard Muybridge.
Glamourdaze explains that Muybridge is best remembered, "albeit barely," for his "Horse in Motion" sequence of 1878. He completed a project called "Animal Locomotion" at the University of Pennsylvania between 1884 and 1885, which featured 781 plates that consisted of 20,000 photographs.
His work is still referenced today by artists, animators, and those who study animal and human movement, while at the time of releasing his project, it influenced the development of biomechanics and the mechanics of athletics.
Glamourdaze chose plate 197 which shows a couple dancing the waltz.
"As I developed it I felt like I was unearthing a real treasure," Glamourdaze tells PetaPixel. "It's quite transfixing."
Despite his contributions to the motion picture, "he was soon eclipsed by the Lumiere brothers and Edison and died in England pretty much forgotten in his own lifetime," Glamourdaze says. "Even his name on the tombstone is misspelled."
More videos like these can be found on Glamourdaze's YouTube channel.