Instagram vs Reality: The Truth Behind Tranquil Photos of Hakone Shrine
The Hakone Shrine in the touristy town of Hakone, Japan, is a popular photo location for Instagrammers. It's also a good "Instagram vs. Reality" example of how what's seen in social media photos often does not tell the whole picture.

"Peaceful" Photos of the Shrine
Do a search for "hakone shrine" on any photo-sharing service will return countless photos of people posing while being framed by the iconic red torii gate, peacefully taking in the tranquil vista with no other humans in sight.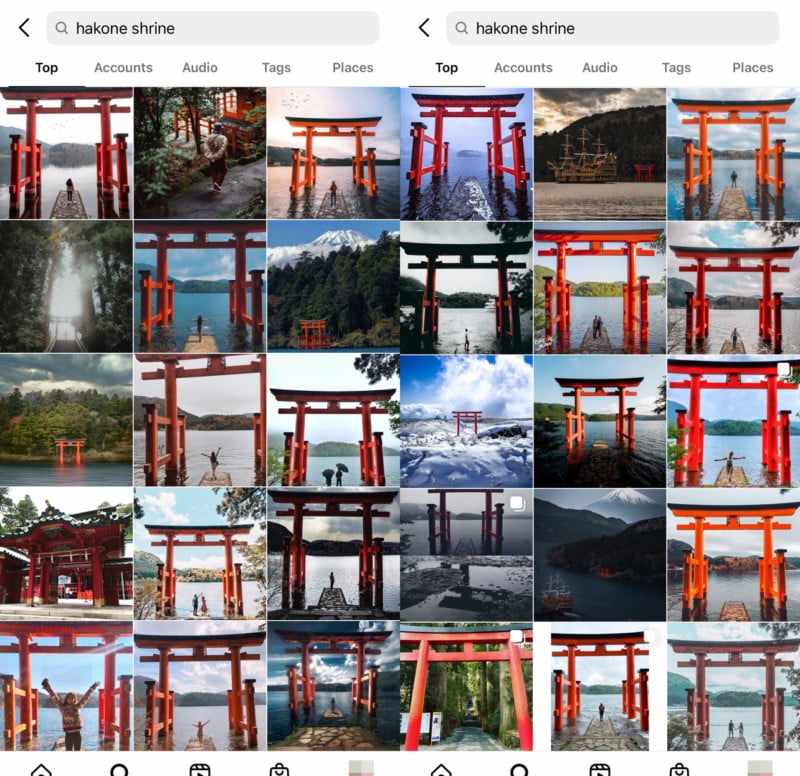 The Reality is Far Less Peaceful
Pay a visit to the location, however, and you may be surprised to find an ever-present line of picture-takers stretching far up the hill, and the spot is anything but "tranquil."
@sheelios visited the shrine, which dates back to 1667, a couple of years ago and captured this short 0.5-minute video showing the commotion of the long queue:
"We walked over not knowing it was a popular photo spot," Sheelios tells PetaPixel. "The line was quite long, but definitely for a good reason. It's a beautiful spot for photos.
"While making fun of the people who would wait to join a line to take a photo that 100,000 other people have… we joined it. Why not."
"It's like a non-stop selfie photoshoot with lines of 50+ people waiting for their turn," writes photographer Shawn Harquail. "I just went in front and shot strangers and moved on heehee!"
Shooting Photos at Hakone Shrine
Unlike other popular photography landmarks around the world, in which photographers are often seen crowding each other out for the best vantage points, the line at Hakone Shrine is usually both polite and helpful.
"Everyone was helping each other take photos," Sheelios says. "The people behind in line would take [the front group's] phones to take the photo for the group ahead."
In addition to the Hakone Shrine, the area is also famous for its views of Mount Fuji as well as its hot springs. A one-way train ride from Shinjuku Station in Tokyo to Hakone on the "Romance Car" takes about 90 minutes and costs about $20.
---
Image credits: Stock photos licensed from Depositphotos