The Analogue Pocket Can Save Game Boy Camera Photos to a microSD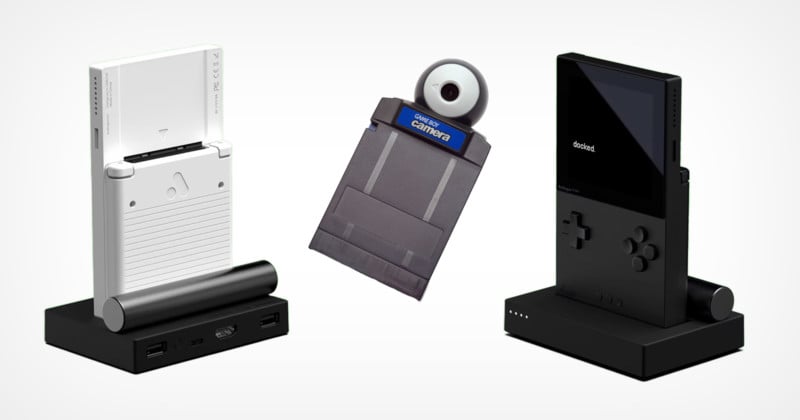 The Game Boy camera is a cult classic image capture device originally released in 1998 that creators still toy around with to this day. A major block to modern use though is how difficult it can be to access the photos, but that is changing.
For those unfamiliar, the Game Boy Camera initially launched back in 1998 for $90 and provided users with a rudimentary digital camera with a 128 by 128 pixel CMOS sensor that cropped images captured to an even smaller 128 x 112 pixels in four shades of gray. Photographers got a whopping 0.001434 megapixels per image out of this unique camera system, which even provided users with filters and effects (long before Snapchat and Instagram) for added creativity. The nearly 20-year-old system is a fan favorite as users are still creating custom modifications and add ons for the lo-fi camera.
Recently, YouTuber Conorsev used a 3D printed mount and some custom code to capture more dynamic images than Nintendo likely ever imagined possible and download them to any digital device. Now it seems things have gotten a little bit easier for Game Boy Camera enthusiasts with the Analogue Pocket
While the plethora of modifications and DIY builds for the Game Boy accessories are obviously fun, the new Analogue Pocket is a third-party gaming handheld that is designed to be able to play any official Game Boy cartridge ever made, and this includes the Game Boy Camera (modified or not). The company says this new retro system uses a customized chip to enable it to play any of the older system cartridges including Game Gear, Neo Geo Pocket Color, Atari Lynx, Game Boy, Game Boy Color, and Game Boy Advance libraries. The "new" system is capable of 1600 x 1440 resolution (which the company says is 10 times the resolution of the original game boy) and has a 3.5-inch 615ppi LCD screen that leverages Gorilla Glass for added durability.
As pointed out by Gizmodo, what truly makes this system stand out for the Game Boy Camera users is the addition of a microSD card slot. The company says this is primarily for firmware updates and the ability to share game save files, but it also serves as a way to save and share the images captured with the Game Boy Camera on version 1.1 of the Analogue OS. While not as simple as drag and dropping over wifi, it is still a very welcome update for pixelated photography enthusiasts.
At the time of publication, there is no official date for the release of Analogue Pocket OS 1.1 but based on the comments from the company, the new firmware will likely arrive in the very near future.