This Ring Box Opens Like the Aperture of a Camera Lens
If you are looking to propose to a photographer, take a look at this sleek new ring box that is designed to reveal a ring as you open what looks like the aperture of a camera lens.

The ring box was designed by Matt Zabloski, the founder of
Kelo Designs
, who received attention in the world of photography a few years ago by
turning an actual camera lens into a ring box
with a similar patent-pending aperture design.
With the Slim Eclipse box, the ring is stored sideways within it when the aperture is closed, and this compact storage allows for a much slimmer ring box than Zabolski has previously designed. The box is about 1.125 inches tall, making it much more pocketable than its big sibling, the Eclipse.
A simple twist of the box opens the mechanical aperture blade system and tilts the ring out of the box.
"I started working on building a better ring box after I had worked with a custom jeweler on my future wife's engagement ring," Zabloski tells PetaPixel. "The ring was everything I hoped for, the box it came in wasn't. I wanted to make something that would add to the surprise, and just like the memory of the moment, something that would last a lifetime."
After coming up with a series of large ring box designs, Zabloski decided to focus on size.
"I've had a few clients asking about the potential for a slimmer version of my original box that could be more easily concealed in a pocket," he says. " The challenge was in creating a design that still maintained the wow factor of the reveal of my previous boxes into a far more compact space.
"Rather than raising and lowering the ring as is seen in the original ring boxes and camera lens, the new design stores the ring flat rotating it up and above the surface of the box when fully opened. Because this box was built with space at a premium, the size of ring it can accommodate is slightly smaller than its predecessors.
"That said, I think it packs the same amount of wow as the original box in a size that's more conducive to keeping the big question a surprise."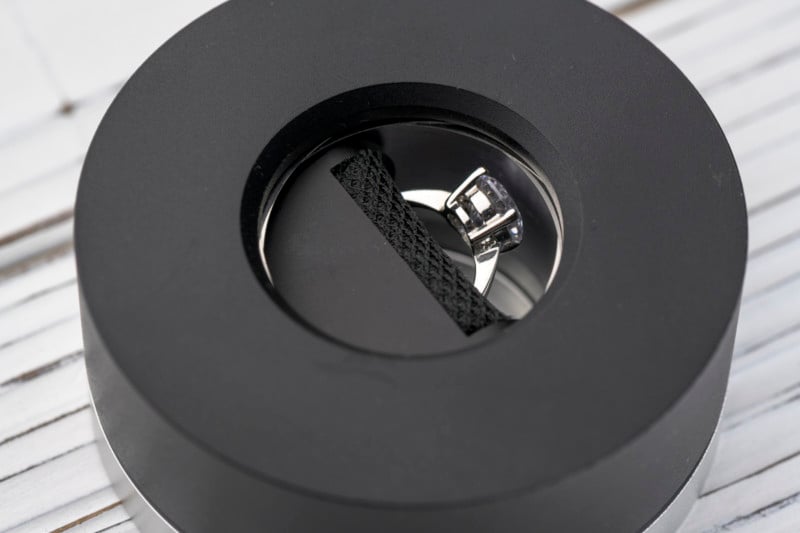 In addition to the metal Slim Eclipse, Zabloski has also created a wooden one made of black walnut called the Slim Helix.
Each of these boxes is hand-assembled in Calgary, Canada, and is made from precision-milled sandblasted and anodized aluminum. The aperture blades are made of stainless steel and are laser welded. The diaphragm mechanism is built around an industrial-grade stainless steel ball bearing that should provide a lifetime of smooth opening and closing.
The Slim Eclipse and Slim Helix boxes are available for CA$149 and CA$155 (~$118 and $123), respectively, from the Kelo Designs website and Etsy shop.