The Story Behind Los Angeles's Rare Lightning Storm Photos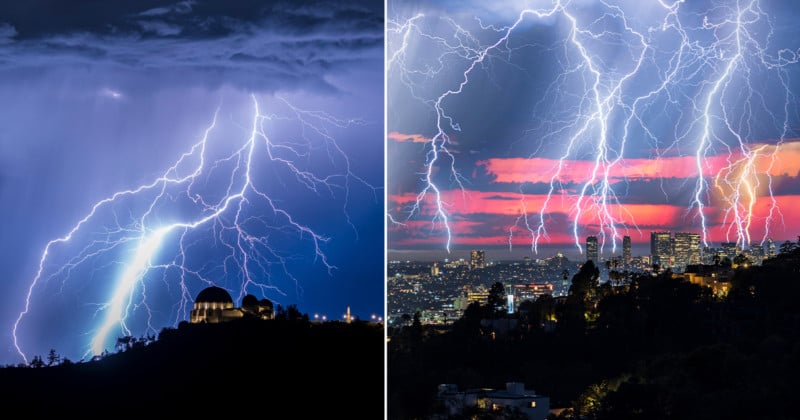 My name is Emeric Le Bars and this is the story of how I captured some insane, extremely rare photos of a lightning storm in Los Angeles, without really planning anything.
You don't need to be familiar with Los Angeles to know that the city has an average of 300 sunny days every single year, which makes it one of the sunniest locations in the country and eventually the world. Even though the city usually gets very dry summers, rainy days do happen between the months of December and March. Additionally, lightning storms are historically quite rare in the region. But this year, it was different…
On October 4, 2021, Los Angeles experienced an insane thunderstorm that even a 50-year-old inhabitant born and raised in the area told me had never seen before. Southern California, including Los Angeles, was hit by over 4,000 lightning strikes in a 24-hour time frame. Even if this happened in Florida, a state that experiences year-long thunderstorms, that's a lot of lightning in such a short period of time.
It was probably not the safest time to go out and shoot, I should tell you. But what's crazy about my story is that nothing was really planned. I was light-years away from thinking that a storm like this could happen in early October in Los Angeles. Two days prior, it was still 90-degrees out!
I went out shooting only because one of my friends, Craig who was visiting from Chicago, had a few hours to spare before his flight back. Since he was staying in Los Feliz, I suggested we go to Griffith Park nearby because it offers amazing high vantage points of the downtown Los Angeles skyline, Hollywood, the Griffith Observatory, and many other iconic locations when the weather is clear.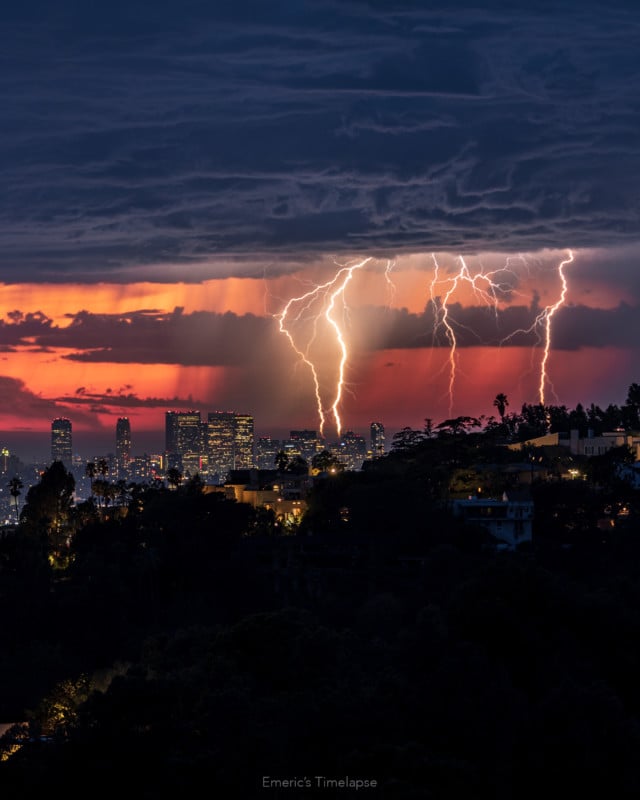 This also happened to be the day Facebook and Instagram were down for several hours and the only way to get in touch with him was through Instagram messages; I did not have his number saved in my phone. Around 3 PM, when the app slowly started to work again, I received his message saying he was ready to go at any time. Sunset was only three hours from then, so we had no time to waste.
As I was driving from my apartment to Los Feliz to pick him up, I started seeing some very scary-looking dark clouds approaching from the south. Once I reached his location, I decided to check the radar and noticed that some heavy rain and lightning was coming towards us. Going to Griffith Park, which is mostly hills and required hiking suddenly became a bad idea. So, we decided to go grab a beer in a local bar while we waited for the storm to pass.
Between Instagram being down and the storm approaching, it felt as though everything was against us that day.
After 30 minutes of enjoying a cold one and catching up, the rain calmed down a bit and we decided to drive to the entrance of the park. That said, it was still raining a lot and the constant lightning definitely did not make us want to go hiking and so we decided to wait another 20 minutes in the car. We didn't want to give up as we could clearly see that the storm would pass fairly quickly; looking South, the sky was mostly blue. At that time, it was only half an hour before sunset and I did not want to miss the good colors if there were any. Speaking from my experience from the last nine years shooting timelapses, after-storm sunsets can be very, very colorful. I did not want to miss it!
And I am glad we didn't give up.
Even though we didn't get a colorful sunset, I came back with some of my favorite photos I have ever captured.
We started hiking to our spot in Griffith Park when the rain stopped. Our goal was to capture the downtown Los Angeles skyline at sunset, but once we reached our spot, we noticed some crazy huge lightning strikes to the West, right above the ocean. We could clearly see the Century City skyline and the Griffith Observatory. The visibility was really clear with all the rain and wind from the past couple of hours, so we decided to change our plans and capture this view instead of Downtown Los Angeles, where nothing was really happening.
I want to explain that I know nothing about capturing thunderstorms and lightning. I specialize in timelapse photography, mostly city skylines and other cityscape subjects, and have only shot one or two storms like this in the past.
The only detail I was aware of to capture a great timelapse of a thunderstorm is to reduce the amount of time between each photo as much as possible. This technique will raise the chances of capturing a lightning bolt since the "dark time" is reduced to the minimum.
After setting up my camera, composition, and settings, I decided to shoot a first timelapse with a 2.5-second shutter speed and three-second interval. This will give me only half a second of delay between each photo. Luckily for me, I did not miss a single lightning strike during the 15-minute timelapse.
The park was mostly empty because of the weather, and we were the only two around aside from a few hikers we saw in the two hours we were shooting up there.
As time passed, the storm started to get even bigger. I changed location, only 100 feet away, and tried timelapsing the downtown LA skyline, but wasn't happy with that since nothing was happening in that direction. We had to leave soon as my friend Craig had a flight to catch in a few hours, but agreed to try one more timelapse.
"Once last one," we said.
And I am glad we did.
The storm had moved just behind the Griffith Observatory. It seemed closer and bigger than when we started, yet it was super clear right above us.
I started shooting a last timelapse aimed at the Observatory when we witnessed the biggest lightning strikes of our entire lives — I am not exaggerating. The fact that this was happening right there, right then in a city known for its dry and hot weather all year long, was just out of this world.
Since we were over an hour after the sunset, it was really dark around us and I had to use different settings. I went with a five-second shutter speed and a six-second interval. One second between each shot is not much, and even then I did miss a few strikes. Eventually, I did capture a few that turned out to be some amazing photos of the Observatory.
Since I was shooting a timelapse, I could not look at the photos directly, but I knew I captured some unique shots. We were both super excited and could not believe it!
The timelapses in video form are actually not that exciting since the lightning bolts happen on one single frame — It's just too fast! But I am okay with this and am just really happy about the stills I got.
What was supposed to be a fun timelapse session with a friend turned out to be the most exciting shoots of the last 10 years. Besides the location, nothing was planned at all and we even had to change our plan a few times. Even at 3 PM, I didn't even know if we were still going out or not since I couldn't communicate with my friend Craig.
This story was a way to remind you that sometimes, just going out at the last minute can turn out to be the best session of your life! I tend to overthink everything before going out shooting: Are the clouds moving in the right direction? Are those low, medium, or high clouds? Should I go to this spot or to that one? Where do I park? It's always impossible to fully predict the outcome and sometimes what you expect never happens, but something better might take its place.
Of course, planning is always good and often safer, but some of my favorite timelapse videos and photos ever captured were actually not really planned. This was the case for my SpaceX Falcon 9 timelapse from October 2018, or La Tuna fire in September 2017 (and countless amazing sunsets).
What a crazy session I will not forget anytime soon!
---
About the author: Emeric Le Bars is a French timelapse photographer who has been based in Los Angeles for the past nine years. He has created over 700 clips of the City of Angels and more than 500 of Atlanta, San Francisco, New York City, Las Vegas, Chicago, Paris, San Diego, Salt Lake City, Denver, Miami, Dallas, Philadelphia, and Montreal, Quebec. His work has been used by multiple companies including Adobe, Facebook, OPPO, Google, Netflix, LG, STARZ, Microsoft, Mastercard, Red Bull, and Nike. Today, he teaches timelapse photography through online classes in both English and French on his website.