Chasing Storms: Photographing a Monsoon and Dramatic Lightning
Photographer Michael Shainblum has shared the behind-the-scenes footage of capturing picturesque monsoon formations as well as a powerful and dramatic lightning storm, all shot on a Sony 16-35mm f/4 lens.
Shainblum, a landscape, timelapse and aerial photographer based in San Francisco, California, is already familiar with photographing unpredictable and at times dangerous weather conditions that nature provides. It's not something he recommends for beginners to try solo and has previously shared advice for others who are keen to attempt storm chasing.
This time, Shainblum starts out by photographing a dried-out lake bed — also known as playa — on a sunny day, joined by his friend, photographer, and fellow storm chaser, Nick Page. The dry weather conditions created a pattern on the ground, made out of crack formations. In an anticipation of a storm that was to come later on, Shainblum captures a few test shots and makes sure to shoot several images of the scene to stack later on.
He says that it is a good practice to take a few extra frames with different focus points — to avoid regretting not having those additional images during post-processing — in the scene, especially if the foreground has so much character. This also includes getting all corners tack-sharp.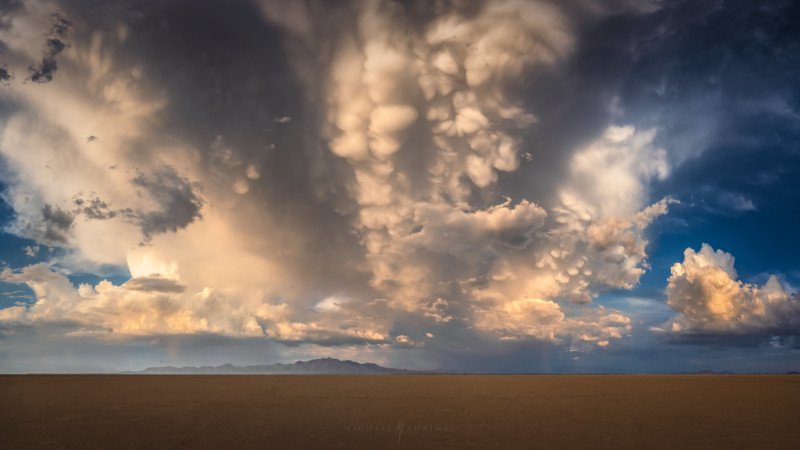 As the sun starts to go down and the light illuminates the clouds, it can become overwhelming to decide what to shoot and how to shoot it because there are so many options. The key is to decide and stick with that decision. One of those options is a panorama — as seen above — which, in Shainblum's case, provides about 180-degrees of view and took 18 wide-angle photos to create. Shainblum also shot two rows of horizontal shots which further adds the impression of vastness in the final shot.
Storm clouds give photographers a diverse range of colors and textures to play with, Shainblum says. To make the most of the given scene, he shoots timelapses and still images, without forgetting to simply enjoy and witness the beautiful view, especially as the sunset brings dramatic sky formations.
As the sun goes down and the storm advances, Shainblum ensured that his camera was set up for a timelapse so as not to miss an important shot when the lightning starts. He says that it is important to monitor the storm and the direction it is heading in to ensure safety, which is why Shainblum and Page have previously recommended photographers to join a storm photography community or find someone who has experience in reading storms.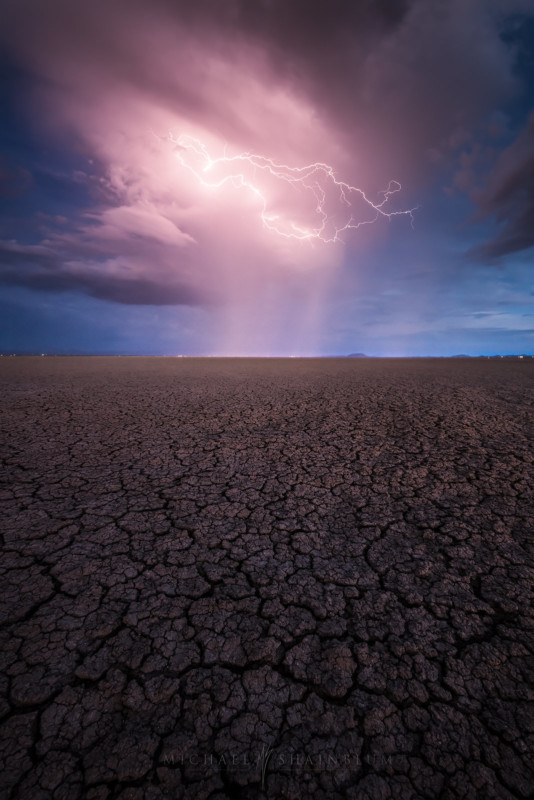 The night concludes with a strong rainfall, which prompts them to find a different vantage point. However, it's well worth the wait and extra effort because they are able to capture dramatic lightning strikes.
More landscape videos like these can be found on Shainblum's YouTube channel, with his photography portfolio available on his website and Instagram.
---
Image credits: All images by Michael Shainblum and used with permission.