Model Confronts Photographer Who Told Her Not to Eat to Lose Weight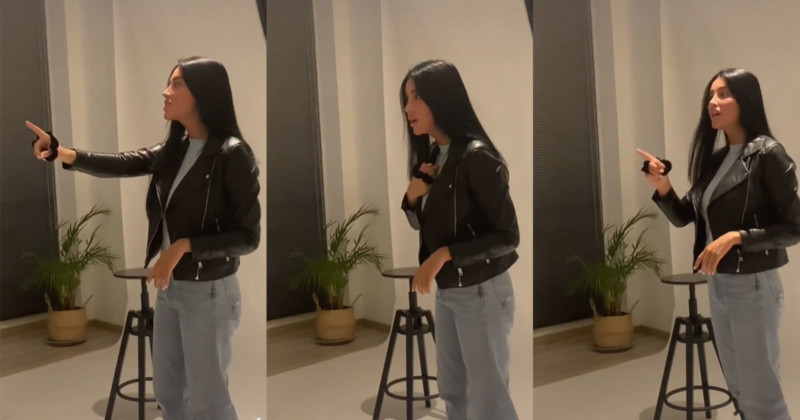 A model has gone viral on the Internet after sharing a secretly recorded video in which she confronts a photographer during a photo shoot. She's accusing the photographer of telling her to not eat until the next photo shoot in order to lose weight.

Here's the short 1-minute video posted to TikTok by model
@thewizardlizz
:
The model says the video was secretly shot by her friend who witnessed the exchange.
"I was at my shoot today and the photographer told me to not eat until the next shoot so I would lose weight," the model writes in text overlaying the start of the video, which begins after the alleged comment.
"You do not tell people to not eat until their next shoot because that will develop an eating disorder," the model tells the photographer. "You are very lucky that I am secure in my body and that I love myself.
"But if there was another model who was standing here and was concerned about her body, that one comment that you made would literally make her go insane. She would literally stop eating, weighing her food. Her hair would fall out […] she can die because of that one comment that you made."
The photographer can be heard in the video arguing with her, but she had the final word as she walked off the set and away from the shoot.
"That's not the way you talk to people," the model continues. "And I shouldn't lose anything. I'm already very skinny. And even if I wasn't, you're not the one to tell me what to do with my body."
"You know what you're going to do? You're going to tell the clients that I'm not doing this anymore. […] "You should watch your mouth and the way you talk to people because it could really damage them."
In just a few days since being published, the model's video has already racked up over 17.5 million views, 4.5 million likes, and 44,000 comments.
In other comments posted to the video, the model shares that her clients were happy with her size and the ones paying for her work — it was just the hired photographer who offended her with his comments prior to the start of the shoot.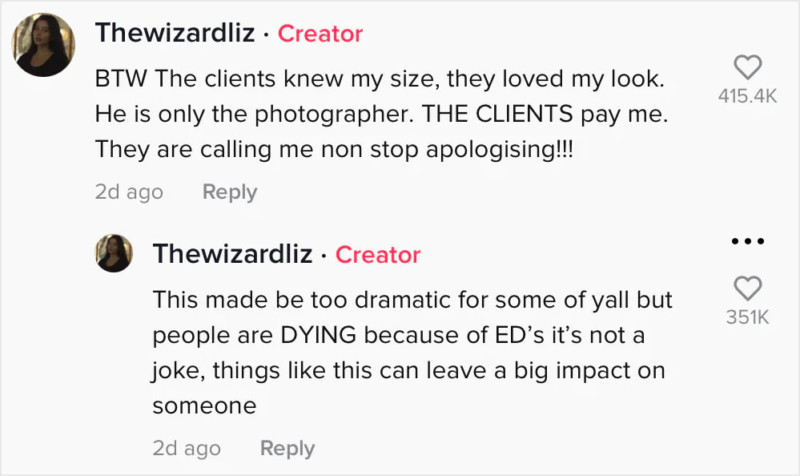 After receiving an outpouring of support from viewers, the model shared follow-up thoughts on Instagram.
"I am beyond shocked by all the love and support I received for this video. I really didn't want to post it cause I felt like I might [have] reacted [too] [harshly]… but I am not doing this for me," she writes. "I'm doing it for my younger self who developed an eating disorder because of people like this who constantly told me what and when I should or shouldn't eat.
"I am doing this for every girl/boy out there who has suffered or is still suffering from an ED, for everyone who has been put down and didn't feel comfortable speaking up. You are worthy, you CAN and SHOULD defend yourself."
The model also notes that the photographer was subsequently fired by the clients who had booked her for the shoot.