TCL 20 Pro 5G Smartphone Review: Middling in the Mid-Range
Since TCL only likes to play in the affordable and mid-range tiers, its phones aren't designed to take on the best flagships. The $500 20 Pro 5G represents the best of TCL, with an emphasis on camera performance. That comes at a time when more flagship camera features are trickling down to mid-range devices, so is there enough here to make a lasting impact?
As a note, even though in the United States TCL is more known for making its Roku televisions, the company didn't just start making smartphones — it has been doing that for years going back to 2005 when the Chinese company acquired Alcatel's phone business. It even tried to resurrect the BlackBerry brand for a few years. But in all that time, the company only slapped its own logo on phones starting in 2019.
Design and Build
This wasn't my first time reviewing a TCL phone, but it was the first time the camera has featured so prominently in the expectations that came with one. TCL gave the 20 Pro a tasteful look that belies its status as a mid-range device, starting with the 6.67-inch AMOLED screen that serves as the visual centerpiece.
My one gripe about it is that it's a curved display, and I wish phone manufacturers would stop making them because they aren't inherently useful. Even if we look at it purely from an ergonomic point of view, the value is lost on me, personally. I say that partly because I've always felt curved displays hinder mobile photography through false taps and a looser grip when taking photos, especially in landscape mode.
Granted, it's a personal gripe that isn't exclusive to this phone, but it may play a role in how much you like it yourself. It's equally unfortunate the screen's vibrance isn't matched by a higher refresh rate. The 20 Pro is stuck at 60Hz, so if you're a stickler for that, you'll need to look elsewhere to find it, and it's not necessarily a feature that is exclusive to a flagship. Mid-range phones, like the Samsung Galaxy A52 5G, already offer 120Hz.
There is wireless charging at least, and even a headphone jack, should you be interested in plugging in that way. The Snapdragon 750G is a modest, yet dependable chipset for a phone like this, and it's nice to see 6GB of RAM and 256GB of internal storage (expandable up to 1TB through the microSD slot). It's also a 5G-enabled phone capable of running on North American networks, as it was built for just that purpose.
Camera Features
To change up the narrative with a more decided imaging focus, TCL had to shift into a higher gear with its camera layout. The 20 Pro has a quad-camera array on the rear, anchored by the 48-megapixel main 1/2.0-inch Quad Bayer Sony IMX582 image sensor. It's a 26mm equivalent with an f/1.8 aperture, so while not quite as wide as others might be, it's still a decent camera on paper.
The 16-megapixel ultra-wide is a 16mm equivalent with a 123-degree field of view, albeit constrained to some degree by the 1/3.06-inch sensor and f/2.4 aperture. With 1 micron pixels, the 20 Pro isn't well suited to being a stalwart in low-light conditions, but we'll get to that later.
TCL also shied away from going with a telephoto lens, and instead focused on macro photography with a 5MP Macro 1/5-inch sensor (f/2.2) that is partly working in tandem with a 2MP Depth 1/50inch sensor (f/2.4) to round out the full array. So, what you have is a camera that relies on digital zoom to get closer to further subjects, while a dedicated lens lets you get that much closer to smaller ones. The depth camera works with any other lens or feature that needs it, giving it some level of versatility.
Software Features
It's worth noting that you don't get the full pixel count from the 48-megapixel sensor. You essentially get a 12-megapixel shot by default, unless you use the High Pixel mode under the "More" section within the camera's menu layout. That mode is the only one that shoots at the full resolution, and the other modes generally rely on the primary sensor as well.
Specialized modes include Super Macro, Light Trace, and Pano, whereas others, like Stop Motion, Slo-Mo, and Short Video are video-focused. These modes complement the Auto, Portrait, Super Night, Pro, and Video modes available on the main menu.
The settings don't offer a ton of customization, though some things do stand out. I chuckled when I first saw "Calorie detection" because I struggled with the concept. Take a photo of food and it tries to estimate the number of calories. I've seen this type of tech before, at least in various stages of development, and one of the enduring issues is the lack of context when it comes to ingredients. A vegan cupcake can look the same as a regular one, and as expected, the 20 Pro's camera doesn't know the difference.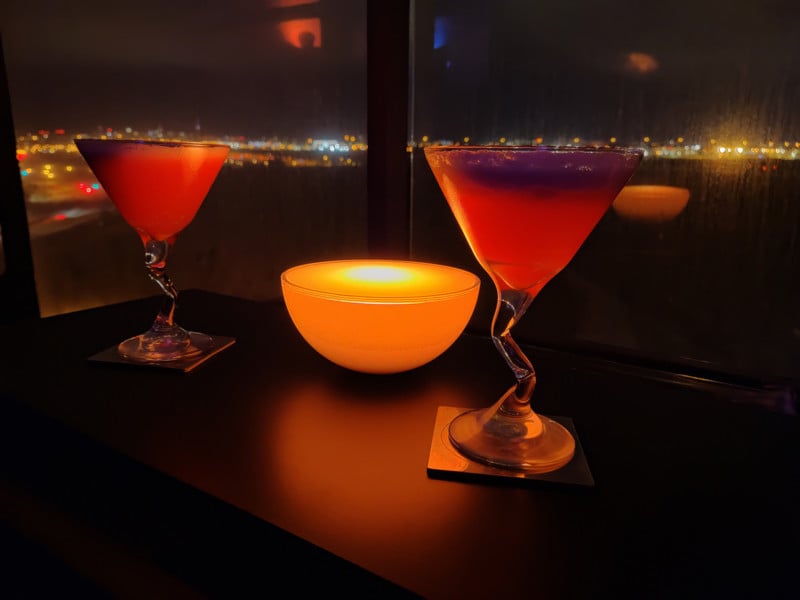 But that hardly matters in the grander scheme. The AI Scene Detection is all about taking the guesswork out of the composition, though you're probably better off not using it because it only complicates things further.
Image Quality
Main camera
The quickest way to describe the main camera is that it's more at home when you're not. Whether or not by design, it captures better photos in outdoor conditions mainly due to how dynamic range improves with natural light. Be it bright sunlight or gloomy overcast, results were consistently better than indoors, where colors were more muted and highlights and shadows presented less detail.
The "High Pixel" mode is more susceptible to these nuances because the smaller pixels take in less light. That turns out better when natural light is involved, whereas dimmer light leaves more detail out of an image when the purpose is the exact opposite. It's easier to forgive the lack of consistency because the 20 Pro isn't supposed to compete as a flagship, and I reminded myself of that every time I recognized one of its limitations.
Regardless of the resolution, the key was in adjusting exposure to offset some of those limits in dynamic range. TCL did include an HDR setting you can toggle on, off, or set to automatic, and that can help produce better results but you still have to tinker with exposure to get the best shot. There are also 10 filters to choose from, including one for monochrome photos, if you want to get creative, though I would argue you'll get the best results by editing shots yourself later.
Ultra-wide
This is where things get a little weird. The ultra-wide camera is perhaps the weakest link, not just because photos aren't particularly noteworthy, but also due to a strange bug that initially affected it. For reasons I could never ascertain, the exposure slider wouldn't appear after tapping to focus on a subject. I inquired with TCL about it, and never got a definitive answer. That was back in May. Fast-forward to July, and a software update seems to have improved the issue, just not entirely.
Either way, changing exposure wouldn't do much for some of the output anyway. White balance is off in ways that don't happen with the main lens. It sometimes skews a little too far into magenta, and fringing appears in shots with more dramatic tonal differences. For example, a blue sky with white clouds might lead to purple fringing. In other instances with different color contrasts, that might not happen.
It's telling that TCL chose not to include the ultra-wide lens in the Super Night mode, an omission that you don't always see with other models. The company never explained why, but if I were to hazard a guess, it would be because of the inconsistent output in ideal conditions.
Pro Mode
There is a Pro mode, but how "pro" it actually is depends on what you're okay with missing out on. The major absence here is RAW capture, a baffling move considering there is no way to shoot at 48-megapixels to take advantage of the manual features at full resolution anyway. I asked the company why it wouldn't offer RAW, especially when the internal storage is as high as it is, but never got a straight answer beyond a vague reference to this being a mid-range phone.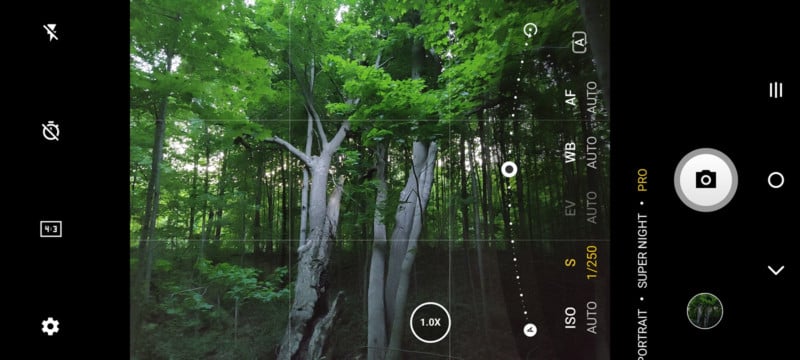 At least you can shoot using all the available lenses in the mode, which is a decent consolation. That includes zooming in, though even tweaking the manual features can't mask the artifacts and noise that creeps in from the digital zoom. In good conditions, however, the 20 Pro can be surprisingly good at shooting solid images in this mode.
Everything else
Super Night is okay, though not what you can consider amazing. For a mid-range phone, photos are okay, just not as good as other competitors in the same price range. Portrait mode is fine, with an effective level of separation between the foreground subject and background. It benefits from good lighting, doing better when you're not trying to pull out more exposure out of the composition.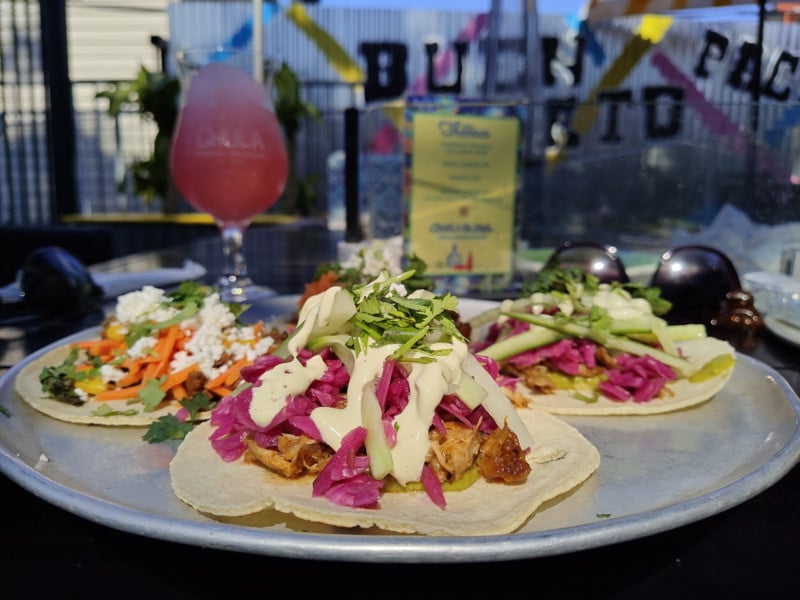 The specialized modes are more hit or miss. Light Trace emulates long exposure photography, as well as smoother movement. The idea is nice, and we've seen it work in phones like the Vivo X60 Pro+, but it's not an apples-to-apples comparison since the 20 Pro is not in the same league. The problem is that it's not easy to use handheld. Try to soften the water in a creek and the entire frame blurs, even if your focal point was the water itself. Capturing light trails runs into similar challenges. Your only potential recourse is to use a tripod, though results may vary.
Super Macro is effective when you enter the right range, though the interface doesn't necessarily tell you at what point that is. One thing that would've helped is to have focus peaking as an option so users know what the focal point is. That's not on TCL alone, as no other brands really apply it to macro shots right now, but there are times when the distance can be confusing and quickly shift focus while about to capture the photo.
There is no actual optical zoom in the 20 Pro, though the phone does default to 2x zoom as an option when you switch between lenses. I'm normally not a fan of any digital zoom, but the 2x zoom here was better than I expected. Again, conditions dictate the quality of the shot, so results can vary pretty widely when using it. Zoom in beyond that and quality radically degrades all the way up to 10x digital zoom.
Video Features
I didn't use video all that much, as it wasn't going to be a big part of this review, but you can shoot in 4K at 30 frames-per-second on this smartphone if you want to. Electronic image stabilization is on by default to keep things steady, and there is an anti-shake setting on the interface that you can toggle on. It applies a crop factor to help with that, much like the movement setting next to it is there if you're shooting an action scene. You also have HDR and filters available to give your clips some visual treatments.
"Short Video" is a unique mode that lets you shoot with filters, music, and transitions in mind. Clips can be as short as 10 seconds, or as long as 60 seconds. You can also mute the microphone if you want the audio to be driven by the music.
A Mid-Ranger With Potential
It's hard to tell if TCL plans to continue improving the 20 Pro's camera through another series of updates, or if it will hold on to improvements for the next iteration of this phone line. As is, the phone shows the company has the potential to make a good phone with a capable camera, except the omissions take away some of the allure it built up.
It's fine when your primary camera works well enough, but when the ultra-wide comes with some prerequisites, it's hard to make the case the array is as good as TCL claims. Plus, mid-range phones are getting better at a faster clip than flagship models are, so competition is already tight, and getting tighter.
Are There Alternatives?
The first competitors that stand out are the Google Pixel 4a 5G and Samsung Galaxy A52 5G. Even the Pixel 5 is in the same price range, making it a super compelling alternative. All of those phones not only shoot in RAW, but also produce better results more often. The iPhone 12 would also stand out as a solid choice.
Should You Buy It?
No, not with the kind of options otherwise available. The 20 Pro is actually a very good phone for $500, but if we're looking at this on the merits of camera performance, it has to make up some ground to stand out above others. That could potentially happen with software updates, but as of now, this phone isn't quite there yet.