Horse Photobombs Maternity Shoot, Smiles for the Camera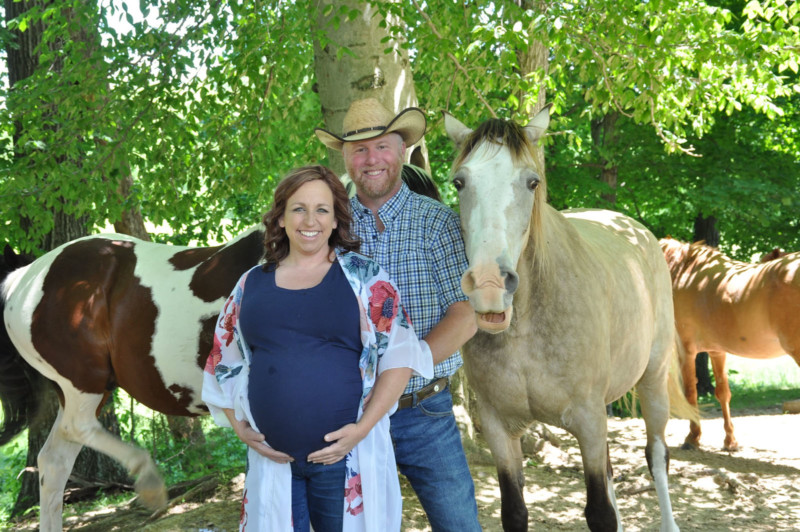 An Ohio wedding photographer recently found herself working the "best maternity session ever" when one of the couple's horses decided to join in on the shoot, smile for the camera, and crack everyone up.

Cincinnati photographer
Kristen Zaffiro
was conducting the photo shoot for Phil and Amanda (Zaffiro's cousin) on the couple's pasture.
"We tried the photo shoot two other times and got rained out, but on Memorial Day, we finally got together," Zaffiro tells PetaPixel. "Phil's 10-year-old daughter, Ava, was supposed to be in the shoot, but that day she wasn't available. We had to get this shoot in because the doctors kept saying Amanda could deliver any day! The baby is measuring over 10 pounds now so they have a planned C-section for Monday.
"We did pictures with just Phil and Amanda first in the pasture. Then we took the all-terrain vehicle up closer to where the horses roam."
Upon arriving in the shaded area under some trees, the group set up and got ready to continue shooting.
"The horses were very curious when I came up with my camera, and one almost knocked me off my ladder!" the photographer says. "As a photographer, it is hard if the sunspots are everywhere on the faces. So I was trying to get the lighting situated and the horses were very nosy with the camera and me!"
One horse in particular, Buckshot, took a keen interest in what the humans were doing, and he decided to stand right next to Phil and pose too.
"That's when I said you could at least smile for me! So when it seemed to me that he smiled, I laughed, that is when he really carried on and on!
"The fact that he actually smiled when I told him to set the silly mood."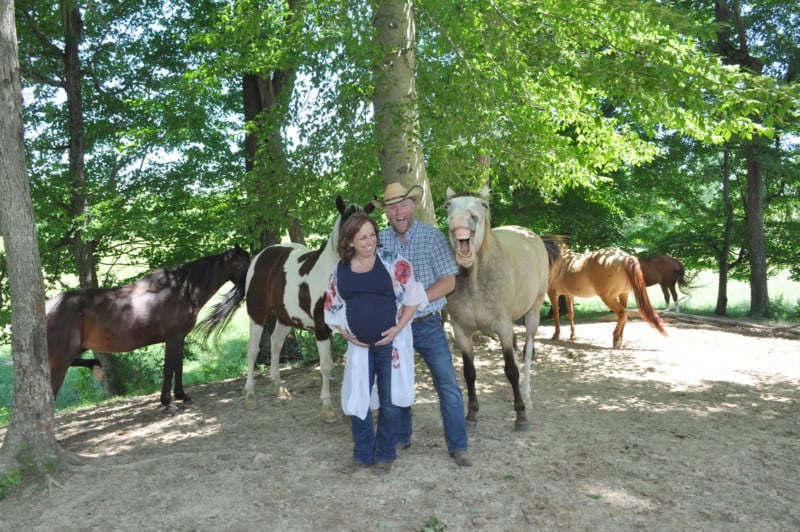 Buckshot is known to have a playful personality, and he was the only horse that continued to be interested in the shoot after the initial curiosity.
"Amanda says he is definitely a character and always wants to be the center of attention so when I laughed he just kept carrying on," Zaffiro says. "That's why she is rolling her eyes in a few pictures — I'm sure she was thinking we will never get this photo shoot finished if this horse keeps acting up."
Zaffiro later shared these photos on Facebook with the caption, "This photo session… I laughed so hard! Who knew when I told THIS horse to smile, he would! Best maternity session ever," and the shots have gone viral with over 120,000 Likes, 27,000 comments, and over 295,000 shares (at the time of this writing).
You can find more of Zaffiro's work on her website and Facebook.
---
Image credits: Photographs by Kristen Zaffiro and used with permission