Angelina Jolie Photographed Covered in Bees To Support Conservation
National Geographic teamed up with famed actress, director, and humanitarian activist Angelina Jolie in order to raise awareness for bee conservation and a new program to empower women beekeepers around the world. As part of the effort, Jolie was photographed covered in bees.
The photo is designed to be a representation of the balance between humans and the prolific pollinators that are bees. Jolie, who, as Special Envoy of the UN High Commissioner for Refugees, has seen firsthand the link between environmental destruction, food insecurity, and human displacement around the world. She has also spent 17 years supporting local communities in Cambodia in their efforts to combat the deforestation and illegal logging that threaten bees, other wildlife, and the ecosystem as a whole, through a foundation named for her eldest son, Maddox.
"With so much we are worried about around the world and so many people feeling overwhelmed with bad news and the reality of what is collapsing and what is happening, this is one [issue] that we can manage," Jolie says. "We can certainly all step in and do our part, and we can do much better and anybody can."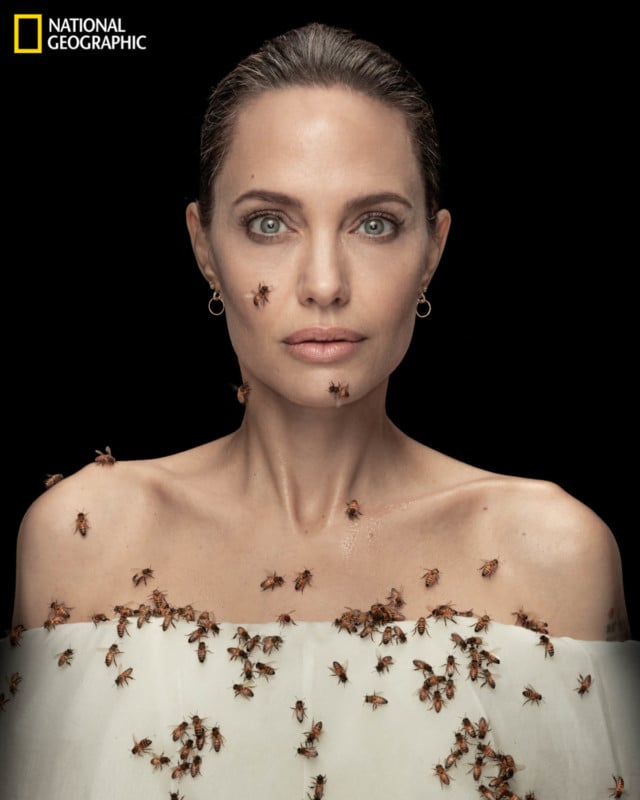 The portrait was captured by photographer Dan Winters, who is himself an amateur beekeeper, who drew his inspiration from a 1981 Richard Avedon portrait of a California beekeeper whose naked torso was covered in bees.
"Using the same pheromone the photographer and entomologist formulated for Avedon's portrait exactly 40 years earlier, Winters carefully photographed Jolie at one with bees in California, with the aim to honor both Avedon and his photography while bringing attention to bees and beekeepers everywhere," National Geographic says.
Winters also photographed a moving portrait of Jolie, which National Geographic shared as the second image of two in the Instagram post below.
In an interview with National Geographic's senior executive editor Indira Lakshmanan, Jolie says that she was inspired by different visions: of bees as an important pillar of human's food system and the global network of women who will be trained to protect the insects for the future.
The interview, which can be read in full here, discusses the importance of bee conservation and why she believes that beekeeping is vital to sustainable agriculture, environmental health, and overall global food supply security. The interview also focuses on Jolie's in a program called "Women for Bees," which helps promote its twin objectives of women's empowerment and biodiversity conservation.
"By 2025, the program aims to build 2,500 hives within 25 UNESCO Biosphere Reserves and restock 125 million bees. The 50 women to graduate by 2025 will be trained and supported in establishing their own beekeeping operations," National Geographic explains.
For National Geographic, bee conservation falls under its Planet Possible initiative, which launched in April.
"At National Geographic, we recognize the power that visual storytelling has to drive real change," said National Geographic's VP of visuals and immersive experiences Whitney Johnson. "In celebrating World Bee Day, we wanted to shine a light on the difficulties facing bees in a creative and eye-catching way. Collaborating with Angelina Jolie and inspired by the iconic Richard Avedon portrait, the 'Women for Bees' entrepreneurship program presented a unique entry point for us to engage readers on an issue that they might not think about every day but impacts so much of our everyday lives."
You can find National Geographic's exclusive World Bee Day interview with Angelina Jolie at NatGeo.com/Bees.