Astronaut and Photographer Team Up on First-of-Its-Kind Photo Book
Photographer Roland Miller and Italian astronaut Paolo Nespoli recently teamed up in a first-of-its-kind collaboration between an Earth-bound artist and a ISS-bound astronaut, to create a one-of-a-kind photo book that will appeal to space nerds and photography lovers alike.
The book—currently being funded on Kickstarter—is called Interior Space: A Visual Exploration of the International Space Station, and it represents a new of way of capturing the interior of the ISS.
Miller has over 30 years experience photographing space-related programs, but Interior Space is a departure from his usual style. In fact, it's a departure from anybody's usual style: according to Miller, it's the "first true collaboration at this level between an artist on the Earth and an astronaut in space," and a more detailed tour of the inside of the International Space Station than we've ever seen before.
Here's a quick video intro to the project:
Speaking with Colossal, Miller explains the challenges inherent in shooting available light photography on a spacecraft that's going 17,500 miles an hour.
"The first problem you run into is you can't use a tripod in space because it just floats away, and the station itself is going 17,500 miles an hour," he explains. "Just because of the size and the speed, there's a harmonic vibration to it."
And so, Nespoli had to construct a special "stabilizing bipod" that would allow him to shoot sharp images at a high shutter speed, without compromising the quality of the final shots. Post-processing was done on Earth by miller.
As Miller explains, this was a true collaboration. He guided Nespoli's internal photography by using Google Street View images of the inside of the ISS to collaborate with Nespoli on composition.
Additionally, Nespoli added some of his unique photos of the Space Shuttle Endeavor docked at the ISS, which were captured from a departing Soyuz capsule in 2011, and Miller added some Earth-bound photos of ISS processing, research, and training facilities in the United States.
The result is a 200 page, full-color, hardbound 12 x 10-inch coffee table book filled with (mostly) available-light images captured in Miller's "documentary and abstract manner," as well as several essays from four experts, Miller, and Nespoli.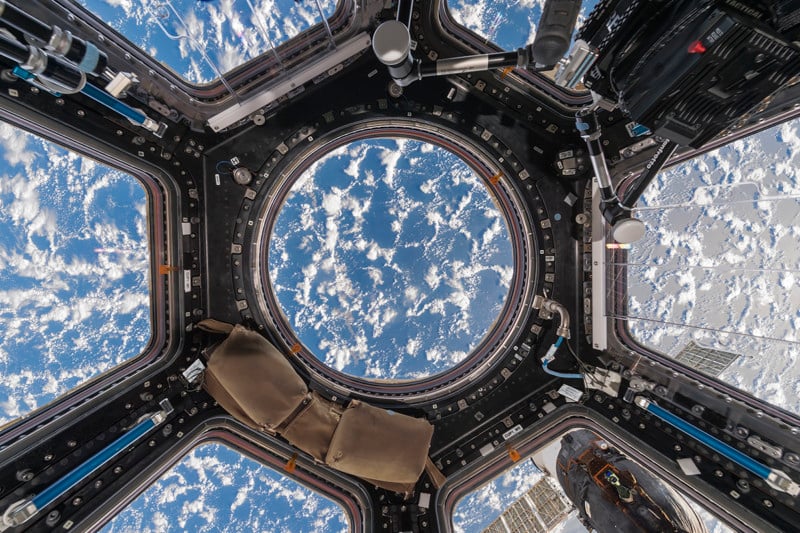 With 13 days to go (as of this writing) the Kickstarter campaign is already $13,000 past its funding goal, so it looks like the photo book will definitely become a reality.
Pledges range from $25 for a 5×7 archival pigment print signed by either the photographer or the astronaut (depending on the image), to $55 for a signed copy of the photo book, all the way up to $1,400 if you want the signed book and five 26.5 x 40-inch archival pigment prints signed by the duo.
To lean more or if you want to pledge your support and secure a copy for yourself, head over to the Kickstarter campaign here.
(via Colossal)