Google Image Search Now Highlights Fact Checks for Manipulated Photos
In big tech's continuing battle against the scourge of so-called "fake news" and manipulated imagery used to trick people online, Google has just added a major update to Google Image search: fact checking.
Announced earlier today on the Google Keyword Blog, the update will add a "fact check" label to certain results in Google Image Search, helping users identify images and video that might be manipulated or misleading. Here's how it works:
Now, when you search on Google Images, you may see a "Fact Check" label under the thumbnail image results. When you tap one of these results to view the image in a larger format, you'll see a summary of the fact check that appears on the underlying web page. These labels may appear both for fact check articles about specific images and for fact check articles that include an image in the story.
In real life, it looks like this: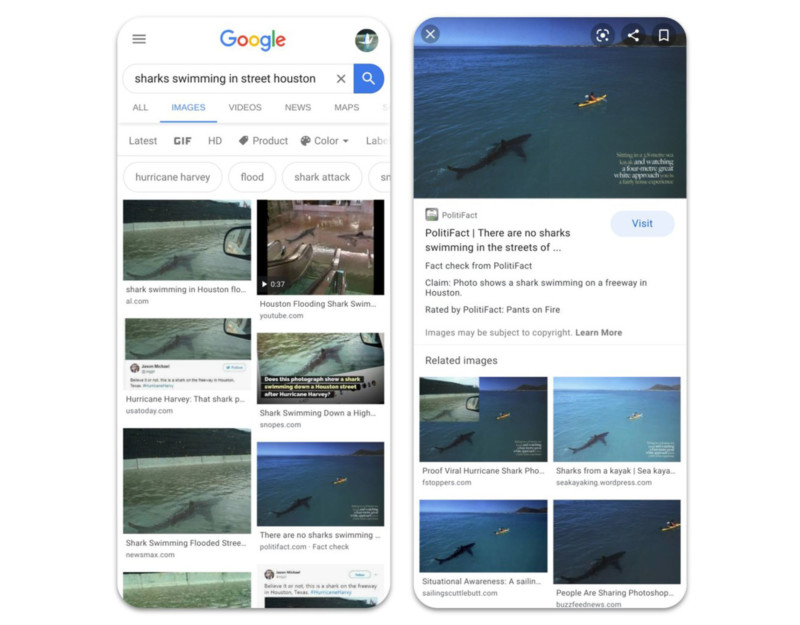 The "fact check" label will only appear on Google Image results from "independent, authoritative sources on the web" that meet Google's published eligibility criteria and use ClaimReview markup to tell Google it's a fact check. That means that this doesn't just apply to articles about images that are, indeed, fake—any authoritative "fact check" result will be marked with the label, and you can click on the image to see a summary of the findings, as you can see in the screenshot above.
To learn more about this new feature, check out the full announcement or head over to Google Images and search a well-known fake photograph for yourself, like the famous fake photo of "Hurricane Sandy" coming in over the Statue of Liberty. Once a reputable publication lets Google know that their article about this image is a fact check, you should begin to see their results marked with the "Fact Check" label.
(via Engadget)
---
Correction 6/22/20: A previous version of this article erroneously stated that Google was "fact checking" images. In fact, they are only surfacing results from reputable, independent publishers who have marked their article as a "fact check" using ClaimReview. This article has been updated to more clearly explain how the system works.