The Most Beautiful Flower Garden in the World, Without People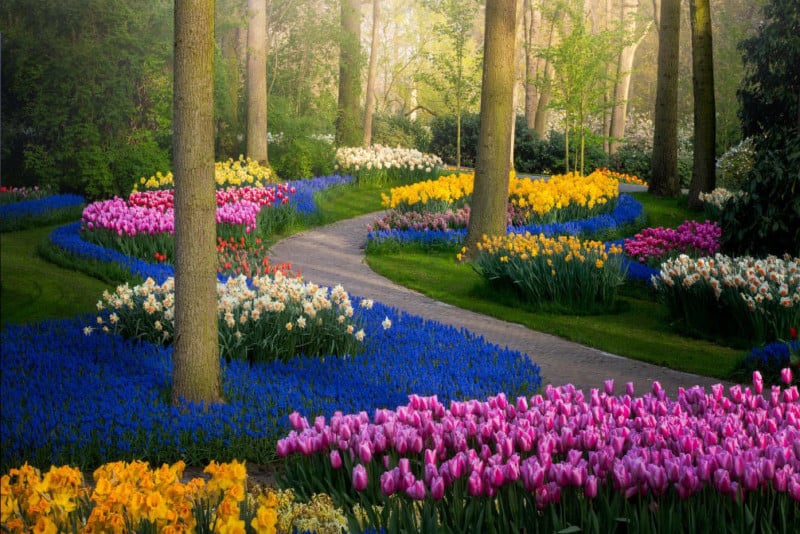 As a real Dutchman, I am a big fan of our flowers. And as a landscape photographer, I enjoy our beautiful spring each year in which I always find time to photograph the flowers and show the beauty of the Dutch flowers to the whole world.

Many of you probably know the world-famous Keukenhof, the most beautiful tulip garden in the world. Every year millions of tourists visit this garden. That's a huge lot considering the garden is only open in spring! Every year, a hard-working crew makes sure the garden looks as good as ever, including this year!
This year is 'special'. Keukenhof is closed for the first time in 71 years. But that doesn't mean there are no flowers. On the contrary, the flowers look incredible and get as much attention and care as always. All the passionate gardeners do their work as they're used to. Because even without people, nature and the show of the garden goes on.
I've been photographing the tulips since forever, mostly in the countryside. I photographed them from all angles you can possibly imagine, but there was one thing that I still wanted to capture one time in my life: Keukenhof without any other people. This seemed impossible… until April 2020. With the COVID-19 virus keeping everyone at home and tourists away, I knew this was my only chance of making this happen. I contacted Keukenhof explaining what I had in mind and they were so kind as to let me photograph the garden for a day.
When I visited the park it looked at its best. Interestingly enough, we have experienced the sunniest April ever in the Netherlands, making all the flowers pop very fast. Photographing in broad daylight with the strong sun was a challenge.
But forget about the photography for a moment: walking around there all alone, with only the sounds of birds and the incredible smell of all these flowers, is an experience by itself. I sometimes just sat next to the flowers and the water, enjoying nature for 30 minutes long. It was just a magical experience. Having no people in the park allowed me to photograph paths and angles in a certain way that you normally don't get to see because of the crowds.
This photo series is an initiative by myself in collaboration with Keukenhof. We aim to show the beauty of the park through these images. Too bad there's no smell captured.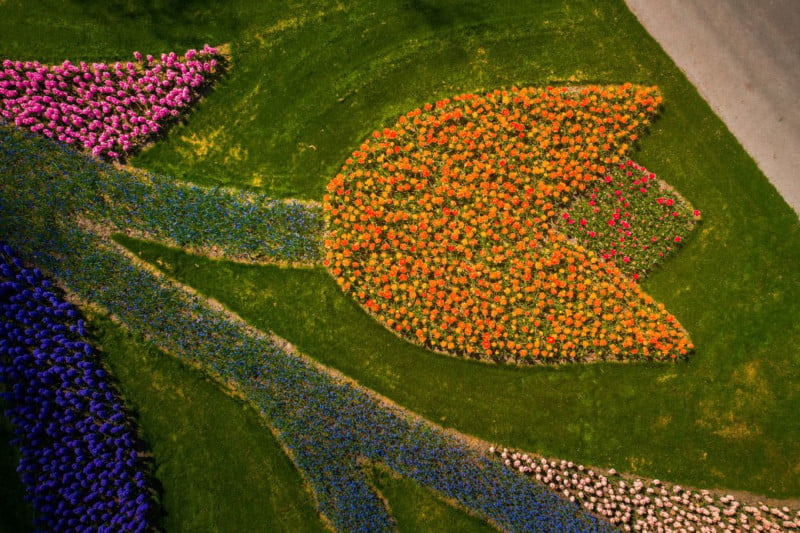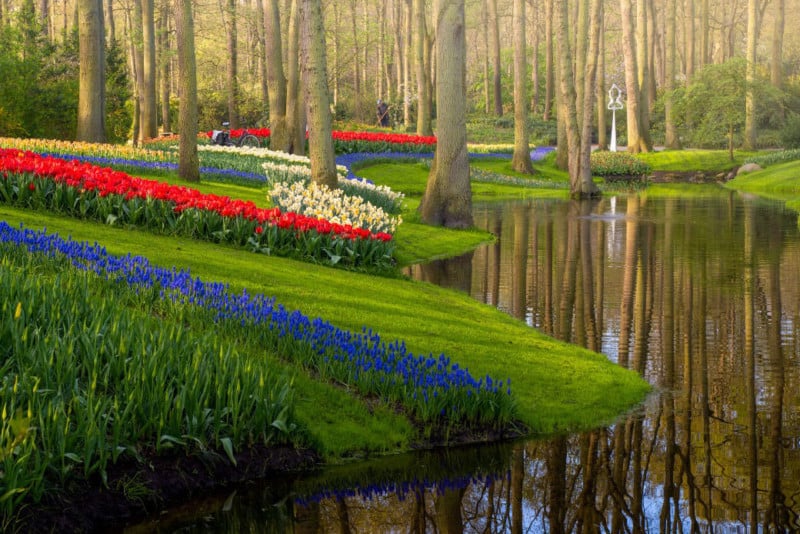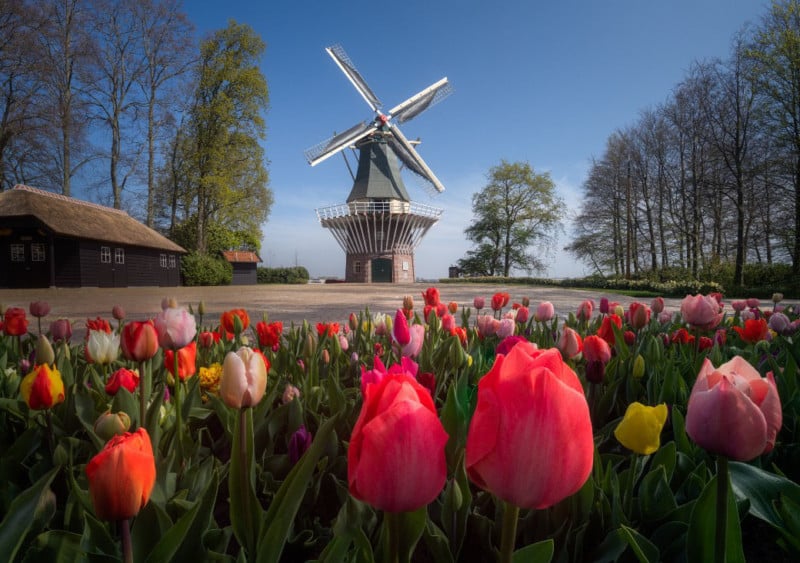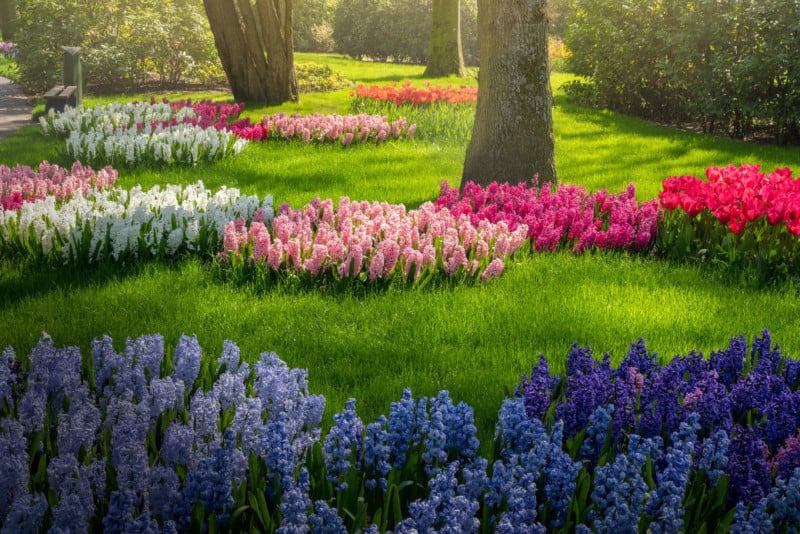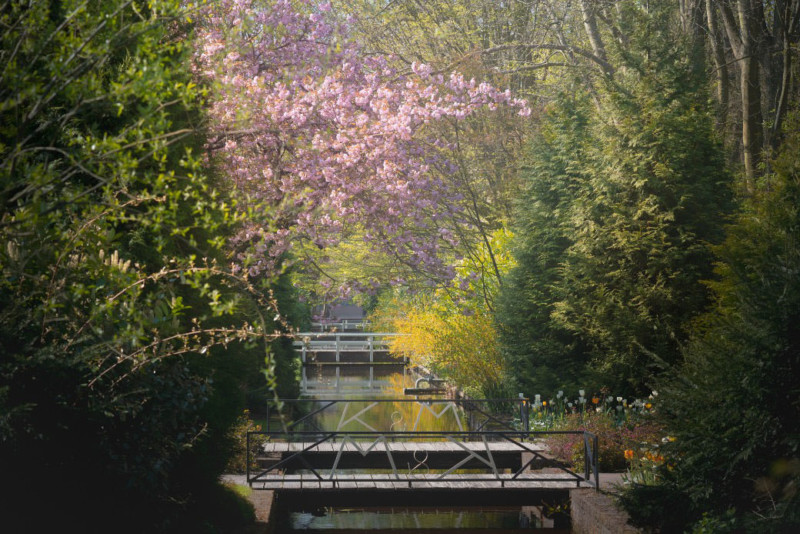 ---
About the author: Albert Dros is an award-winning Dutch photographer. The opinions expressed in this article are solely those of the author. His work has been published by some of the world's biggest media channels, including TIME, The Huffington Post, The Daily Mail, and National Geographic. You can find more of his work on his website, or by following him on Facebook and Instagram.