DJI Unveils the Mavic Air 2 with 48MP Sensor, 4K/60p Video, and 34 Minute Battery
Just 10 days after a major leak told us what we should expect, Chinese drone maker DJI has officially unveiled the Mavic Air 2: a drone they're calling "the smartest, safest and easiest-to-fly consumer drone" on the market.
The Mavic Air 2 combines new hardware with intelligent software to pack a lot of aerial imaging power into a drone that weighs just 570 grams. Admittedly, it's slightly bigger and heavier than the original Air, but it offers a lot more performance to make up for it.
At its core is a 48MP 1/2-inch QuadBayer image sensor that takes 12MP pixel binned photos normally, but can capture the full 48MP resolution of the sensor in a special "high-res" mode. It can also capture 4K/60p video at 120Mbps (a first for the Mavic series), 1080p video at 120fps or 240fps, and 8K hyperlapses in timelapse mode.
The Mavic Air 2 has also been redesigned with new motors, better aerodynamics, and 'advanced' battery technology to offer a max flight time of 34 minutes. And thanks to OcuSync 2.0, you can control the drone from up to 6.2 miles (10km) away.
But the base hardware is only the foundation. Like many of the flagship smartphones on the market, DJI has built several "smart" features into both the camera and the drone itself.
The camera will use deep learning and "advanced scene recognition" to automatically choose one of three options:
HDR Photo automatically captures and combines 7 exposures into a final image with better dynamic range
Hyperlight does something similar for low-light situations, capturing 'multiple' shots and merging them into a final version with better exposure and less noise
And Scene Recognition can intelligently detect five different categories—sunsets, blue skies, grass, snow, and trees—and optimize the color, detail and tone of your photo to match.
This works together with the latest FastTrack object and subject tracking features—Active Track 3.0, Point of Interest 3.0 and Spotlight 2.0—to provide plenty of options for pilots who want to let the drone do most of the work.
Finally, DJI is also emphasizing the extensive safety features they've built into the new drone.
As the leaks indicated, there are no top-mounted sensors on the Mavic Air 2, but you do get obstacle sensors on the front and rear of the UAV, as well as some additional sensors and auxiliary lights on the bottom to facilitate smoother automatic landing.
The drone is also equipped with DJI's Advanced Pilot Assistance System (APAS) 3.0, which uses 3D mapping to plot its own paths around obstacles, and 'AirSense' technology, which uses Automatic Dependent Surveillance-Broadcast (ADS-B) technology to warn drone pilots about other aircraft nearby and display their location on your control screen.
Here's a closer look at the new drone from all angles:
And here are a couple of sample images that DJI sent over (click for high res):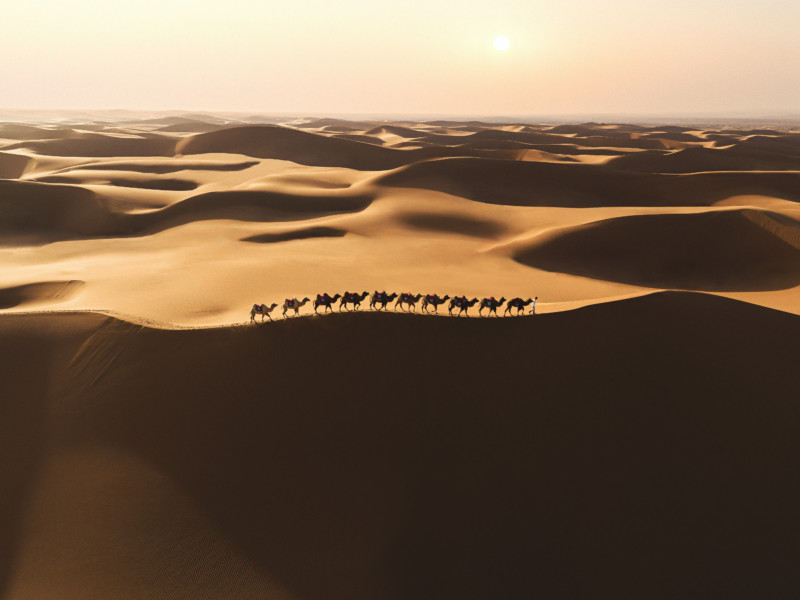 You can get the Mavic Air 2 in one of two kits: the Standard option that includes the drone, a battery, the remote controller, and all the necessary cables for $799, or the Fly More option that gives you all of the above plus a shoulder bag, a set of ND filters, an extra set of propellers, a charging hub, and a total of three batteries for $988.
Due to shipping issues caused by the COVID-19 pandemic, the Mavic Air 2 will only be available right away in China. All other regions are currently limited to pre-order, with an expected ship date of "late May."
To learn more about the Mavic Air 2 and dive deeper into all of the flight and photography features that DJI has built into the software and hardware alike, head over to the DJI website or pre-order yours today.