Disney Shutting Down NatGeo Your Shot Website to Focus on Instagram
The National Geographic Your Shot website and community is about to come to an abrupt end. According to a pop-up message posted on the Your Shot website, the site will be "discontinued" on October 31st, 2019, and "all engagement, assignments, and promotion of photos" will shift to the Your Shot Instagram account.
The announcement has left people with more questions than answers, as speculation runs rampant that this shut down is due to Disney's recent acquisition of NatGeo from Fox. According to Variety, Disney is laying off as many as 70 to 80 employees from the storied photography magazine/brand in an attempt to "more fully combine the companies it purchased with its existing business." The layoffs allegedly involve NatGeo's "live-event, travel and publishing operations."
Shortly after news broke five days ago, a message appeared on the Your Shot website informing users that the community will be shutting down and "moving over" to Instagram, though no real details were shared.
"As of October 31, 2019, the current Your Shot platform will be discontinued and all engagement, assignments, and promotion of photos from our community will occur on National Geographic's Instagram Your Shot feed," reads the message. "We are excited about the move to Your Shot's Instagram, as the community on that platform is over 2 million strong. This change will enable a robust continued conversation about photos and visual storytelling before and among a large and engaged audience."
You can read the full message in the screenshot below: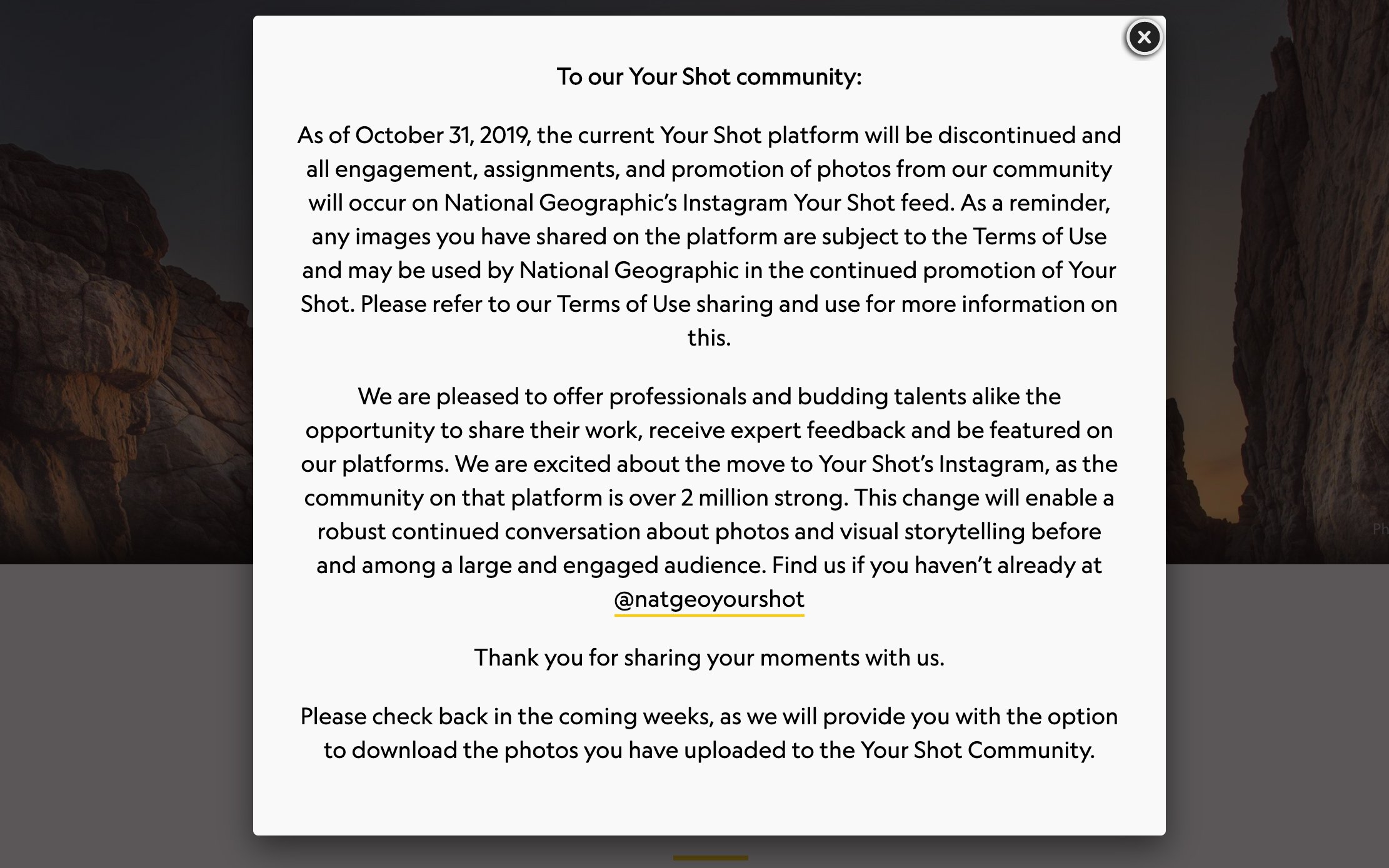 The message leaves out some key details: how will submissions even work? Will "expert feedback" be delivered through IG comments? Is this the end of Your Shot assignments? It seems NatGeo was more interested in reminding users that their old images are still going to be used to promote Your Shot than answering any usability questions.
The news has inspired one group of users to start a petition directed at The Walt Disney Company, "respectfully requesting" that they "reconsider this decision and maintain National Geographic's Your Shot community, thus retaining the loyalty of its members to the National Geographic brand."
Assuming the petition doesn't somehow change Disney's mind, Your Shot will be going down October 31st, and never coming back again. The one saving grace for people who have used the platform as their main photo sharing outlet is that NatGeo will "provide you with the option to download the photos you have uploaded to the Your Shot Community" in the coming weeks.
To learn more, head over to the Your Shot website or check out the Your Shot Instagram account. But before you do, let us know what you think of this news in the comments down below: is this a big deal, given Your Shot's 1M user community, or a reasonable decision by Disney/NatGeo given the ubiquity of Instagram?