Portraits of People with an Ultra-Rare Type of Body-Covering Birthmark
British photographer Brock Elbank has a series of portraits titled How Do You C Me Now? that features people with Congenital Melanocytic Naevus, an extremely rare birthmark that can cover up to 80% of the body.

Elbank spent 33 months shooting the portraits of 30 people using a Hasselblad H4D-60 medium format camera in collaboration with the UK CMN charity Caring Matters Now. The subjects were flown in to Elbank's London studio from 14 countries across 5 continents. The goal was to create body-positive portraits that raise awareness of a little-known skin condition that less than 1% of the world's population is born with.
"CMN, which can originate on any piece of skin, is caused by a random gene mutation during the baby's development in the womb," Hasselblad writes. "CMN grows proportionally on the skin surface as the person gets taller and bigger. This skin is more fragile, should be protected from direct sunlight, and can usually be covered with hair."
"From a young age I knew I was a bit different, but my skin didn't really affect me until I entered adolescence when I became more self-conscious," says 24-year-old Gemma Whyatt (pictured above) of England. "Before that, I used to have no hesitance about showing my skin."
"CMN affected me massively," says 35-year-old Lucy Reeves (pictured above) of England. "I never participated in anything that involved showing any skin, so I missed out on holidays and never went swimming. I used to get changed locking myself in the bathroom and it has only been the last few months that I have stopped doing this. I would miss out on some parties or occasions where all my friends would wear dresses and I felt like I couldn't."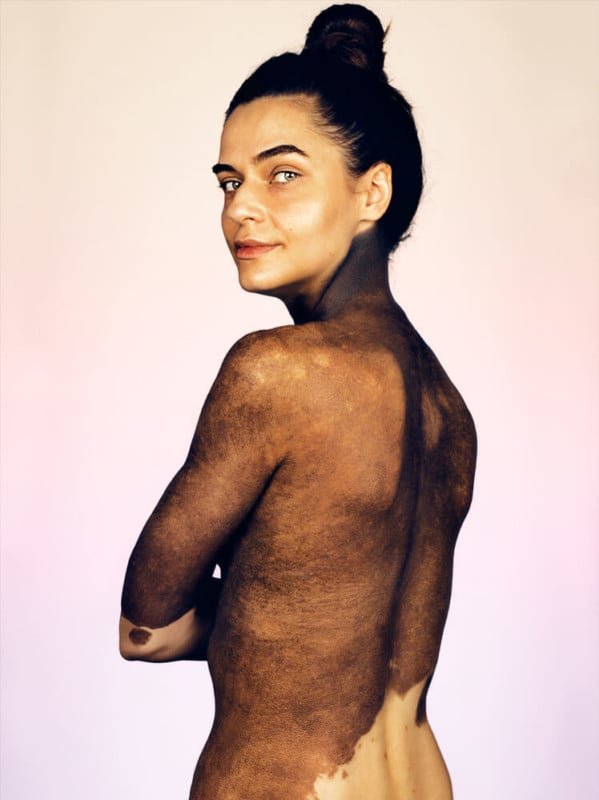 "Before I was 7 years old, I didn't pay much attention to my birthmarks; I remember looking at my skin in the mirror pretty much without any particular emotions," says 25-year-old Yulianna Yussef (pictured above) of Ukraine/Lebanon. "After 7 years old, the bullying started – I started to notice all eyes on me and fingers being pointed at my legs. I also found out that the parents of other children forbid them to play with me because they thought that I was contagious."
This project is touring the world, visiting countries like the US, Italy, Spain, Switzerland, and Australia to spread awareness and understanding of this rare skin condition. You can find more of Elbank's work on his website and Instagram.
---
Image credits: All photographs by Brock Elbank and courtesy Hasselblad