UV Portraits That Reveal What's Beyond the Visible
For my latest project, titled RAW, I shot a series of UV portraits revealing the true appearance beyond the visible. Composed of twenty photographs divided into ten diptychs, the series illustrates the raw and natural character of the human being, revealed by the technique of ultraviolet photography.


Each diptych presents on one side the portrait of a human being devoid of any ornament, presenting the subject to the spectator in his own singularity; and on the other side is a detail of their body, a more abstract complement to their fleshy envelope.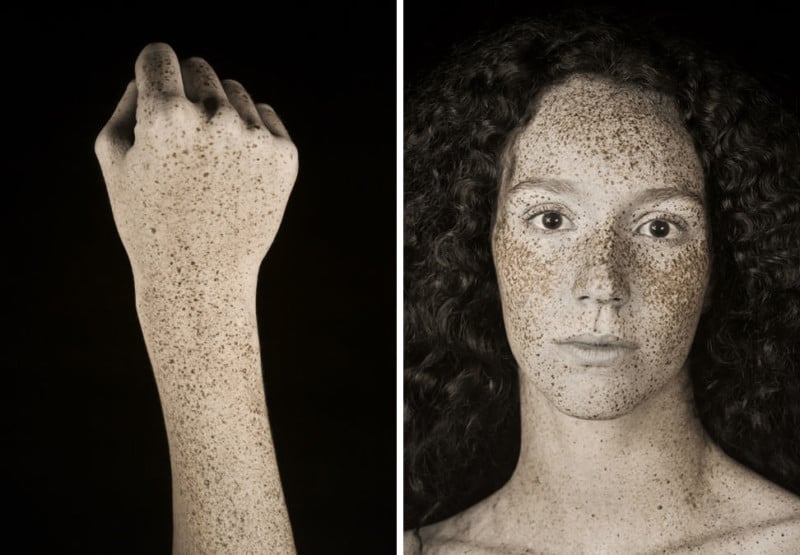 No place is given here to the alteration of reality. The photographs break the barriers of the skin to reveal the true appearance of each subject, immutable and unfalsifiable. The result is a succession of portraits where sensitivity prevails over plastic beauty, questioning the notion of real image and perceived image.
Each model offers the viewer an intimate view of his own being, which he cannot even perceive by himself. This relationship of intimacy and trust takes the opposite of our society where selfies and social networks project mostly an idyllic vision of our lives.
On the technical side of things, this series was realized indoor with modified flash lights, which emitted both visible and UV light. This way, my models were able to keep their eyes opened without risk of being hurt. Moreover, contrary to previous ultraviolet works, I was not limited by the use of a monochrome camera and could bring back subtle color tints.
---
About the author: Pierre-Louis Ferrer is a photographer based in Paris, France. The opinions expressed in this article are solely those of the author. You can find more of Ferrer's work on his website, Facebook, Instagram, and Behance.