The Original Canon EOS M Can Shoot 2.5K Raw Video with Magic Lantern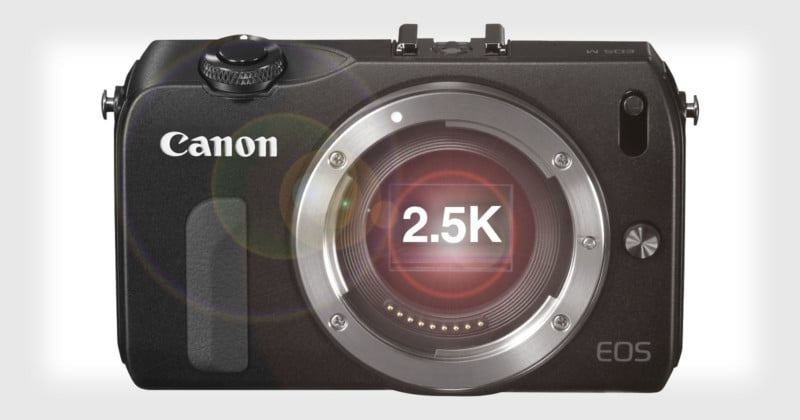 Canon's original EOS M flopped as the company's first contender in the emerging mirrorless camera market, but now third-party hackers are working to unlock more of its potential. And they're making progress: using Magic Lantern, the EOS M is able to shoot 2.5K raw video.

Canon Watch reports that camera hackers have been testing the "highly experimental" sd_uhs module in Magic Lantern, which overclocks a camera's SD memory card interface to allow for higher write speeds.
For the EOS M, the overclocking allows 70 MB/s of data to be written to a card instead of 40 MB/s.
The result is that the EOS M can shoot 2520×1080 (2.5K), 5x zoom, 24 fps, 12 bit lossless compressed raw footage.
Here are a couple of sample videos by Synth & Sundry:
"This is a 2 minute continuous test run," writes Synth & Sundry. "ISO is at 400 so there is noise, but it's not too visible due to the higher resolution. […] Upscaled to UHD for youtube upload. At this resolution image crop is 3.33x from 35mm full frame […] so 11mm becomes 36.6mm full frame equivalent."
The footage reportedly avoids the moire effect due to the 5x crop.
"There's no pixel interpolation / line skipping going on," writes Alpicat. "What's being recorded here is a crop of the central part of the sensor (approx 16mm sized) at a 1:1 pixel level."
Here are a few more sample videos by Martin Chromy:
If you're considering trying this hack on your own EOS M, be warned: the sd_uhs module is considered to be highly risky and you're putting your memory card and camera at risk of being destroyed by using it. If you're willing to take the risk though (the EOS M can be had for around $150 these days), you can start by grabbing Magic Lantern.