Google to Tweak Image Search to Help Protect Photographer Copyrights
Google Images is an epicenter of copyright infringements across the Web, as people, either knowingly or unwittingly, search for, download, and misuse copyrighted photos without permission. But for photographers, there's some good news: Google is going to roll out changes to the image search engine that are designed to help protect your copyright.

The changes were reportedly decided on through a partnership between Google and the stock photo agency Getty Images, which has been lodging "anti-competitive" complaints against Google in the US and EU for making high-resolution stock photos easily downloadable through Google Images.
"[T]oday we are pleased to announce that after working cooperatively with Google over the past months, our concerns are being recognized and we have withdrawn our complaint," Getty Images wrote today in an email to its photographers.
The stock agency has also been working closely with Google to address concerns regarding Google Images and photo copyrights, and changes are now coming to support photographers' work. Google will be removing the "View Image" button, which directly links to high-res photos, and will be making its copyright notice more prominent for users.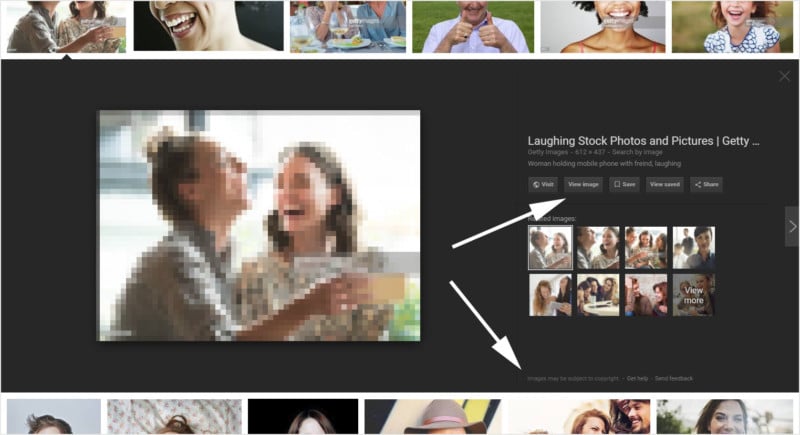 "Google has worked closely with us to address many issues raised by Getty Images around Google Images, the image search functionality of Google," Getty Images states. "Moving forward, Google has agreed to make changes in Image Search, including making the copyright disclaimer more prominent and removing the view image button.
"This is a benefit to all image owners globally and we expect this to have a positive impact on traffic to our site."
Getty Images and Google are also announcing a new "global strategic partnership" with a multi-year licensing agreement that officially allows Google to use Getty images across its products and services.
"We are encouraged by Google's approach to address our concerns and believe that with your help, we have fought for a fair and respectful marketplace for content creators around the world," Getty Images writes. "We believe our approach to work closely with Google will best protect copyright and the livelihoods of photographers, and other artists who rely on licensing to earn a living and fund the creation of new works.
"This is a significant milestone, but we know that other battles remain.