Photog POV: Shooting the Nitro Circus Tour
My name is Daniel Schenkelberg, and I'm a motorsports photographer. In this post, I'll be sharing a behind-the-scenes view of what it's like to photograph a Nitro Circus live show.

When shooting an event like this, understanding the schedule is paramount — you need to know where you need to be for the ideal shots. Having photographed Nitro Circus San Diego, I am more familiar with their schedule and how they put on the show. Knowing that information is important when setting up remote cameras.
Since I'm a solo shooter, getting the most angles and content is a difficult challenge — thus, the remote cameras.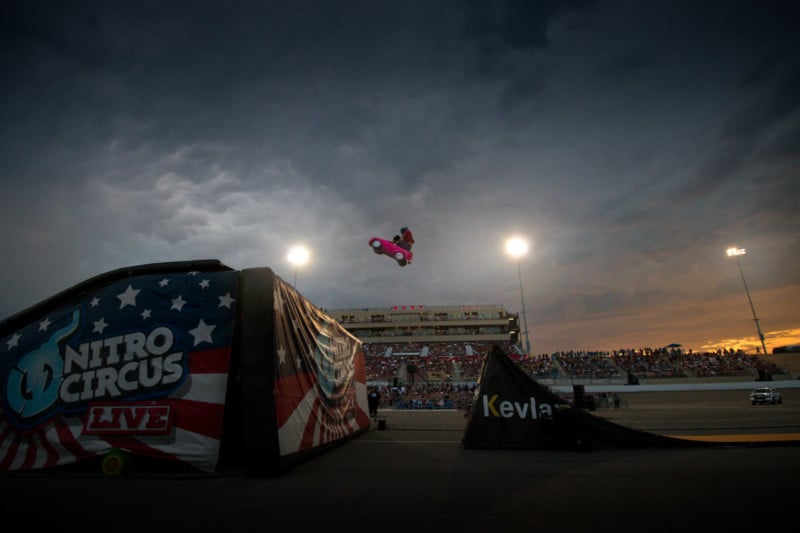 The main camera that I use is a Canon 1D X with a Tamron 150-600mm G2 lens and my remote camera is a Canon 70D with the new Tamron 10-24mm Di II VC. When using a remote camera I am often putting the camera in dangerous situations where it can get damaged very easily and with that in mind, I use the 70D rather than the 1D X (in case someone runs it over).
Before the show, there's a 30-minute practice session and that's when I set up the remote camera so when the show starts I just have to turn it on and make sure the Pocket Wizard is working. Having the show start at sunset did bring up an issue since I manually set the exposure during practice around dusk. As the show was beginning, I had to correct the exposure and ensure the lens was taped down so the focus wouldn't move.
In the video you can see how I hold the Pocket Wizard trigger in my left hand when shooting so I can trigger it before. Every situation is different and the reason I chose to do it that way is to trigger it before they hit the ramp. Since I am shooting straight on, the 1D X is fast enough to fire once they launch off the ramp. But if I were to use the 1DX to trigger the remote camera, the athlete would already be too far in the air to capture them center frame.
If I had an assistant, their job would be just to trigger every time a rider goes off the ramp. I don't have that luxury yet, though, and so I do my best with what I have.
Never rely on your remote camera without double checking things. Always go back to make sure exposure is correct and that no one has moved it. Oftentimes I don't have the time to check it during the fast-paced show, so I have to say a little prayer and hope that everything came out well.
In the video, when I moved the remote camera to the second location, I did not have enough time to check any settings — I just set it down, made sure it was triggering, and let it work. There was a brief moment when the sun painted the sky a vibrant purple which lasted only 4 minutes, and in that time I was lucky enough to capture it. To my relief, after checking the Transcend Cards when I got home, the remote camera was firing and in focus.
Remote cameras are never reliable but when you get the shot you are most likely to be the only one to have that angle. For all my solo shooters out there, give it a shot and see what creative photographs you can get with it. Never stop searching for the perfect shot!
---
About the author: Daniel Schenkelberg is a photographer and retoucher based in San Diego, California. You can find his work over on his website, Facebook, and Instagram.