This Photographer Turns His Childhood Memories into Photos
German photographer Thomas Friedrich Schaefer has created Experiential Spaces, a series of photos that are inspired by fragments of his childhood memories of growing up. At the same time, he wants to stimulate the viewers to bring out their own childhood memories too.

"I tried to reimagine my first memories to investigate my past," Schaefer tells PetaPixel. "And also, try to be as historically accurate as I can be, which isn't possible. For example, chocolate ice cream will never taste the same like the one you had when you were five years old. Nor will you remember the original taste because newer taste (memories of it) will overlay or overwrite the old ones."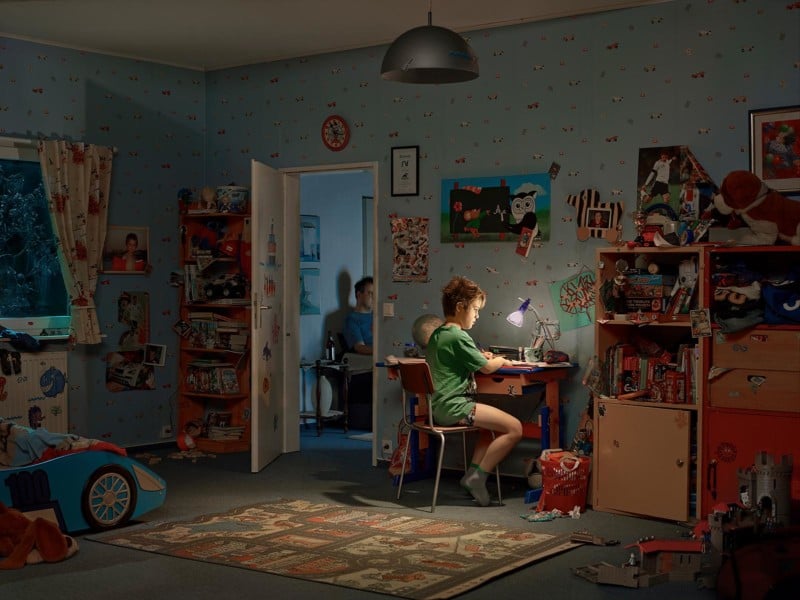 In Experiential Spaces #1(above), the first in the series, Schaefer remembers himself as a kid angrily doing his homework while his father watched soccer on TV in the adjoining room. "Now, and during the process of building the installation, I see myself as a dad and think of it differently wanting the best for my child," says Schaefer.
Schaefer builds elaborate room sets meticulously in his studio in Berlin, Germany, which takes over 200 to 400 hours for each. The rooms are then furnished and decorated in great detail. Friends and neighbors pose as the models for a photo shoot, which may last an hour to a whole day. Once the image is captured, the set is torn down with all the props being discarded, and the sketch of the next photo set starts to be created.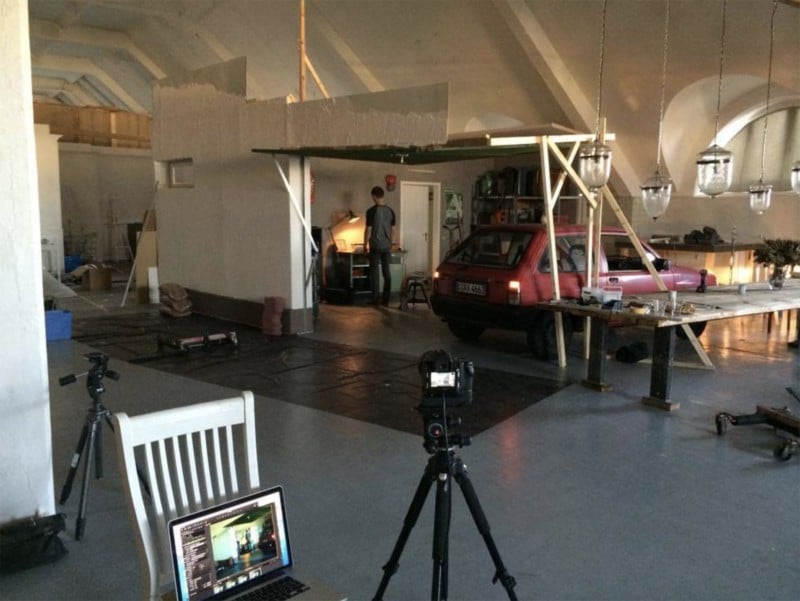 "The family home is often defined by the things we associate with it," says Schaefer in his artist's statement. "These entities exist as both objects in their own right and reference points upon which we frame our memories. Recalling these places and the things evoke the experience of nostalgia."
Schaefer started studying architecture at the Berliner Technische Kunsthochschule (University of Applied Sciences, Berlin) but changed to fine art in which he graduated. "I moved from architecture to photography, hoping (perhaps knowing…) it would prove to be a language I could use to express myself," reasons Schaefer.
This original architectural study has come in handy for the set building most of which he does himself. "The thing that interested me during the architectural studies were rooms and how feelings can develop in them," says Schaefer who is inspired by Gregory Crewdson, Alex Prager and Cindy Sherman.
Schaefer, who has won many awards not only in Germany but also in Russia, started the Experiential Spaces project while in college in 2014. "You had to do a photography series and conceptual writing of 30 pages to get the BA," remembers Schaefer. He did a series of three pieces and graduated in 2015. Later as more memories started filling his mind, he added another six to complete the series in 2016.
Schaefer, who grew up in Brazil as well as Germany, numbered the series 1-9 rather than give them descriptive names. "Otherwise, I would give the viewer too many details of what he can/could/should see," he explains. And Schaefer wants to give the viewers freedom to come up with their own interpretations.
Right from the beginning, Schaefer decides which angle he is going to shoot from. "After I sketch the image, the camera will be on a tripod and not moved a single centimeter until the end," Schaefer explains.
Just like the single angle of shooting, the lighting is also restricted to only one type with no changes at all. Schaefer shoots with Profoto studio flashes with a shutter speed of 1-1.5s to allow the light bulbs to register.
"Memories are, for me, like dreams. They got that glow," says Schaefer. "I could just find and recreate that glow in night/dark situations." And therefore all his images are at dusk or nighttime.
Although Schaefer has four lenses for his Phase One he shot the entire series with the Schneider Kreuznach 80mm prime (equiv. to 50mm on 35mm) as it gives him "a normal human eye-view." The final results are printed as 90x120cm (36×48") prints, which is Schaefer's preferred method rather than online viewing.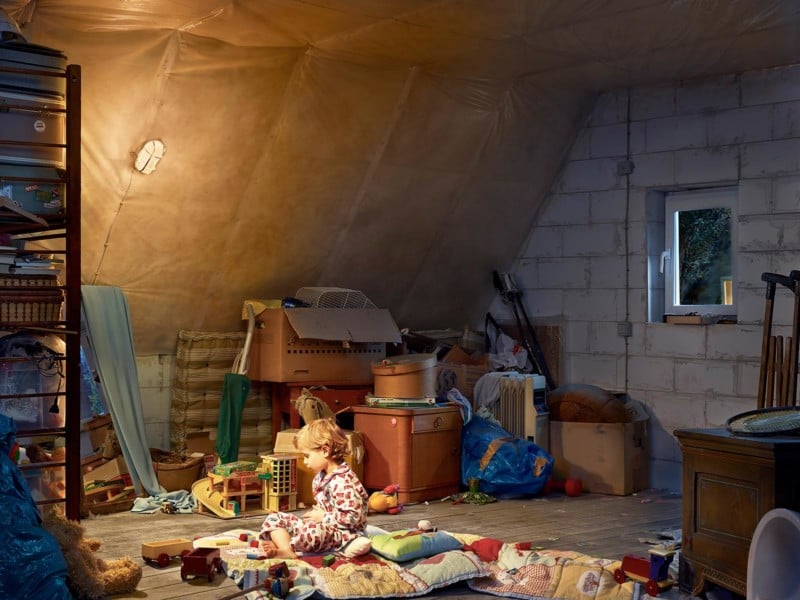 Why does Schaefer go through this very costly and time-consuming process of creating these images?
"If I don't create my images, no one will," says Schaefer. "I have to get them out of my mind somehow. I will be the happiest little boy in the candy store if I can get just one person to reflect on his own life while viewing my work."
You can follow Thomas Friedrich Schaefer and see more of his work on his website, Facebook and Instagram.
---
About the author: Phil Mistry is a photographer and teacher based in Atlanta, GA. He started one of the first digital camera classes in New York City at International Center of Photography in the 90s. He was the director and teacher for Sony/Popular Photography magazine's Digital Days Workshops. You can reach him via email here.
---
Image credits: All photographs © Thomas Friedrich Schaefer and used with permission.