Absolut Hangsmart Helps Hang Photos Without Measuring, Holes, or Leveling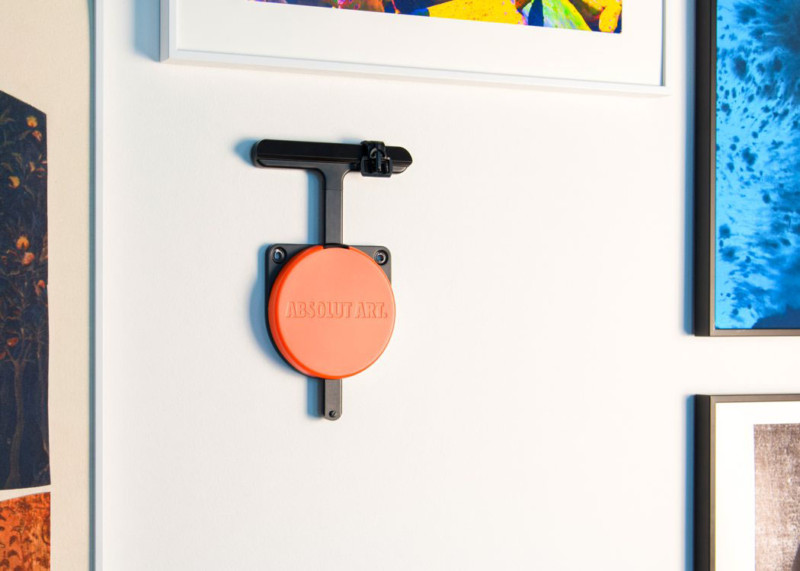 Absolut wants to revolutionize how we hang picture frames on our walls. Yes, Absolut the vodka brand. It has announced the Hangsmart, a new device that lets you do away with measuring, leveling, and even screws.


The patented device was created by Absolut Art, an art initiative by the Swedish vodka brand that became a popular online destination for buying limited-edition artworks. With so many art pieces flying out of their store and onto customers' walls, Absolut wanted to give people an easier way to mount the pieces for display.
Here's how the system works: first, simply stick the Hangsmart to your wall in the rough area you'd like the frame displayed. A powerful adhesive keeps the entire system fixed to the wall without damaging it. For heavier frames (up to 7kg/15.4lbs), you can also use screws to reinforce the system.
Next, drop your artwork onto the Hangsmart (your frame will click into place) and begin eyeballing the exact position you'd like. You can freely move the frame 6 inches horizontally or 8 inches vertically.
Finally, let go of your frame and the Hangsmart will automatically level it for you. Here's a video that shows the system in action:
"Hang art without the hassle of measuring tapes, unnecessary holes, or spirit levels," Absolut Art says. "For the first time, frames can be adjusted – up, down, left, right – without being taken off the wall."
If you'd like your frame to hang flush on your wall, you'll need an inch of space in the back of your frame for the Hangsmart. The company is also working on a universal adapter for using Hangsmart with a wide variety of frame types, including those supported by wires.
Absolut Art is launching the Hangsmart through a Kickstarter campaign, which has already blown past its funding goal of $30,000 with more than two weeks to go. A contribution of $24 or more will get you one of the first Hangsmart units if the project successfully delivers in September 2017.
(via Absolut Hangsmart via Yanko Design)