Army Photographer Captured the Blast That Killed Her
The late US Army combat photographer Spc. Hilda Clayton is being hailed as a hero this week after the Army released photos Clayton captured of the blast that killed her in Afghanistan. The photos were published with the approval of both Clayton's family and her Army unit.

Warning: This post contains disturbing photos below.
Official US Armed Forces newspaper Stars and Stripes reports that Clayton was killed during a live-fire training accident with the Afghan National Army on July 2nd, 2013.
A mortar tube exploded during the exercise, killing Clayton and four Afghan Army members who were in very close proximity.
The 22-year-old photographer from Augusta, Georgia, was documenting the exercise while training an Afghan Army combat photojournalist, who also died in the accident. Both Clayton and the Afghan photojournalist managed to capture images of the deadly blast the moment it occurred.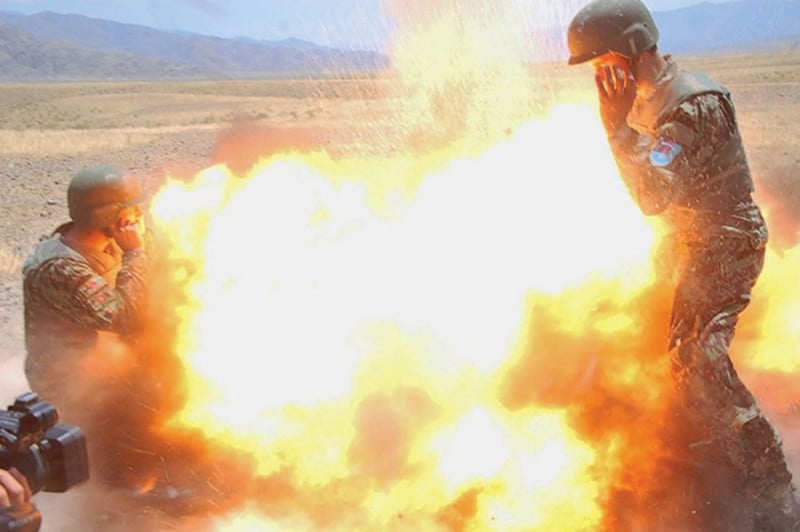 "Not only did Clayton help document activities aimed at shaping and strengthening the partnership but she also shared in the risk by participating in the effort," writes the Army's Military Review journal.
Clayton was a member of the Army's 55th Signal Company, called Combat Camera, which has sent photojournalists to front lines in war zones around the world. She was the first combat documentation and production specialist killed in Afghanistan.
To honor Clayton's memory, Combat Camera has renamed its annual photo competition "SPC Hilda I. Clayton Best Combat Camera (COMCAM)." Clayton's name is also now etched into the Hall of Heroes at her alma mater, the Defense Information School
---
Correction: An earlier version of this post swapped the photos captured by Clayton and the Afghan photojournalist.