Wildlife Photography, The Pokemon GO of the Real World
It finally happened: after countless months of wandering around, going to places where people say they've spawned, after using lures, and being patient, I managed to add a… Eastern Whipbird (Psophodes olivaceus) to my collection!


Now, I don't really play Pokemon GO (as the above was making reference to) though I did install the app to see what the fuss was about, and can see why it appeals to people. Like some aspects of wildlife or bird photography, you're out trying to collect them all, there's friendly competition in trying to find a 'better' one than your peers, and it's an excuse to get out.
Like most things, it also happens to be something you can get better at as experience works out the solutions to the many little hurdles that present themselves to you while you are learning the art, and that sense of progress can get addictive.
An Eastern Whipbird (Psophodes olivaceus) isn't particularly rare in Australia — their beautiful long calls followed by a sharp, distinct 'whip' are heard on many a forest walk, but they aren't seen as often as they are heard. On this occasion while out on a walk, I heard one, and used the Morcombe's Birds of Australia app (available for Android and Apple) on my phone to play one a call in response. Around mating season, this often entices some birds out to investigate.
It never before worked on a Whipbird for me, but this time I saw a particularly inquisitive Whipbird scuttling through the undergrowth near me, hopping on branches in the surrounding scrub, practically doing circles around me and very curiously trying to investigate where this potential mate (unfortunately for him this time, just my Sony Xperia Z5) might be, and I managed a snap before driving the little guy too crazy with expectation.
Prior to this, my most memorable find was a Wompoo Fruit-dove (Ptilinopus magnificus), and as its Latin name alludes to, it is quite magnificent, bearing a grey head, a red beak, green body, purple throat and yellow wing accents.
It also sounds like a person sitting up in a tree saying 'wom-pooooo' (not kidding). Given the aforementioned, I just had to make it a personal mission one Christmas break to try to find one. I worked out it took 1000kms of driving over three separate trips before I managed to. On each of the outings on location, I walked around for hours on end fruitlessly — and funny enough, when I finally found it after concluding the third trip, exhausted, there it was in a tree just by the parking lot, wompooing away somewhat mockingly while obliging me a few snaps.
For what it's worth, I don't consider myself a wildlife photographer. I don't think I have photographs of raptors nearly as good as someone I know who goes on even longer trips than me, builds scaffolded hides and plants himself there for who-knows-how-long.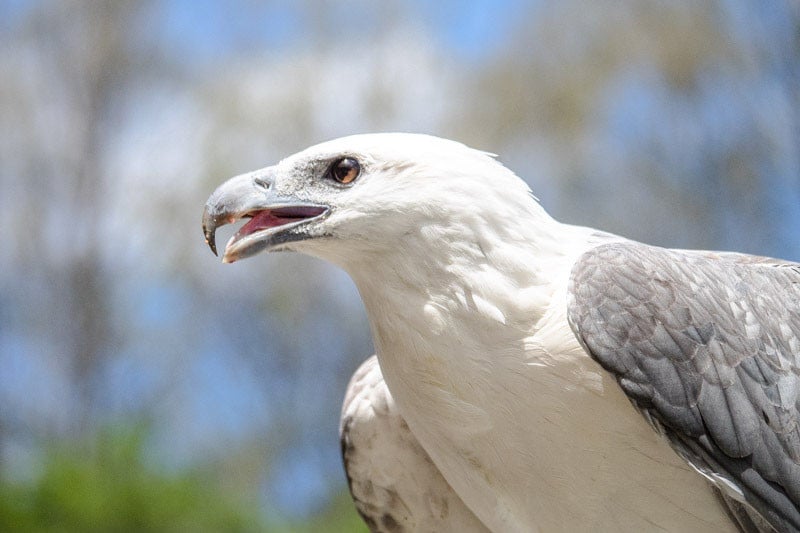 I do have a folder in my online photo albums dedicated to wildlife, but it more arises from my preference to have some form of organisation when it comes to looking for photos I've taken. For me, wildlife is often is an afterthought, playing second fiddle to a moonless night somewhere with minimal light pollution, with a bright and contrasty Milky Way, or a sky full of red cloud motivated by a winter sun.
That being said though, wildlife is always around, even in suburbia and presents a never-ending supply of photographic opportunities that can be as casual or challenging as one fancies.
Being such a varied subject matter, someone just getting into it could find it quite daunting. Perhaps all the birds look the same to you. Sometimes, it's not due to inexperience and they actually do look similar to other birds.
To begin with, you don't need to know the exact type of bird (or lizard or squirrel etc) you are after. You can start by finding somewhere reasonably conducive to the activity such as a park, a forest, public gardens etc. and try to photograph the creatures you see. You'll see after a few outings that your creature collection adds up, and if you were so inclined, there are an infinite amount of online resources to help you identify your finds e.g. Google, interest groups on Facebook, forums, etc.
In regards to gear, I most often use a 5D Mark III and a 400mm f/5.6L, sometimes with a 1.4x Extender (which makes 560mm f/8 with less usable focus points), and less often, with a 2x Extender (800mm f/11 with manual focus only). I often use a tripod as well to ensure the sharpest shot I can manage; it's a trade-off between support and stealth, but you'll end up picking one depending on your personal shooting style.
My favorite lens for the purpose is definitely the above 400mm as it is relatively light and very sharp only having 7 elements inside for light to pass through. This compares favorably to zooms e.g. 70-200mm or 100-400mm which often contain more than double the amount of elements (together with a converter, perhaps triple even). Of course the trade-off to sharpness and weight is versatility: if your squirrel does the unexpected and runs towards you to your feet, you'll probably miss it with a long prime.
On gear though, while reach is essential, one does not need a particularly expensive camera or lens to chase creatures to photograph. Bridge-camera superzooms often have impressive optical zoom reach, and the comparatively inexpensive Nikon P900 is fast becoming a cult classic for this reason.
For settings, on a full frame DSLR for casual bird and wildlife chasing, I tend to start with a relatively high ISO e.g. ISO1250 or ISO1600 at f/5.6 or f/8 during daylight. As such, there is access to reasonably high shutter speeds, which is quite important for photographing flighty and twitchy critters at long focal lengths. Once I get a few shots in of a subject, depending if conditions suit, the perfectionist in me may want to lower the ISO and shutter speed to reduce noise, but as should be obvious, the preference is always to get a sharp image with some image noise you can reduce in post, over a noiseless image straight out of camera with a blurry subject.
A last tip I have for anyone getting into casual wildlife photography: get yourself a comfortable pair of rubber boots/gumboots/wellingtons. They are inexpensive, and I have found them infinitely useful in terrain such as tall grass, mud and tidal flats. If you can get to places off the beaten track, you're more likely to encounter less common creatures and more unique photo opportunities. Good luck!
---
P.S. The header image is a single exposure light painting photo captured with the pixelstick.
---
About the author: Ryan Lee is an Australian photographer whose work documents travels, landscapes, wildlife, the night sky and a picturesque life. Keep up to date with his work or get in touch via Instagram: @lightbrekkie.