Microburst Photographed from a News Helicopter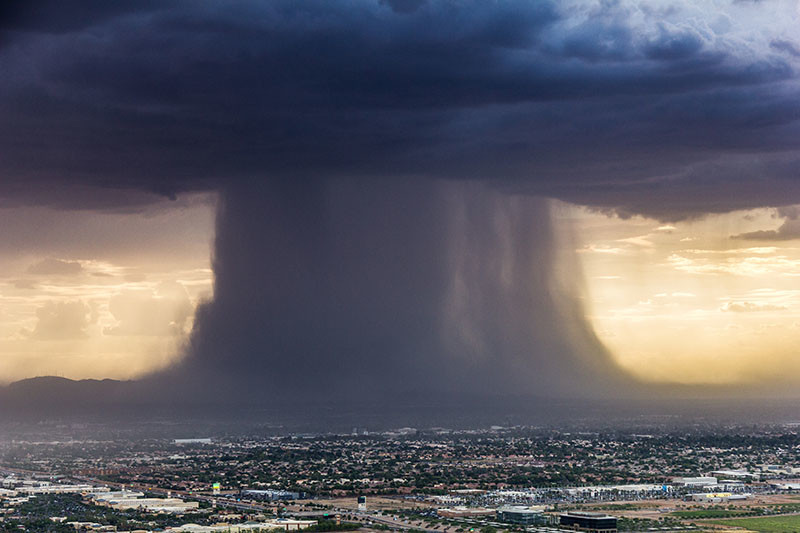 Photographer Jerry Ferguson was shooting from a news helicopter this week when he spotted a microburst over Phoenix, Arizona. In the right place at the right time, Ferguson managed to capture remarkable photos of it.

A microburst is like a reversed tornado. While a tornado has winds that move inward and upward, microbursts have strong winds that move downward and outward. During wet microbursts, winds can be accompanied by massive downpours.
"We spotted this microburst as we were covering a dust storm near Phoenix," Ferguson tells PetaPixel, "and I instantly thought the same thing as everyone else, 'It looks like an atom-bomb just detonated over Phoenix.'" Here's a wider view of the scene that shows the natural mushroom cloud rising over the city:
"Our Robinson R44 Newscopter is just a really tall, really expensive tripod," he says. Capturing the aerial photos was a team effort between Ferguson and his pilot, Andrew Park. While Ferguson is photographing, communicating, and directing the "flying tripod," Park works at "wrestling a mechanical bull 800 feet above ground" through the intense winds of storms.
Ferguson shoots with a Canon 5D Mark III and a couple of zoom lenses (a Tamron 24-70mm f2.8 VR and a Canon 70-200mm f2.8 IS II).
"The chopper vibrates a lot and I shoot handheld. I also often shoot in low light, so I use wide aperture, image stabilized lenses and set my camera on shutter priority with the highest shutter speed I can manage (usually around 1/400) to eliminate vibration blur," Ferguson says. "I shoot to the right, bracket, and rattle off a lot of exposures to make sure I have at least one keeper from each scene."
"I'll also often shoot bracketed HDR panoramas because we shoot in such dynamic lighting situations."
You can find more of Ferguson's aerial photographs in this gallery and on Chopperguy.
---
Image credits: Photographs by Jerry Ferguson/Andrew Park/Chopperguy and used with permission