Finn & Rey Come to Life in this Brilliant Star Wars-Themed Couple Shoot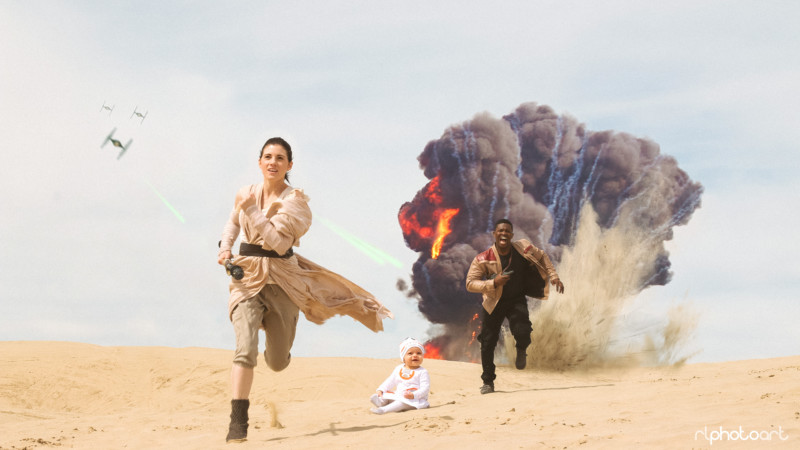 Utah-based wedding photographer Robert Lance Montgomery of RLPhotoArt recently put on a killer cosplay shoot that is driving the Internet wild. It's called "The Real Finn and Rey," and it features an engaged couple playing the much-beloved Finn and Rey from the newest Star Wars film.
The serendipity behind this photo shoot is almost too much to take. Lance met engaged couple Victor Sine and Julianne Payne through family, they happen to be huge Star Wars and cosplay fans, they happen to be making their own Finn and Rey costumes, and they all happen to live a few hours drive away from a desert that looks for all the world like the planet Jakku.
It came together so perfectly.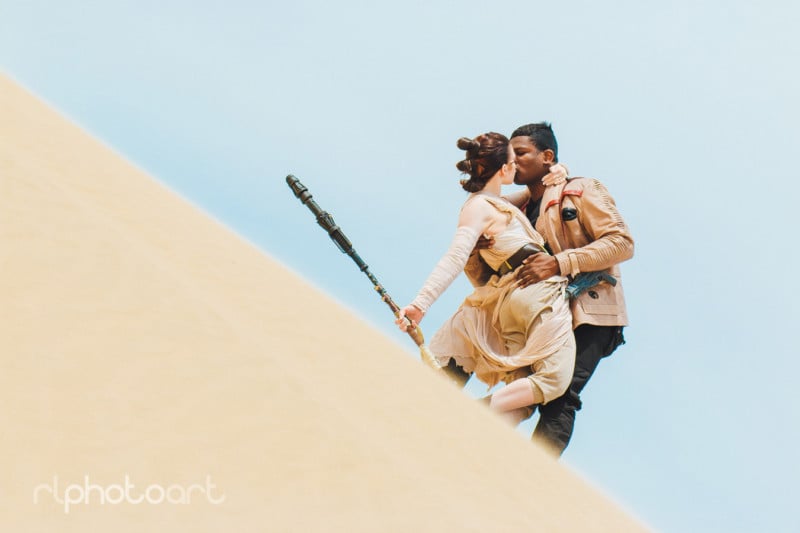 Not to mention their very own BB-8, Payne's daughter Addie:
Lance has been working in Photoshop for about 22 years now, but he only got into professional photography in December of 2015.
"[Photography] was just more of a fun thing until I had a beautiful baby one year ago—and got a flash," he tells DigitalRev's Bokeh. "That was when I really started experimenting and trying to push myself."
His Photoshop experience came in handy when it came time to add the special effects to the hero image at the top, but the majority of the series is just good ol, minimal gear portrait photography captured on a very hot day in the Little Sahara Sand Dunes in Utah.
Speaking of gear, we're not exaggerating when we say "minimal." All the photos were shot on a Canon 70D with either an 85mm f/1.8, 50mm f/1.8, or 10-18mm attached, and fill lighting was provided by an off-camera Yongnuo flash with HSS and an orange gel.
Wherever he could, he stuck to natural light and let the harsh sun create the ambiance he was going for in the first place. Other natural elements, namely the wind and sand, wreaked a bit of havoc on his gear, but he expected that going in.
The final photos, which Victor and Julianne Finn and Rey will be displaying at their wedding, were well-worth the time Lance has spent getting sand out of his poor flash.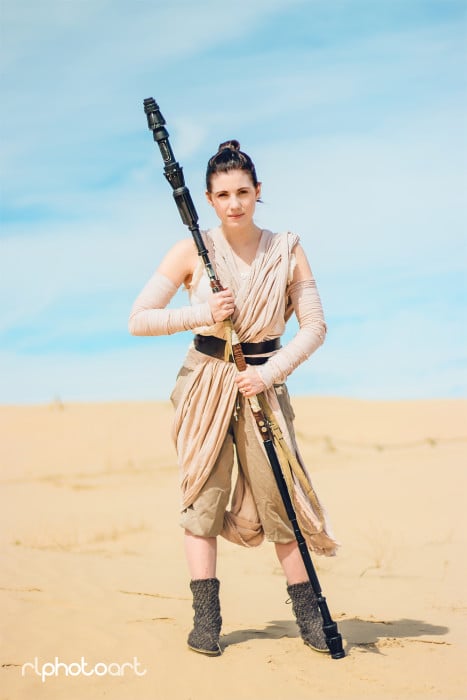 To see more from Lance or seek out his wedding photography services, visit his website or check him out on Instagram and Facebook.
---
Image credits: Photographs by Robert Lance Montgomery and used with permission.