This Video Shows a Photo Shoot on the Moon
You know those iconic photos of NASA Apollo astronauts posing with the US flag on the moon? The 3-minute video above is a "behind-the-scenes" video that shows some of the portraits being shot.

The video was recorded by the Lunar Module during an extra-vehicular activity (EVA) session during the Apollo 15 mission, the fourth human lunar landing. We see NASA astronaut David Scott stick a flag into a holder and hop off screen to the left with a Hasselblad medium format camera strapped to his chest.
Astronaut James Irwin then stands next to the flag and poses for a series of photos. Phogotraphy found a transcript of the mission that documents what the astronauts were saying (the video's dialog starts on page 737 of the PDF).
IRWIN: Let's see, do you want to swing it around perpendicular to the camera, huh.
SCOTT: Okay. It's pretty good.
IRWIN: Why don't you stand there.
SCOTT: Let me get up on the high part.
IRWIN: Okay. Gee, I wish we had color.
SCOTT: Yes.
CAPCOM: We'll have the color tomorrow, Dave. (Garble) especially for you.
SCOTT: (Garble). Okay. Okay.
IRWIN: Careful.
SCOTT: Can't back up here so I can get all of that in there. There that's good, good. Got the mountain, got the LM.
IRWIN: Great. Got it?
SCOTT: Yep.
IRWIN: Dave.
SCOTT: (Garble).
CAPCOM: And Jim you'll get a feed water tone in about a minute. Just wanted to warn you and we're coming up on 20 minutes remaining 20.
IRWIN: Okay. That is a good picture.
SCOTT: A neat picture.
IRWIN: A little to the left. Let's try another study. How about an F 8.
SCOTT: Yes, try an F 8.
IRWIN: Look at that.
SCOTT: Yes.
IRWIN: That's eleven there.
SCOTT: That's what it call, Ed, in the –
IRWIN: Yes.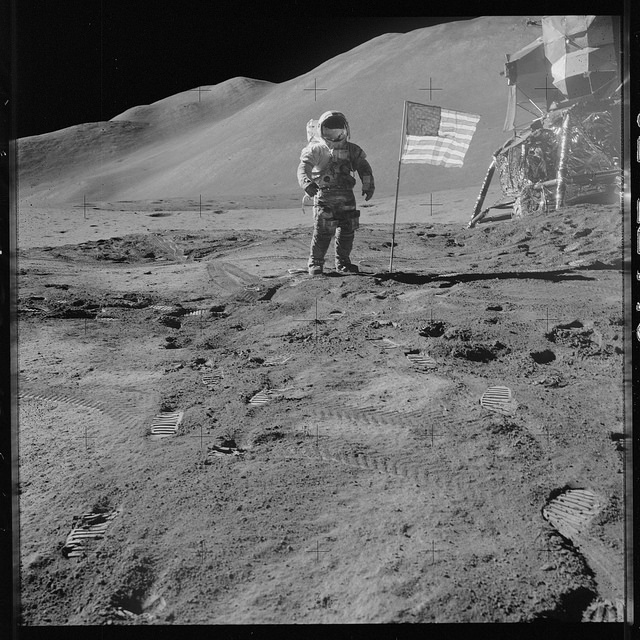 SCOTT: Okay, now take you again (Garble).
IRWIN: Okay.
SCOTT: Ah, you look colorful.
IRWIN: Even with the dirt, huh.
SCOTT: Okay. You like that side there, Joe.
CAPCOM: It's beautiful.
SCOTT: Yes, we think it's pretty nice too.
The portraits above were found in Apollo 15 Magazine 92/00, which was exposed on the second EVA of the mission. The next day, the astronauts carried out EVA 3 and reshot the same portraits using color film (the second shoot is found on Magazine 88/TT).
Not bad, eh? Here's the 37-page photography manual by NASA and Hasselblad that was used to teach astronauts the art of photography.