Photos of a Tree's 10-Year Journey Around the World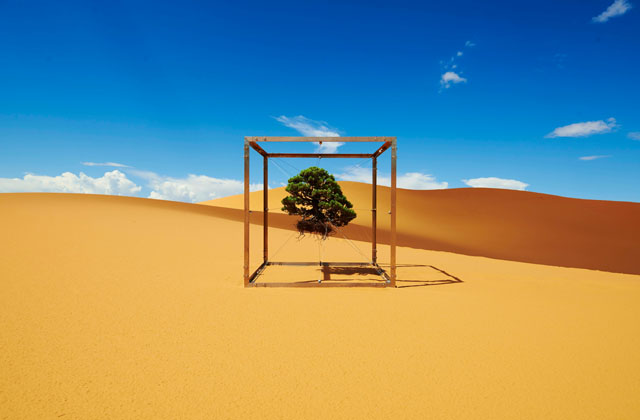 Travelers often collect photographs of themselves visiting beautiful locations around the world. "Shiki: Landscape and Beyond" is a project that features photos of a 5-foot tree in scenic spots.

The 'timeless pint tree' is the work of floral sculptor Azuma Makoto, who placed the tree within an open steel box frame. Over the course of 10 years, the tree visited various places around (and above) the globe. Makoto's collaborator, photographer Shunsuke Shiinoki, shot photos of the tree in each extreme landscape.
Here's what the Zhulong Gallery in Dallas, Texas, writes about the project:
From derelict government spaces, to sublime landscapes, Azuma conflates notions of landscape, portraiture, and still life traditions in western art to set up a striking bricolage of nature, artifice, and time which speaks clearly to eastern motifs in art. […] Azuma's practice investigates and attenuates the limits of the life cycle, while also asking in what other contexts can and should the botanical sculptures appear? Suspending the living natural object within the rigid, but open box, Makoto sets up a metaphor for how he sees our relationship to the natural world—an incomplete attempt to grasp at the seeming eternity.
"Shiki: Landscape and Beyond" will be exhibited at the Zhulong Gallery from October 23rd, 2015, through December 5th, 2015.
(via Zhulong Gallery via Bokeh)
---
Image credits: Photographs by Azuma Makoto (AMKK) and Shunsuke Shiinoki, courtesy the Zhulong Gallery