I Don't Do Weddings: Wedding Photography Through a Commercial Photographer's Lens
There was a time when I guess you could have called me a wedding photographer. Although at that point you could have really called me an 'anything' photographer. It was early in my career. At that point in time I would have photographed a cat eating belly button lint if someone had paid me to do so.

As it turned out, being a wedding photographer didn't really pop my strobe. I'm more of a problem solving photographer. Planning a shot in advance, scouting, and making it a reality when conditions are right is the kind of creativity I really enjoy investing in my photo shoots.
When I do an architectural shoot I'll often walk around the building for hours exploring angles and finding the perfect way to fit the structure into the surroundings. On an adventure shoot it's always about scouting the location and figuring out the perfect time of day for the best possible light, and then returning with everything needed and waiting for the magic moment.
I have made models or athletes reset a dozens of times to get a variety for the final selects. With wedding photography it's one and done. Hope they didn't blink. I have enormous respect for wedding photographers who take on that challenge every weekend, it's just not for me. I quickly moved to architectural photography and adventure and hospitality lifestyle photos, and left the blushing brides behind.
…until I got a call from Kayla.
Actually it was until I got the second call from Kayla, on the first call I told her politely that I "don't do weddings" and offered her the names of several excellent local wedding photographers. Kayla and her hubby to be Jamie had been given my name by my friends at Tyax Lodge, a long-term client that has hired me for lifestyle, architecture and heliski shoots. I guess the folks at Tyax didn't know about my No Wedding policy.
About a week after her first call, Kayla got back to me to let me know that they much preferred my adventure images to the portfolio images on the wedding photography sites, and asked me to reconsider taking their photos. Apparently she was very persuasive.
I had quite a long discussion with her about how the preparation for my adventure images is much different that what usually happens on a wedding day, and that we could likely get a fairly standard set of wedding photos, but put some commercial photography style planning into one or two scenarios to get them a wedding 'money shot'. I got back to them a few days later with a rate, and they said yes.
Pre-Production
Dale Douglas runs Tyax Air, flying a DeHavalind Beaver from the Lodge at Tyax Resort out to surrounding lakes and back-country camps and cabins. I called him up to discuss possible locations, and was thrilled to hear that he could take us to Bridge Lake, at the toe of the Bridge Glacier. We agreed that this amazing spot, a 20 minute flight from the lodge, would be the shoot location.
I had seen Bridge Lake before on heliskiing shoots. I know it is full of massive ice chunks that have calved off the toe of the glacier, we once landed a helicopter on one for lunch. In the winter everything is frozen and white, but in the summer, the ice almost glows iridescent blue.
Because of the costs involved, the scouting would be virtual. Ground Level view on Google Earth gives a pretty good idea of the scenery. Along with some photos I found online, I was able to get a decent lay of the land at the lake. A sunlight calculator let me know when and where the light would be coming from, backlit at about 4:00, when we would have to be there to shoot.
I was going to need some lighting. The plan was to underexpose the daylight a bit, and fill the couple with some warm flash to contrast them with the cool blues of the mountains and the lakes. Because of the awesomeness of the place, I wanted to shoot small people huge background for the main image.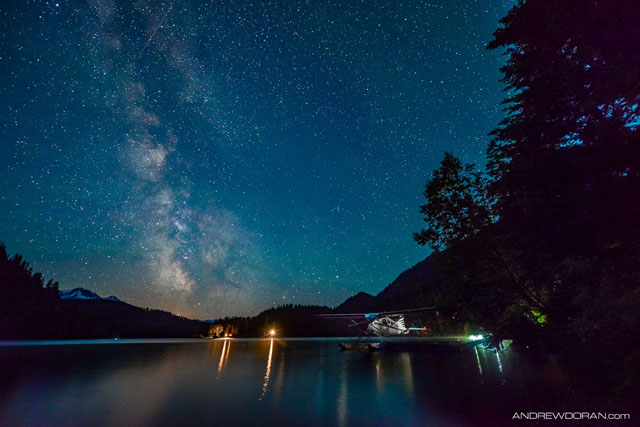 Getting Ready
I hired Kyle Graham, a talented young photographer I know from Whistler to shoot second camera for the traditional wedding shots and to be a voice activated light stand on location for my Paul C. Buff Einstein strobe with lithium battery pack. We made the 4 hour drive to the lodge the day before the wedding and spent the afternoon testing and organizing the gear, and planning ceremony and family photos. The weather had been hot and sunny for two weeks, the forecast was for thunderstorms starting at 1:00 (the ceremony time) until 6:00 (Our shoot window) and then hot and sunny for the next two weeks again! We touched base with the pilot, who said we would have to make the call to fly or not tomorrow. We spent the next morning scouting alternate locations that did not require a plane.
Shoot Time
The weather was threatening, but held off for the ceremony. We moved quickly to get the obligatory family photos out of the way, and were just wrapping some wedding party shots when the skies opened. There was a lot of talk about cancelling the flight. Fortunately the pilot and I are quite familiar with the area, and know that the weather is often dramatically different in the mountains a few valleys away. The pilot said he would fly if we still wanted to go. The bride and groom were troopers so we took off in the pouring rain headed for hopefully clearer skies.
The sun started to break thought the clouds just as we approached the lake. By the time we had landed, there was light, and the background skies were stormy, with some heavy rain in the distance. It couldn't have been more perfect.
We rushed to get the main shot set up, and in 15 minutes it was in the can, and the sky was still brightening, giving us some time to put some other scenarios together. Unfortunately our time at this amazing place was very limited, a little less than an hour after we stepped on the beach the Beaver was skimming across the water again to carry us homeward.
Careful planning, attention to detail, local knowledge, preparation, teamwork, and a little help from mother nature helped to give Kayla and Jamie a commercial photo shoot in and exotic location for their wedding. The result is an image that the clients are raving over, and is definitely not your average wedding photo.
As it turned out, photographing this wedding was a great project for me. I treated the clients like a commercial customer, and they were amazing, and trusted us every step of the way.
Am I ready to change my ways and become a wedding photographer? No.
Will I shoot your wedding for you? Probably Not.
Unless you are planning in an epic adventure at a spectacular location. Then, maybe.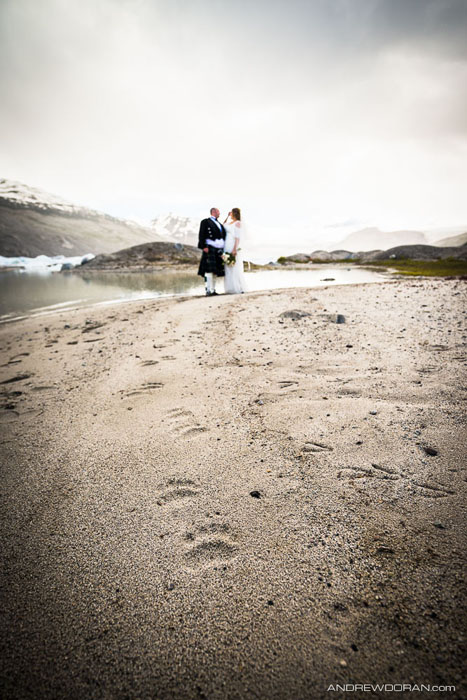 ---
About the author: Andrew Doran is a photographer based in British Columbia, Canada, who shoots adventure, architecture and hospitality images for commercial clients. He doesn't do weddings. You can find more of his work on his website. This article was also published here.