'Mystery Digital Camera' Being Offered as an Amazon Prime Day Deal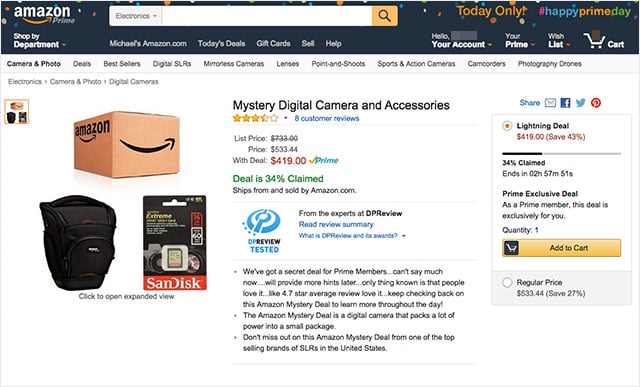 Amazon has a rather unusual Lightning Deal going on right now for Prime Day. The company is offering a "Mystery Digital Camera" bundle for 43% off the regular price. The $500 camera is being sold with a case and 16GB memory card for $419.

"We've got a secret deal for Prime Members…can't say much now….will provide more hints later…only thing known is that people love it…like 4.7 star average review love it…keep checking back on this Amazon Mystery Deal to learn more throughout the day!," the description says.
"The Amazon Mystery Deal is a digital camera that packs a lot of power into a small package. Don't miss out on this Amazon Mystery Deal from one of the top selling brands of SLRs in the United States."
Here's what's known about the mystery camera: it has a regular price of $500, it comes with a DSLR case, it uses an SD card, it packs an APS-C sensor, and it has a small and lightweight body. The Canon Rebel SL1 (AKA 100D) is one camera that seems to fit the bill.
There are currently three hours left to take advantage of this deal at the time of this post. Head on over to the Lightning Deal page if you're interested in taking a chance on getting a popular DSLR for 43% off.