Vietnamese Photojournalist Apologizes for 'Shopped War Photo
Vietnamese photojournalist Doan Cong Tinh is apologizing for a Photoshopped Vietnam War photo that he "mistakenly" sent out and had published in an international exhibition.

Thanh Nien Daily reports that the photo showed North Vietnamese soldiers climbing a rope near a waterfall in 1970.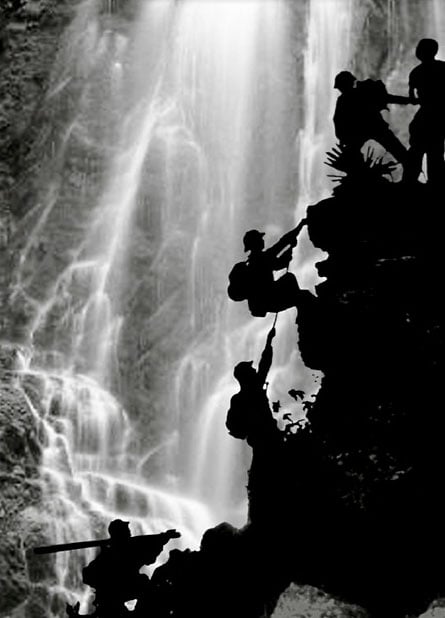 It was on display last year at the International Photojournalism Festival of Perpignan (Visa pour l'image Perpignan) in France, and then later published in an online gallery by the New York Times.
Questions about the photograph were first raised by Danish photographer Jorn Stjerneklar, who paid a visit to the 72-year-old Tinh back in April.
In a blog post, Stjerneklar writes that he was stunned when Tinh showed him a photo book of his that contained a noticeably different version of the photo:
Here's what the old and new versions look like side-by-side:
Notice how the waterfall in the new version is completely different, and how one of the soldiers in the frame was removed from the shot entirely.
"I asked Công why he had changed the image so much," Stjerneklar says. "He looked down and mumbled that the negative was damaged so it had to be fixed. I was at that moment really in another world."
The New York Times quickly responded by taking down the photo and posting an update, saying that "This kind of composite does not conform to The Times's journalistic standards, and would not have been published if editors were aware of the manipulation."
In an interview with the news site VnExpress, Tinh says that the original waterfall was "too bright," and that after the negative was damaged, he brought the shot to a photo store that helped him repair and Photoshop it. Furthermore, he claims that he didn't send the new photo to exhibitions due to its Photoshopped nature, but accidentally included it on a CD that was provided to the organizer of the Visa pour l'image.
Tinh says he's sorry about the controversy that has transpired, and says this whole thing has been a big learning experience for him. Stjerneklar writes that he doesn't blame Tinh for the happened due to the prevalence of propaganda at the time, but he wonders why "the two most respected institutions for documentary photography" were unable to verify the trustworthiness of the shot and are now both "tarred" as a result.
(via The Click)
---
P.S. You may notice that even the "original" version shows evidence of Photoshopping — there's a repeating pattern in the waterfall.