'Steam and Dust': Photographer Captures a Leopard Silhouetted at Night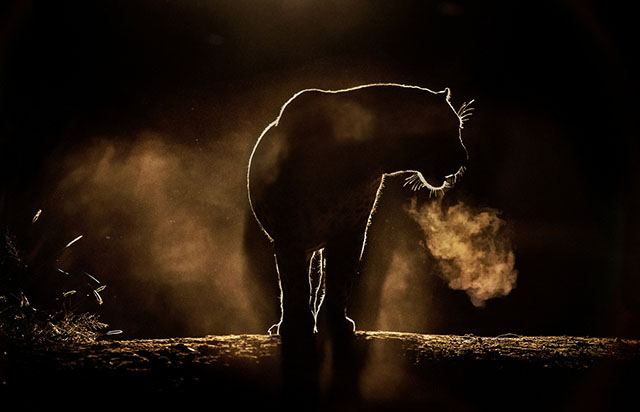 African wildlife photographer Greg du Toit captured this photo last year of a leopard out on night patrol. It's a shot for which everything seemed to come together for Du Toit for a beautiful composition.

"My job as a wildlife photographer is multifaceted but I am most often trying to portray my beautiful subjects in beautiful ways," the photographer
writes on his blog
. "If I do this effectively I awake within my audience an appreciation for not just the individual creature, but for its entire species."
"As wildlife photographers these seeds of appreciation that we plant are in a very real way seeds of conservation and preservation."
Here's his account of how this photograph came to be:
It was a cold and nippy night in South Africa's Mala Mala Game Reserve when we received a radio call to say that one of the dominant male leopards was on his night patrol and heading our way. Asking my guide to switch off and to wait in the dip it seemed to take ages for our subject to appear out of the dark night.

When the leopard got to the rise in front of us, he paused and turning his head to the side, his warm exhaling breath turned to steam. He stood there like a vision before us, with his outline made visible by another safari vehicle's lights. Frantically throwing my camera into manual mode and pressing my shutter, I could only hope that the steam and dust had recorded in my exposure.
You can find a larger version of this shot on Du Toit's 500px page. He has also written up a short piece about this particular leopard, named "The Airstrip Male."
(via 500px ISO)
---
Image credits: Photograph by Greg du Toit and used with permission