Underwater Photographer Snaps Selfies with Sharks
Underwater photographer Aaron Gekoski was recently on an outing to photograph one of the largest migrations in the world's oceans, but the project was hampered by unfavorable conditions. Instead of writing the trip off as a failure, however, Gekoski and his buddy decided to tackle a different photo project instead: selfies with sharks.

Gekoski jumped into the water with large sharks swimming all around him and started trying to snap the perfect self-portrait with "one of the sea's apex predators. Here's a behind-the-scenes video by EpicTV showing how the shoot went down:
It may look extremely risky, but Gekoski says he was actually in very little danger. "They were way more interested in the sardines," he says. Either way, you should probably refrain from trying this stunt yourself.
Here are some of the selfies Gekoski managed to capture during the dive: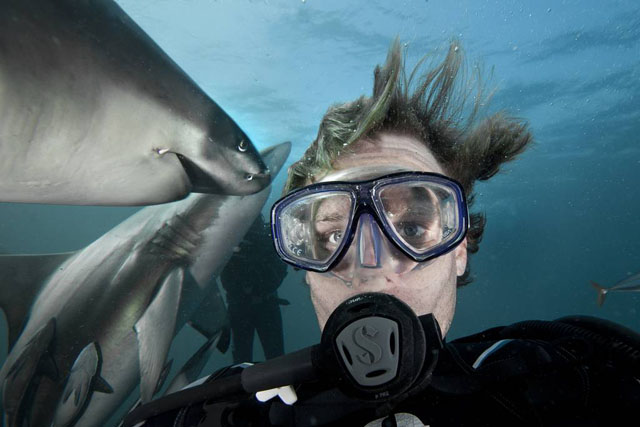 You can find more of Gekoski's work over on his website. You'll find some pretty incredible underwater photography.
---
Image credits: Photographs by Aaron Gekoski/EpicTV