10 Photography Resolutions for the New Year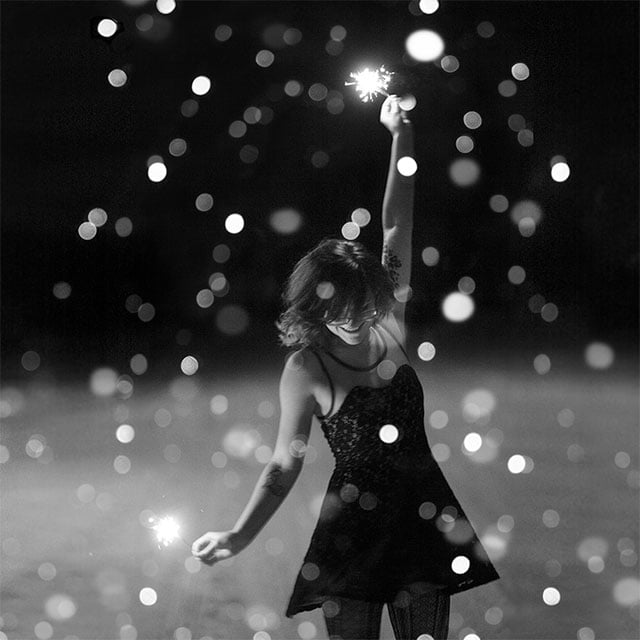 I love New Year's. Halloween, Christmas and National Cat Day (obviously) are high on my list too, but New Year's holds a special weight for me. It's the resolutions that I'm so addicted to.
I love making them. I love hearing them. The idea of a clean slate, filled in with good intentions and exciting possibilities just makes me bubble with anticipation. Yes, I realize I sound like a delirious 12-year old, but my entire personality is a bit like a delirious 12-year old…plus the New Year is here and I'm all sorts of giddy!

Now, my own personal resolution list is broken into categories and then subcategories with smaller, realistic goals in each step (like I said, I love making resolutions), but when it comes to photography, these are the New Year's resolutions that I credit for the largest leaps in my photo development over the years.
#1: Stop Hiding Behind Self Doubt
Inspired by the post "Giving Fewer F****s in 2015" on one of my favorite blogs, I really feel this deserves to be at the top of anyone's resolution list.
I've been there. I know how terrifying it is to submit to your first publication or to contact your first client. How scary it is to post a photo because in social media terms, zero positive comments can feel just as bad as the possibility of one bad comment. Putting your work out there, putting yourself out there, especially in a field that is bombarded by a never-ending stream of insanely skilled and talented people, is terrifying.
But no one gets anywhere by playing it safe. You will never be completely confident trying something for the first time. That fear will always be there, and believe it or not that's a good thing – it means you're in a new realm outside your comfort zone. Acknowledge it, calm down, and take another tiny baby-step forward.
One way to start those baby-steps is to do things as a practice run, then count to three and push the button. If you want to submit something to a magazine, for example, write out the email, include all the images and everything, telling yourself the entire time that it's just for practice. Then at the end count to three and push the send. Who cares if there's a typo. Who cares if they never write back. This is just to get you used to the process and actually pushing "send" at the end.
Just remember, you get nowhere if you don't try and as scary as it is, it gets easier every time.
#2: Get Organized
Organize your stuff. Assemble your gear so you know exactly what you have and where to find it. Classify your photos on separate hard drives in folders by dates and tag-words. Set up an interactive calendar and update it constantly. Classify email contacts as they come in. Ever heard of 17Hats.com? It's amazing. Sign up and start using it.
#3: Seek Useful Critique and Shut Your Mouth in Response
As I wrote here, in "Dear New Photographer…", my fiance and my mom love me to the moon and back, but they're horrible people to give me feedback on my photography. They're waaaaaay too biased and they don't know the first thing about what makes a good image. I'm guessing, your rock solid support system is the same way, so this year ask a real pro – not a Facebook "pro", but someone established and reputable within your specific area of photography – to review your work and give you feedback.
And when they give you feedback, shut your mouth. Don't argue, don't try to defend yourself and don't shut down. Really listen to what they are trying to say. You don't have to use it, but if you're asking for advice, don't fight them on every little bit they try and give. Helpful feedback isn't usually easy to hear, but it's how you develop and move forward. Suck it up, take it like a champ and get better. This year.
#4: Don't Let Your Gear Impede Your Development
We all want bigger and better gear. The quality of photography gear out in the world today is astounding, and it's improving so fast you'll barely catch a glimpse of the latest and greatest before it's overshadowed by something even better. Even as I'm writing this article I've got an eBay tab open just to stare at things up for auction…stuff I drool over but can never realistically afford…maybe just pet through my computer screen. It's so pretty…
But the gear does not make the photographer. When someone says, "I could take photos like too that if I had your fancy camera," hand them your camera. Go ahead. They usually snap one or two photos (if that), panic and hand it back. It's not about the gear itself, it's knowing how to use it to create the vision you see in your head.
And the fact is, amazing images can be created with very basic gear. Yes, there are certain things that are essential to certain fields (a pro sport photographer is going to have a very hard time getting competitive shots of a Braves game with just a 50mm lens), but I'm talking about the bigger picture. Let this be the year you blame your gear no more: examine all possible options for improvement before asking yourself if it's your lack of megapixels that's holding you back.
And speaking of gear…
#5: Come to Terms With Photoshop
Stop hating on Photoshop. It's just another tool to add to your belt!
There has been push-back at every stage of photography. When digital first came out, diehard film addicts declared it the "death of photography" and that it "doesn't count" if you aren't shooting on film. Even when the first zoom lens was introduced, people complained that zooming any way besides moving your feet was lazy (that last one is hearsay of course, it's not like I was alive when the first zoom lens came out). In any case, you get my point.
Photoshop is not the death of photography. It's just another tool that allows you to create the image you're going for. Keep an open mind and learn to use it in a way that best suits your photography goals.
#6: Shoot Personal Projects
"All work and no play makes Jack a dull boy…"
People get into photography for the fun of it, but the less you shoot for fun and the more you shoot for work the faster you can get burned out. Personal projects allow you to get back to your creative side and embrace photography for the reasons you originally started. Seek out that which you love and shoot it; once a week if you can, once a month at the bare minimum.
Put together a creative fashion shoot or try out some crazy technique you saw on YouTube at 3:00 in the morning. Follow some of your favorite photographers and get inspired! Personal projects are the best way to move forward with your skills while reminding yourself why you started in the first place.
#7: Get Along With Other Photographers
For the love of God, let this be the year you stop avoiding other photographers. Not only are they great networking (one wedding photographer can't shoot all the weddings in a season, they have to be referring to someone), but they're also just awesome people! You will learn a ton and develop an amazing sense of community.
Yes, some of them can be dicks but every town is bound to have at least a couple sour grapes. Avoid the assholes and you'll be fine. The vast majority of photographers in your area are probably some of the most awesome people you could ever hope to meet.
If you're a beginner, don't be intimidated by pros. Reach out to them and start a dialogue. If you're a pro, welcome the newbies. They just want the same thing you do. Slamming them for low prices isn't doing anyone any good; they don't know any better and they would very much like to get out of the low price nightmare, so help them out.
#8: Take More Photos of Your Loved Ones
As photographers, a strange thing happens when we look at the end of our year in photos. Typically, we have plenty of new images in our portfolio of brides and seniors and parents with their smiling children, but we don't have a ton of our own lives. The vast majority of photos I took of my fiance last year were iPhone photos. And they definitely weren't very good ones. How awful is that?
So this year, turn the camera around. Take just one day, set it up on a tripod, set the 2-second timer and set the shutter to just keep clicking. Sit in front of it with your kids or your dog or spouse or whoever and just let it run. Do this and everyone will be thanking you for it for years to come. Which actually brings me to Resolution #9…
#9: Print More Photos
How long have you owned a picture frame containing the photo it came with?! Are you kidding me? You're a freakin' photographer for crying out loud!
I yell because I care…and also because I'm really yelling at myself. I continue to make this exact same mistake year after year after year. I have so many unused frames right now it's downright shameful. I'm so embarrassed.
Stop looking at your photos on a computer screen and print the damn things already. Blow them up and plaster them all over your walls. Print out little sizes for Grandma and Grandpa to keep in their wallets. Print out a whole truckload of 4 x 6's and 5 x 7's and mail them to your friends and relatives. Print. Your. Photos.
#10: Use Your Photography For Better
Photography is an amazing thing. There's a reason people run back into a burning building for the family photo album; it's because photos are a part of our identity. As a photographer you have the ability to create an image that someone will cherish until the end of time. What an amazing power!
So this year, use that power for something more than paid family sessions or artistic creations. Donate your time and skills to a local charity (I shoot for the Rimrock Humane Society and Help Portrait). Run your own fundraiser for a good cause or use your photography to tell someone's story that desperately needs to be heard. The ability to take a great photograph is more powerful than you know – embrace it and use the crap out of it.
Did I leave any off that deserve to be in the top 10? Let me know!
---
About the author: Jenna is a fine art and underwater photographer based out of Billings, Montana where she lives with her fiancé Chris, their 2 dogs (Smoltz and Maddux) and their 4 cats (Flo, Study Buddy, Tank and Carl). After acquiring her Master's in Psychiatric Rehabilitation, she made a drastic career change into the field of photography where she has been producing surreal images for the past 2 years.
You can find more of her work and words on her website and blog, or by following her on Facebook, Instagram, YouTube, Twitter and Flickr. This article originally appeared here.