Young Self-Taught Photographer Captures Wanderers Against Magnificent Landscapes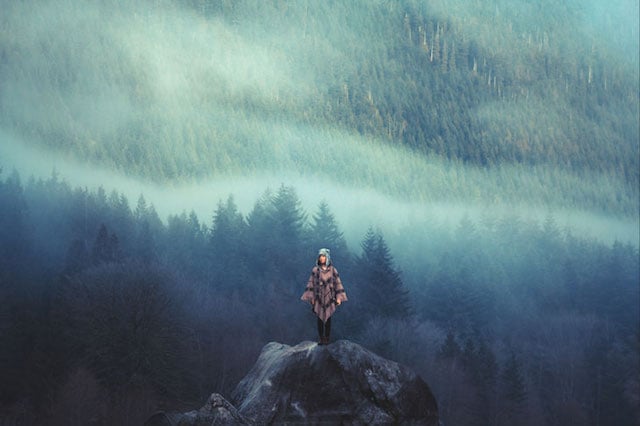 Self-taught Canadian photographer Elizabeth Gadd described her photography niche better, perhaps, than anybody else when she said, "I, uh… shoot landscapey stuff… with people in them."
That, however, is something of an understatement. The 21-year-old photographer's body of work does, indeed contain "landscapey stuff with people in them," but that hardly does the spectacular vistas she photographs justice.
Gadd started taking pictures in 2007, but didn't really get serious until 2010 when she embarked on a 365 project of self portraits.

By the end of that project she had found her landscapey, people-dappled niche, and everything that has followed has expanded on that as she continues to explore the forests, hills, mountains and ocean within driving distance of her home town of Vancouver, BC.
The resulting portraits are, as she described recently in an interview with Phlearn, "[an] attempt to display human interaction with nature in a positive and peaceful way."
Each of the photo above is the result of exploration. Sometimes, she says, she'll spend hours hiking with her camera gear in tow and never stumble upon a location she thinks if photo worthy. Other times, she finds the perfect location and the perfect light.
When that happens, she unpacks the prop dress/clothing that she always carries with her on her hike and snaps into "photographer mode." The results, as you can see, are usually quite impressive.
To learn more about Gadd, check out Phlearn's in-depth interview here. And if you'd like to browse through the rest of her portfolio, you can find it on her website or by following her on Facebook, Flickr, Tumblr and Instagram.
(via Bored Panda)
---
Image credits: Photographs by Elizabeth Gadd and used with permission.