Pixact.ly: An Online Game That Lets You See How Well You Can Eyeball Pixel Counts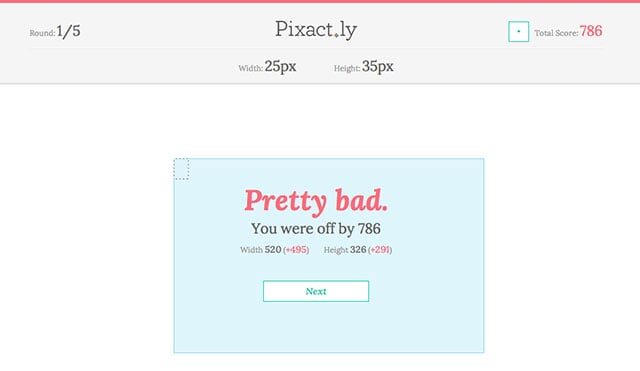 If you do a lot of photo editing, you've likely gotten pretty used to making estimates of pixel dimensions. But how good are you, exactly?
A new browser-based game called Pixact.ly wants to help you answer that question. It's based around the simple idea of drawing a box with specific pixel dimensions.

The premise is super simple. Just go to Pixact.ly and click Enter. Once you've started the 'game,' you'll be given a resolution and asked to drag out a box that matches. There are 5 'rounds,' and the closer you get to the appropriate dimensions, the less points you'll accrue.
It starts small:
And gets bigger:
Until you get your final point tally:
In the end, it'll tell you if you're better at judging width than height, and give you a breakdown of each round so you can go back and beat your score.
Click here to check it out for yourself if you need a little bit of a nerdy, pixel-based break this Monday. Be sure to share your score with us below!
(via Boing Boing)