Photograph Captures the Amazing Amount of Life Found in a Splash of Seawater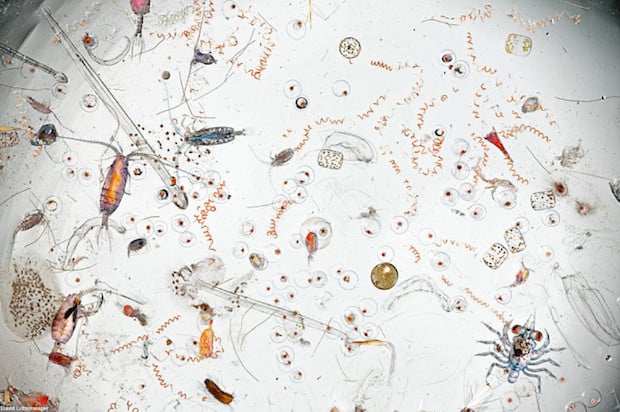 Who knew a dipperful of seawater contained so much life? Well, photographer David Liittschwager, that's who, because in 2006 he captured this eye-opening photograph for National Geographic.
The photo has gone viral in a big way this last week, but has unfortunately been incorrectly identified by several publications as a single drop of seawater magnified 25 times. Liittschwager provided the following, accurate explanation when we spoke to him over email:
I am sorry the caption is inaccurate, don't know the source… I made this picture off Kona, Hawaii in 2006. It was first published in National Geographic magazine. I am not sure where the caption information came from but here is the correct data: Marine Microfauna – part of the contents of one dip of a hand net. The magnification was 2x life size, meaning that the actual frame size was am half-inch high, so depending on how big the image is on your screen you can calculate the magnification as you see it.

Photographed on board the NOAA Ship Oscar Elton Sette off Kona, September 20, 2006.
In 2007, when Nat Geo originally published this photograph, Liittschwager described the contents as, "a genuine riot of life." And he's not wrong. UC San Diego oceanography professor Mark Ohman took a look at the image for Nat Geo and provided the following 'roster' of the swimmers:
Phytoplankton

Diatom Ethmodiscus (rectangular cells with dotted green chloroplasts)
Cyanobacteria (probably Katagynmene; numerous coiled filaments; these are capable of fixing atmospheric nitrogen gas)

Holozooplankton

A minimum of 9 species of copepods, including both adults and juveniles
chaetognaths (aka "arrow worms", the nearly transparent, elongate worm-like animals; they are carnivorous, eating mainly copepods, and actually have nothing to do with worms!)
pteropod (a type of pelagic snail; the vase-shaped organism toward the right of the image, just above centerline)
siphonophore swimming bell (part of the siphonophore colony used in locomotion; siphonophores are gelatinous, colonial organisms related to jellyfish; the space ship-shaped, nearly transparent object at the right margin, toward the bottom)
appendicularian (aka "larvacean," a pelagic tunicate that secretes a mucous house; house is not present here; upper left corner, sickle-shaped)

Meroplankton

fish eggs (numerous spheres with orange-brown centers)
crab larva (megalops stage)
polychaete worm larva (golden-brown organism with protruding setae; lower boundary, 1/3 of the way from the left margin)
For more info, head over to the original National Geographic article here. And if you'd like to see more of Liittschwager's photography, you can head over to his website here.
(via Lost At E Minor)
---
Image credits: Photograph by David Liittschwager and used with permission