Beautiful Studio Portraits of Vintage Gear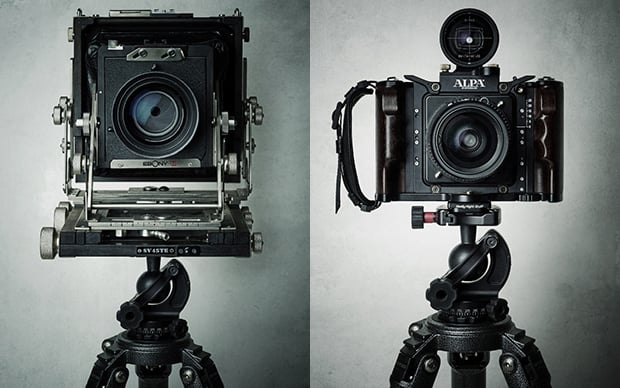 There's a reason the retro movement has such staunch supporters, and it's not just because there are a lot of people with ironic facial hair intent on buying a camera that looks as old as possible. The old cameras were at once functional and beautiful, or at the very least beautiful, and an industry that prides itself on appreciating beauty can't help but appreciate the beauty of their tools.
Treasured Cameras is a short photo series by photographer Julian Calverley that celebrates this aesthetic beauty in an ironic way: by taking portraits of vintage cameras using an iPhone.
The portraits, according to Calverley, are part of a promo piece that he's in the process of shooting, and feature all of the favorite cameras in his collection. From top to bottom, you'll find an Ebony Ti SV45TE, an ALPA SWA, a Nikon F2A, a Contax 645, an ALPA STC and a Nikon F3:
To see more of Calverley's photography — including a lot of gorgeous behind-the-scenes pictures like these — head over to his blog, website, Instagram or VSCO Grid.
(via Gizmodo Reframe)
---
Update: As several readers astutely pointed out, it seems the EXIF data on the photos indicates these images were taken with a Phase One IQ180 and NOT an iPhone, although all descriptions by Mr. Calverley run contrary to this. We're getting in touch with him to clear up the matter.
---
Update 2: Mr. Calverley has responded to our email, explaining why these images were tagged as 'iPhone Only' when they were in fact shot with an IQ180, and answering the tripod question while he's at it:
The images are personal non-commissioned images from a project that I'm working for a promo piece, destined for large format print, so large format originals are required.

The studio set up originals were indeed shot on a Contax with and IQ180 back, these images were shot as cut-outs.

The images which actually ended up on my site and on Behance (which ended up on Gizmodo too) were replicated, and processed on the iPhone using the Snapseed app. These were then output from the iPhone and resized using CS6 for web… So actually there are two similar sets of images, and yes these images would show the EXIF data would have shown the IQ180. One which was for Instagram, and one which was re processed and used for larger destinations.

I hope that goes someway to explaining my reasoning and apologizing if your readers feel mislead.

If your readers feel mislead over all my iPhone work then I'd urge them to check the EXIF data on my iPhoneonly web section, where they'll see all other images originated from, and were processed on the iPhone.

I saw a question on the tripod so for anyone interested the tripod head is the Acratech Ball Head.
He also added in a later email:
These iPhone processed images were originally destined for Instagram, nowhere else, which is the home of my iPhone work, and are always hash tagged #iphoneonly

It was only when people took an interest in them as a set of photographs of classic or treasured cameras that I decided to work up the larger images and post to Behance.

For me the focus was on them being a set of beautiful cameras photographs, and not as a set of cameras shot or processed on an iPhone.
---
Image credits: Photographs by Julian Calverley