Instagram's Photo Feed Can Be Used as a Silent Film Viewer
Did you know Instagram's mobile app can be used to view movies? Okay, okay, you won't be able to watch the latest Hollywood blockbuster on it, but it's possible to enjoy glimpses of old school silent films.
The clever idea was discovered Canadian advertising agency Cossette to promote the upcoming Toronto Silent Film Festival, and involves using the app's slideshow view to zip through still photos as if they were images in a flipbook.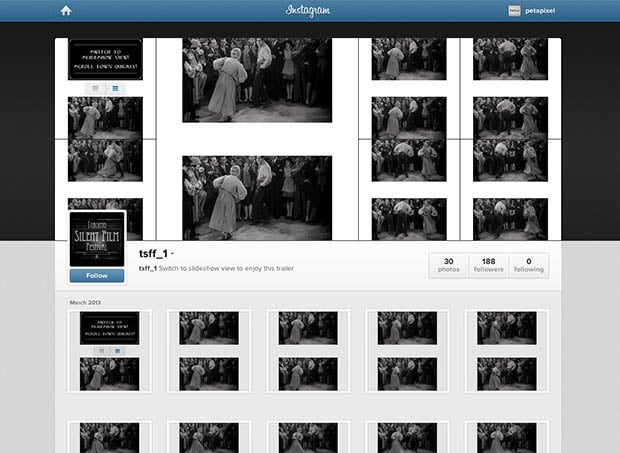 The agency created a total of three flipbook-style Instagram silent films: an account named @tsff_1 is a clip from Sunrise: A Song of Two Humans, @tsff_2 features the 1925 film Tumbleweeds, and @tsff_3 is a glimpse of Super-Hooper-Dyne Lizzies.
Each of the dedicated Instagram accounts has 30 still frames from their respective silent films. Once you view them in slideshow mode, you can flip upwards with your finger to scroll through the images in rapid succession, causing them to be animated on your screen. Here's a video that demonstrates how the silent film viewing works:
Matt Litzinger of Cossette tells CreativeReview that they "thought this new and unique use of Instagram could bring the films to life and draw attention to the festival," and that this novel use of Instagram feels appropriate because silent film, in its day, was "every bit as ground-breaking and innovative as digital platforms are today."
Sadly, this animation technique only works with a fresh, newly created Instagram account. The Verge reports that the publicity this promo has received has actually broken the animations, as likes and comments on the photographs break up the flow of the animation in the feed.
If you'd like to try out what's left of the animation effect for yourself, head on over to one of the three silent film accounts listed above using your mobile device.